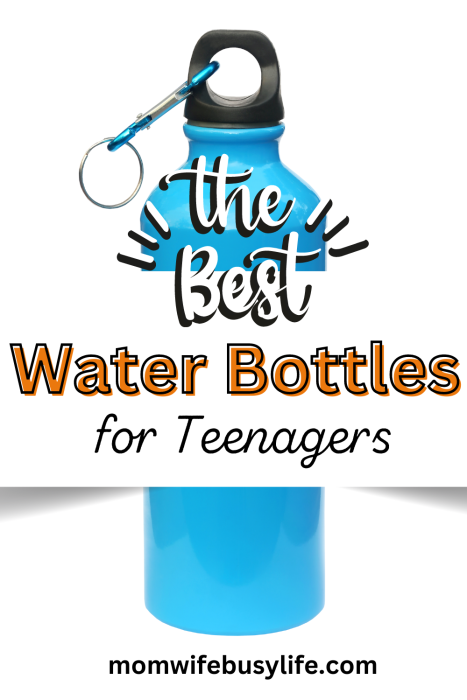 Are you searching for the perfect water bottle for your teen? Check out our list of the best water bottles for teens below!
It's important for teens to stay hydrated throughout the day with their own water bottles!
Picking out a water bottle for a teenager is important.
I actually recommend sitting down with your teen and having him or her pick out their own water bottle from this list below since teens can be picky about certain styles and designs.
Best Reusable Water Bottles for Back to School
How to choose a water bottle for a teen
When choosing water bottles for teens, the most important things to look for are: size, color and design, features, durability, and brand.
Size
You want the bottle to be big enough to hold enough water for the day. Water bottles come in a variety of sizes. Choose the size that's right for your teen.
Color and Design
Choosing a color that matches your teen's style is important to consider also. It's best to invest in a water bottle that they will love and not be embarrassed carrying around. Several bottles come with cool designs which are always optional.
Features
Water bottle features are important. Here are a few questions to ask yourself before making a decision to purchase.
Material Matters: Glass, Plastic, or Stainless Steel?
When it comes to selecting the perfect water bottle for teens, the material of the bottle plays a pivotal role in determining its functionality and appeal.
The three primary materials you'll encounter in the market are glass, plastic, and stainless steel.
Each of these has its unique characteristics and benefits, making the decision more about individual preferences and specific needs rather than a clear-cut "best" choice.
Let's dive deeper into the pros and cons of each material:
Glass: Pros:
Taste Preservation: Glass does not impart any flavors, ensuring that the water remains pure and untainted.
Eco-Friendly: Being recyclable, glass is a great choice for environmentally conscious individuals.
Chemical-Free: Glass bottles typically do not contain harmful chemicals like BPA.
Cons:
Fragility: Glass is prone to breaking if dropped, which may not be ideal for active teens.
Weight: Glass bottles tend to be heavier than their plastic or stainless steel counterparts.
Typically Costlier: While not always the case, glass bottles can be more expensive than plastic ones.
Plastic: Pros:
Lightweight: Plastic bottles are easy to carry around, especially for teens on the move.
Variety: Available in numerous shapes, colors, and designs, catering to diverse tastes.
Durable: Less likely to break upon dropping compared to glass.
Cons:
Chemical Concerns: Some plastics may leach chemicals like BPA, although many modern bottles are BPA-free.
Taste Alteration: Certain plastics can alter the taste of the water over time.
Environmental Impact: Plastic waste is a significant environmental concern, and not all plastic bottles are recyclable.
Stainless Steel: Pros:
Temperature Retention: Insulated stainless steel bottles can keep beverages cold or hot for extended periods.
Durability: Resistant to breaking, making them great for outdoor activities or sports.
No Flavor Alteration: Unlike some plastics, stainless steel doesn't impart flavors to the beverage.
Cons:
Weight: They can be heavier than plastic bottles, though lighter than glass.
Potential for Dents: While they won't break, they can dent if dropped hard enough.
Limited Transparency: Unlike glass or some plastics, you can't see the liquid level inside.
Considering the pros and cons of each material will help you select the best water bottle for a teen's specific needs, whether it's for daily school use, sports activities, or outdoor adventures.
Questions to ask before purchasing
Do you prefer a stainless steel or plastic water bottle?
Is this bottle insulated to keep your teen's water cold all day?
Does the water bottle have a wide mouth to be able to place ice inside if desired?
Do you prefer a flip top or removable lid?
Do you want the bottle to include a straw?
Do you want the bottle to have a clip to be able to clip on to your teen's backpack? Shop for water bottle clips!
Is it important to get a BPA free bottle?
Do you need a bottle with or without a filter?
How easy will this bottle be to wash? Consider buying bottle brushes.
Will your teen be placing vinyl stickers on their water bottle? Shop for waterproof vinyl stickers!
Durability
The durability of the bottle is also important since you'll want it to last a long time and be able to stand the basic wear and tear from using the bottle daily.
How often will your teen be using this bottle? Does he or she need to take it to sports practice after school?
If you know your teen will be using their water bottle on a very regular basis, choose a bottle that's well made and will last a while!
Brand
Your teen may be picky about brands. If this is the case, I do recommend choosing a high quality and well known brand like:
What water bottles do teens like?
There are a lot of different water bottles out there, and it can be tough to decide which one is right for your teen. Here are a few of the most popular water bottles among teens:
These are just a few of the many different water bottles that teens enjoy using. Take some time to try out a few different options and see which one works best for you. There's no wrong answer when it comes to choosing a water bottle!
Which Hydro Flask is most popular with teens?
There are a few different types of Hydro Flask water bottles that are popular with teens. The most popular seem to be the 32 oz wide mouth bottles.
These bottles are great for taking to school or practice, and they keep your water cold all day long.
A lot of teens also like the color options that Hydro Flask offers, so they can find a bottle that matches their style.
Whatever type of Hydro Flask you choose, you can be sure that it will keep your water cold and help you stay hydrated all day long.
What color water bottle do teens like best?
Teens tend to prefer water bottles that are brightly colored and eye-catching.
Popular colors include pink, blue, and green.
Teens also like water bottles that have fun designs or pictures on them. Some teens even collect different types of water bottles!
They may even want to decorate their water bottles with their favorite waterproof vinyl stickers!
Select a water bottle for your teen
Below, I've listed the best water bottles for teens to help you make this decision process easier on you!
I check the reviews for each bottle to make sure you are getting a quality water bottle.
Best Water Bottles for Teens
Iron Flask Sports Water Bottle
The Iron Flask is our choice for water bottles for our family! We currently own 4 Iron Flask bottles.
We use them everywhere – at home, on the go, at sporting events, theme parks, outdoor adventures – you name it! This bottle comes with three different lid choices! Our favorite lid is the lid with the straw.
Our current colors: Blue Waves, White, Black, and Sky.
HYDRO CELL Stainless Steel Water Bottle
I'm a fan of the prices on HYDRO CELL water bottles! If you are looking for an affordable stainless steel option, the HYDRO CELL is perfect for you!
Hydro Flask Wide Mouth Bottle with Flex Cap 32oz. (several color options)
For teens that prefer name brand items, the Hydro Flask is the perfect choice! These bottles are very popular and well made.
Hydro Flask Stainless Steel Reusable Water
CamelBak Eddy+ Water Bottle with Tritan Renew
S'well Stainless Steel Water Bottle (Many colors and designs!)
Nalgene Tritan Wide Mouth BPA-Free Water Bottle