Download and print these FREE Printable Alphabet Tracing Worksheets! You'll get 26 pages of fun for kids!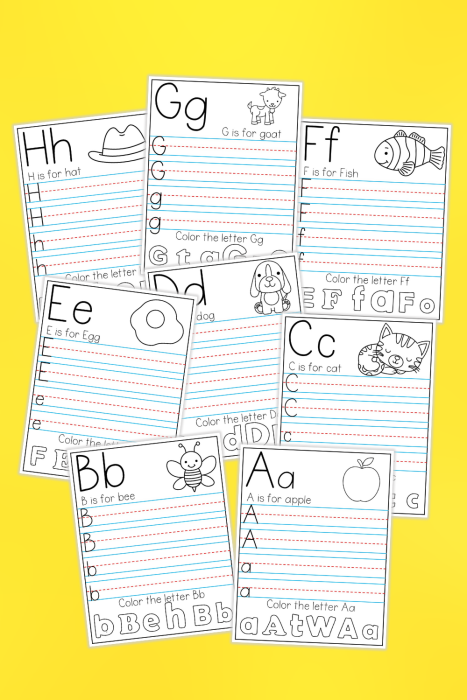 As a busy mom, finding creative ways to engage your child in learning activities can be a challenge.
However, there's one resource that can effortlessly combine fun and education: the Free Printable Alphabet Worksheet Pack.
FREE Build the Alphabet with Crayons Pack
Designed to help kids trace letters of the alphabet and develop their letter recognition skills, this pack offers numerous benefits for both you and your child.
Today, we'll explore five key advantages of using this printable pack and provide suggestions on where and when kids can complete this exciting learning activity.
Enhancing Letter Recognition Skills
Letter recognition is a fundamental step in a child's language development.
The Alphabet Worksheet Pack features clear and visually appealing letter designs, making it easier for kids to recognize each letter's shape.
As they trace and interact with these letters, they'll become more familiar with the alphabet, laying a strong foundation for reading and writing.
Engaging in regular practice with this printable pack will boost your child's confidence when it comes to identifying letters in the classroom or while reading their favorite books.
When: Set aside a few minutes each day for this activity. Mornings or afternoons when your child is alert and focused can be an ideal time to work on these worksheets.
Where: Create a cozy and dedicated learning space at home, such as a corner in the living room or a child-friendly study area in their bedroom. Ensure that the environment is free from distractions to maximize concentration.
Improving Fine Motor Skills
Tracing the letters in the printable pack requires your child to use their fine motor skills, which are crucial for various tasks throughout life.
The act of holding a pencil, staying within the lines, and carefully guiding their hand as they trace each letter helps to strengthen their hand-eye coordination and dexterity.
These motor skills are essential not only for writing but also for other everyday activities, such as tying shoelaces, buttoning shirts, and using utensils.
When: Incorporate this activity into your child's daily routine to reinforce their fine motor skills. Before or after meals, or during quiet playtime, allow them to work on these worksheets.
Where: Encourage your child to complete the worksheets at a table or desk to provide a stable surface for tracing. Ensure they sit comfortably with their feet touching the ground for optimal posture.
Fostering Creativity and Artistic Expression
The Alphabet Worksheet Pack doesn't just focus on repetitive letter tracing.
It also includes appealing images and designs that accompany each letter, allowing your child to unleash their creativity and artistic expression.
After tracing the letter, they can engage in coloring the corresponding image, encouraging them to use a variety of colors and make their artwork unique.
This combination of letter tracing and coloring makes the learning experience enjoyable and engaging for kids.
When: Incorporate this creative element into your child's playtime. After completing their tracing practice, give them the freedom to add their own artistic flair to the letters and images.
Where: Set up a designated arts and crafts station where your child can access coloring materials, such as crayons, markers, and colored pencils. This can be a shared family space or a part of their playroom.
Bonding Time and Parental Involvement
Using the Alphabet Worksheet Pack provides an excellent opportunity for quality bonding time between you and your child.
As a busy mom, finding moments to connect with your little one can be challenging, but engaging in this learning activity together creates a positive and nurturing environment.
Take this opportunity to praise their efforts and offer encouragement, fostering a love for learning and exploration.
When: Incorporate this activity into your daily routine and use it as an opportunity to bond with your child. You can even include older siblings or family members in the fun.
Where: Consider sitting together at the kitchen table or on the floor in a comfortable and relaxed environment. This will encourage open communication and make the experience enjoyable for both of you.
Reinforcing Classroom Learning at Home
The Alphabet Worksheet Pack serves as a valuable tool to reinforce what your child learns in the classroom.
By providing additional practice at home, you can help them solidify their knowledge of letters and tracing skills.
This reinforcement can lead to better retention and understanding of the alphabet, ensuring they stay ahead in their academic journey.
When: Use the Alphabet Worksheet Pack as a supplementary learning activity during school vacations or weekends. This will keep your child engaged in educational activities during their free time.
Where: You can bring these worksheets along during family outings, long drives, or vacations, making learning accessible and enjoyable wherever you go.
In conclusion, the Free Printable Alphabet Worksheet Pack is a fantastic learning resource that offers multiple benefits for busy moms and their kids.
From enhancing letter recognition and improving fine motor skills to fostering creativity and providing bonding time, this printable pack is a win-win for both parent and child.
By incorporating it into your child's daily routine and creating a comfortable and distraction-free learning space, you can encourage them to engage with the worksheets regularly.
Learning should be a joyful and interactive experience. Use the Alphabet Worksheet Pack as a tool to make learning letters a fun adventure, and watch as your child's language skills flourish.
Download the pack now, and embark on this exciting journey of exploration and education with your little one!