If you're like me, you're always on the lookout for new and innovative ways to help your kids learn.
Well, look no further! Check out these top educational websites for kids.
With games, activities, and lessons on a variety of subjects, your little ones will be learning without even realizing it.
So ditch the flashcards and worksheets this year, and check out these great websites instead!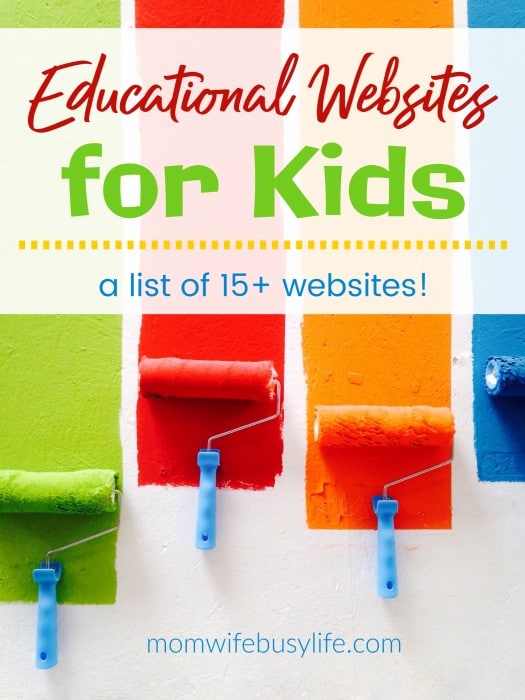 Summer break is almost here! The kids will spend a lot of time indoors and will be looking for things to do.
If the kids are bored and you are out of ideas and tricks to keep them happy, consider allowing some educational screen time.
Benefits of Using Educational Website for Kids
There are many benefits of using educational websites for kids. They can help children learn new things, improve their academic skills, and make new friends.
Educational websites can be a great way for kids to learn about different topics. They can read articles, watch videos, and play games that teach them about a variety of subjects.
And, they can do all of this at their own pace. If they don't understand something, they can go back and review it again.
In addition to academic benefits, educational websites can also help kids socialize and make new friends.
Many sites have forums or chat rooms where kids can interact with each other. This can be a great way for introverted or shy children to make friends and practice their social skills.
As a safety tip, I do always encourage monitoring your children if they choose to interact with others online.
Stay Safe Online with Bark
Your child can access the internet in so many different ways. Bark provides families with all the tools they need to raise kids in the digital age. Bark's comprehensive service lets you monitor content, manage screen time, and filter websites so you can get peace of mind while your child is online.
So, if you're looking for a way to help your child learn and grow, consider using educational websites. There are many great ones out there that can offer both academic and social benefits.
Here's a list of educational websites for kids that you can allow your children to play on this summer.
Find your favorites and bookmark them!
Educational Websites for Kids
ABCmouse.com – Membership includes: 8,500+ Learning Activities, Access on All Devices, Comprehensive Online Learning and Advanced Progress Tracking!
For a limited time, get your first month free! Or, get two months for $5!
Adventure Academy – Membership includes: 8,500+ Learning Activities, Access on All Devices, Comprehensive Online Learning and Advanced Progress Tracking!
For a limited time, get your first month free!
GoNoodle – Hundreds of videos that activate kids' bodies and brains.
NASA Kids' Club – a place to play games and learn about NASA
Starfall – teaches children to read with phonics
PBS KIDS – includes learning games with your favorite PBS characters
Young Ocean Explorers – connecting hearts and minds with the importance of enjoying and caring for our oceans
National Geographic Kids – awesome games, funny videos and amazing facts
Amazing Space – Space telescope education program
Dr. Seuss' Seussville – is the place for children of all ages to play and learn with Dr. Seuss. Find information on Dr. Seuss books plus you'll find games and activities
Funbrain – created for kids ages preschool through grade 8, offers more than 100 fun, interactive games that develop skills in math, reading, and literacy, plus find popular books and comics
Camp Wonderopolis – built for learners of ALL ages, but it is especially targeted at grades 2 – 8 and is a fun, engaging way to keep kids learning over the summer months. Includes 42 individual scientific lessons that can be explored at your own pace, on your own schedule
Crayola – Our go-to website for themed printable coloring pages as well as craft ideas and lesson plans
ABCya! – a teacher-created website which provides fun and educational games and apps for kids
Scholastic Kids – for kids about books, reading, authors, games
Prodigy Math Game – free, curriculum-aligned math game for Grades 1 – 8. My daughter is currently using this program at school for math (4th grade).
Sesame Street – games, videos, playlists, muppets, and art
Do you have any educational websites for kids you'd like to add to the list?