Enjoy these delicious Fall Soup Recipes this fall season! You'll find a variety of tasty recipes to try when the cooler months arrive!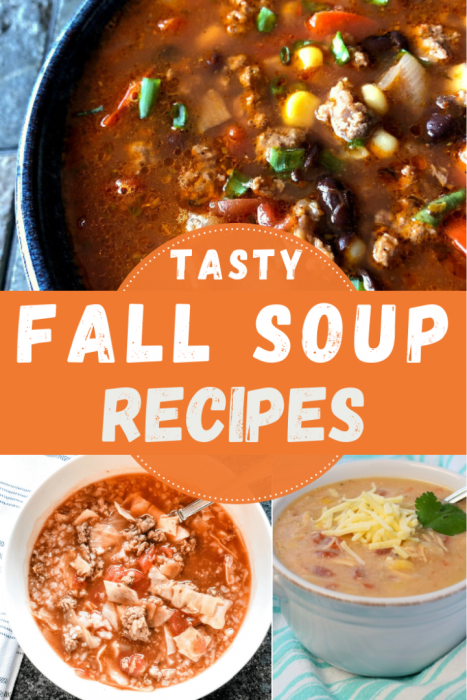 There is nothing better than enjoying your favorite fall soups when the weather starts to get a little cooler and the fall air arrives.
Fall is such a beautiful time of the year. The leaves are changing from green to those beautiful orange and red fall colors. The air is a little cooler and days are a little shorter so it's nice to cook up a delicious fall soup to enjoy for a hearty and filling dinner.
These fall soups are perfect for those nights. Most are quick and easy, so they won't take a lot of time from start to finish!
Fall Soup Recipes
A hearty and delicious chicken and white rice soup that is creamy and perfect for fall. It's also a great way to use up any leftover chicken!
Crock Pot Creamy Baked Potato & Chicken Soup
Nothing says fall like a delicious creamy baked potato soup! This soup takes it a step further and adds a bit of chicken to make it even more delicious.
Packed with veggies, this easy and healthy cabbage soup is dairy free and can easily be customized to fit any diet.
With only a few ingredients needed, this delicious African pepper soup is keto friendly and healthy. You can make the soup in the slow cooker or on the stove top.
Slow Cooker Southwest Chicken Soup
A comforting meal that makes enough to feed a crowd, this flavor packed soup is perfect the fall. It's a filling and hearty soup that is a must-try!
Warm, filling, and ready in just under an hour, this broccoli white cheddar soup is perfect for those chilly evenings!
Mix it up a little with this chipotle taco soup. Made with ground beef and chipotle taco flavors, this is a great go-to option when you're looking for a fall soup.
This rich and hearty French onion soup is mixed with caramelized onions, topped with cheese, and enjoyed with a crusty bread to make a filling fall soup.
Naturally vegetarian and nut-free, this egg drop soup is a tasty soup that only takes a few minutes to cook.
Perfect for fall and winter, this delicious tomato sup is homemade and filling. If you can't resist a tasty tomato soup, you have to try this homemade recipe!
A delicious, creamy, and rich soup that is also low carb and comes together in just a few minutes. If you don't have the time to cook cheeseburgers, you can also use leftover cheeseburgers from the night before!
Another great low carb soup, this keto friendly bell pepper soup is super easy to make and tastes delicious!