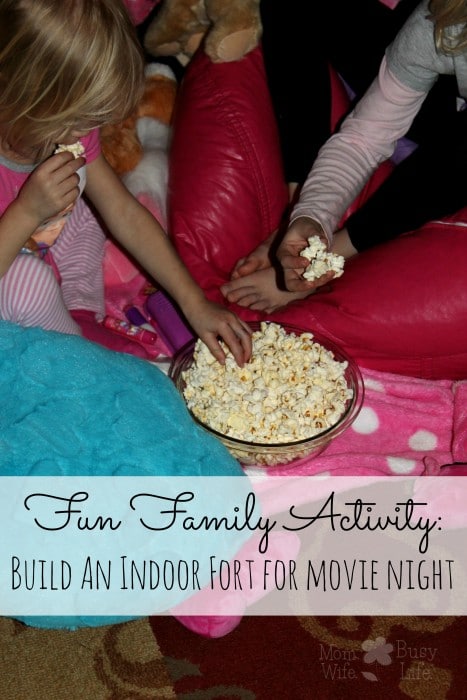 I'll be the first to admit that my schedule can get so crazy busy that I'm too tired to devote time and attention to my family, especially my kids. I'm still working on making changes this year because this is something I want to change. I want to add more family friendly activities into our schedule this year including family outings, vacations, and simple activities like family movie nights and game nights. My girls love spending time together with my husband and I and we love taking time out of our busy days to make sure we spend quality time with them.
How to Build an Indoor Fort for Movie Night
One way we like to enjoy time with each other is to allow our children to get creative by creating a fun fort in the living room for movie night! We like to have movie nights on Friday or Saturday nights. The girls love to find anything they can to make their forts interesting and they usually differ each time they create one. This weekend, we decided to get creative and build a fun fort with blankets, pillows, stuffed animals, a bean bag, and other accessories. My toddler thought it would be a good idea to bring her special items including her play phone, lip gloss, and other small toys into the fort.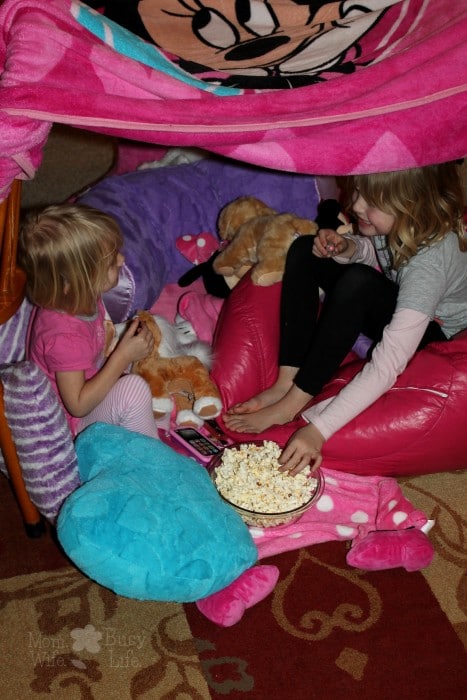 You can't have a successful fort without one important snack – popcorn. We prefer popping a bag of popcorn to enjoy during movie nights! We can stay home and enjoy movie nights without having to pay a lot for a movie or popcorn at a theater. My girls created their fort and crawled inside while munching on popcorn. My oldest asked me if she could sleep in her fort! If you are looking for a fun and creative way to enjoy a movie night at home, create your own indoor fort.
Need movie ideas? Go here.