Looking for ways to get a toddler to open up for a toothbrush? Read on for tips and tricks for how to get toddlers to brush their teeth.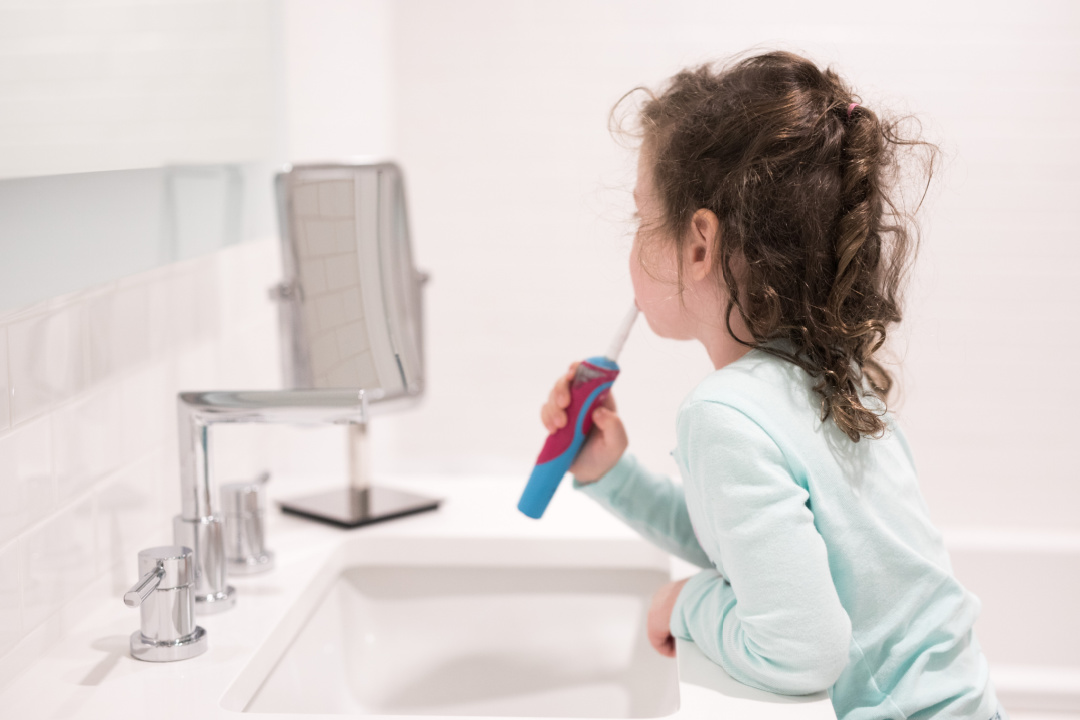 Some kids are reluctant to brush their teeth while others don't want a toothbrush anywhere near their mouths! Here are some creative ideas to try out that will help make brushing more fun, interesting, and possible for everyone involved.
How to Get Toddlers to Brush Their Teeth
Take Turns Brushing With Child
One way to get a toddler to brush his or her teeth is to take turns. Kids always like choices, so a parent can say, "Do you want Mommy /Daddy to brush your teeth first or you to brush your teeth first?" Then let the child decide who will do it first. Either way, it is a win-win situation because the parent gets to brush the toddler's teeth, and the child feels like he or she has some power.
Have Two Toothbrushes, One for Parent and One for Child
Another way to get a child more interested in brushing teeth is to have one toothbrush for mom or dad and one for the child. Letting the child have a toothbrush allows him or her to have a sense of independence and to be in control. While the child is busy brushing one corner of their mouth, parents can be working on the other parts and then switch sides.
Try an Electric Toothbrush With Toddler
Get an electric toothbrush made for toddlers. The movement is interesting for kids who are still exploring things with their mouths. And if young kids are teething, it might even feel good. Having two toothbrushes – an electric toothbrush and a regular toothbrush – is also a good idea because then parents can let kids choose which one they want to use for their teeth each night.
Make Sure Child Sees Family Members Brush Their Teeth
Kids are interested in doing what their parents and older siblings do. Make sure that toddlers see their brothers, sisters, and parents brushing their teeth whenever possible. It can also be helpful to have toddlers brush their teeth at the same time as the older kids and parents do. Making teeth brushing a family event on a regular basis can make the whole event go more smoothly as it becomes a routine that toddlers will just expect to happen.
Let the Child "Brush" Parent's Teeth
If a parent is feeling daring enough, he or she can let the child brush the parent's teeth (with some guidance on the parent's part, of course!). Toddlers can find it fun and even funny to get a chance at their parent's mouth with a toothbrush. A parent can say, "Your turn to do Mommy's teeth!" and let the child help brush the parent's teeth. Then the parent can say," All finished! Now it's my turn to do your teeth." And take a whirl at brushing the child's teeth.
Pretend to Brush Teddy Bear's Teeth
Bring in a teddy bear or a favorite doll to help demonstrate the fun of cleaning teeth. A parent can "brush" the doll's teeth and make it an entertaining and educational event. Talk it up by saying things like, "Teddy loves to get his teeth brushed! Nice and clean, teddy!" Ham it up and have fun with it. Then the parent can say, "Your turn!" and while the child is still smiling and having fun, it will be easier to brush his or her teeth.
Have Teddy Bear Brush the Toddler's Teeth
Another idea is to have the teddy bear or doll to be in charge of brushing teeth. Have the teddy bear brush a parent's teeth and then say, "Your turn" and have the bear "hold" the brush and brush the child's teeth. Make a little voice for the teddy and have him say things like, "Teddy is so happy to brush your teeth! Open, open!" Kids will be laughing and smiling, which will make it easier for parents to get the toothbrush into the mouth.
Having trouble getting a toddler to brush? Let kids choose who will brush teeth first, the parent or the child. Have a toothbrush for the child and the parent and/or have an electric toothbrush for kids too. Make sure toddlers see everyone in the family brushing their teeth and make it a family routine for cleaning teeth. Another method is to have a teddy bear to help a parent with demonstrating and brushing teeth.