Does your adopted child have separation anxiety? Learn tips for how to help adopted kids deal with separation anxiety.
Most parents have had the experience of a screaming toddler hanging onto their pant leg on the way out the door to a meeting for which they are already late. Every parent handles this tense situation differently, depending on the needs and behavioral patterns of the child.
But what happens if the separation anxiety is experienced by a child who has had significant losses in his life, such as an adopted child?
How to Help Adopted Children with Food Issues
How to Help Adopted Kids Answer Adoption Questions
Sleep Issues with Adopted Kids
Are there special considerations that adoptive parents need to keep in mind for their children? Is there a proper way to handle these situations for kids who have been adopted internationally as an older child versus a child adopted domestically as an infant?
As in all things related to adoption, it depends on the child and how the adoptive parents respond to the situation.
How to Help Adopted Kids Deal With Separation Anxiety
How Common Is Separation Anxiety in Adopted Kids?
It is normal for all children, adopted and biological, to experience some form of separation anxiety at certain times during childhood. Typically, many children experience separation anxiety between 18 months and three years with situations such as starting school or moving to a new house.
For adopted kids, it is also common for separation anxiety to occur throughout the night and even if the parent is in a different room for a few minutes.
According to the Anxiety Disorders Association of America, 4 % of kids aged seven to nine who have a more difficult time than most kids with separating from parents, suffer from separation anxiety disorder. The key factor of the disorder is that the children genuinely fear for their primary caregiver's safety during the time they are separated.
Why Do Adopted Children Have Separation Anxiety?
For adoptive families, there may be the complicating factor of attachment issues. When separation anxiety is looked at from an adoption perspective, the anxious feelings may be coming from something bigger than mom and dad going out to dinner for a couple hours.
Consider that some adoptees may react with separation anxiety if they are experiencing:
Fear of the unknown
Fear of abandonment
Fear of rejection
Lack of control over their environment
Concern over the safety of their parents
Depending on the child's developmental stage, these fears may stem from the child's pre-adoption experiences. On the opposite end of the spectrum, adopted children may be very willing to go to new caregivers as they have not yet formed a significant attachment to their new parents.
Although not separation anxiety, this kind of behavior is also problematic, as it could be an indicator of an attachment disorder.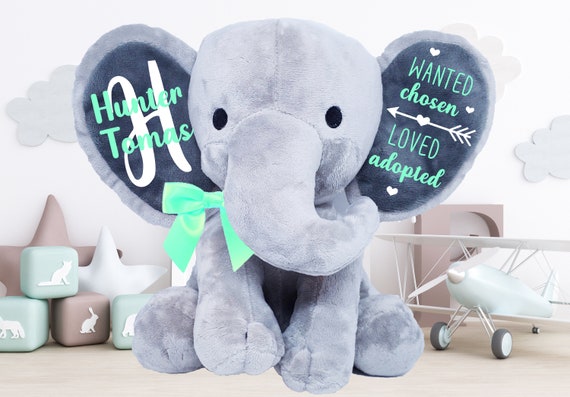 Gift for Adopted Child
Ways to Help Adopted Kids Cope with Separation Anxiety
In most cases, an adopted child's separation anxiety can be managed and lessens over time. In the meantime, there are some strategies adoptive parents can use to help ease both the child's and parent's emotions at departure times:
Reassure child of parents' return by giving a specific time and following through on that promise.
If possible, have lengthy transition periods to a new environment.
Maintain regular routine so that fatigue and hunger are not prolonging the anxiety.
Avoid letting the child see the parent's emotions about the separation.
Speak matter-of-factly to the child about the emotions he is experiencing.
Provide lots of opportunities for deepening the parent-child relationship to help offset the insecure feelings that arise in the child during separations.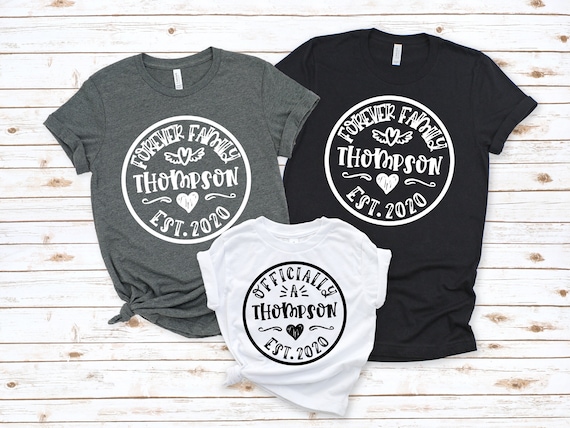 Modern Adoption Day Family Shirts Infant-Adult Sizes
Keep in mind the child is not causing these behaviors to upset the parents on purpose and in five to 10 minutes the child will be calmed down. Separation anxiety is the child's way of communicating his insecurities and it does not help if adoptive parents delay the separation by comforting the child too long at departure time.
Even though separation anxiety can be very hard on parents, adoptive parents can be encouraged by the fact that the anxious behaviors are a sign of a firm parent-child attachment. With this perspective, adoptive parents will find it easier to help their child cope as they can understand the anxiety is part of normal child development.