Learn how to make rainbow rice with just a few simple ingredients! Rainbow rice is great for sensory play.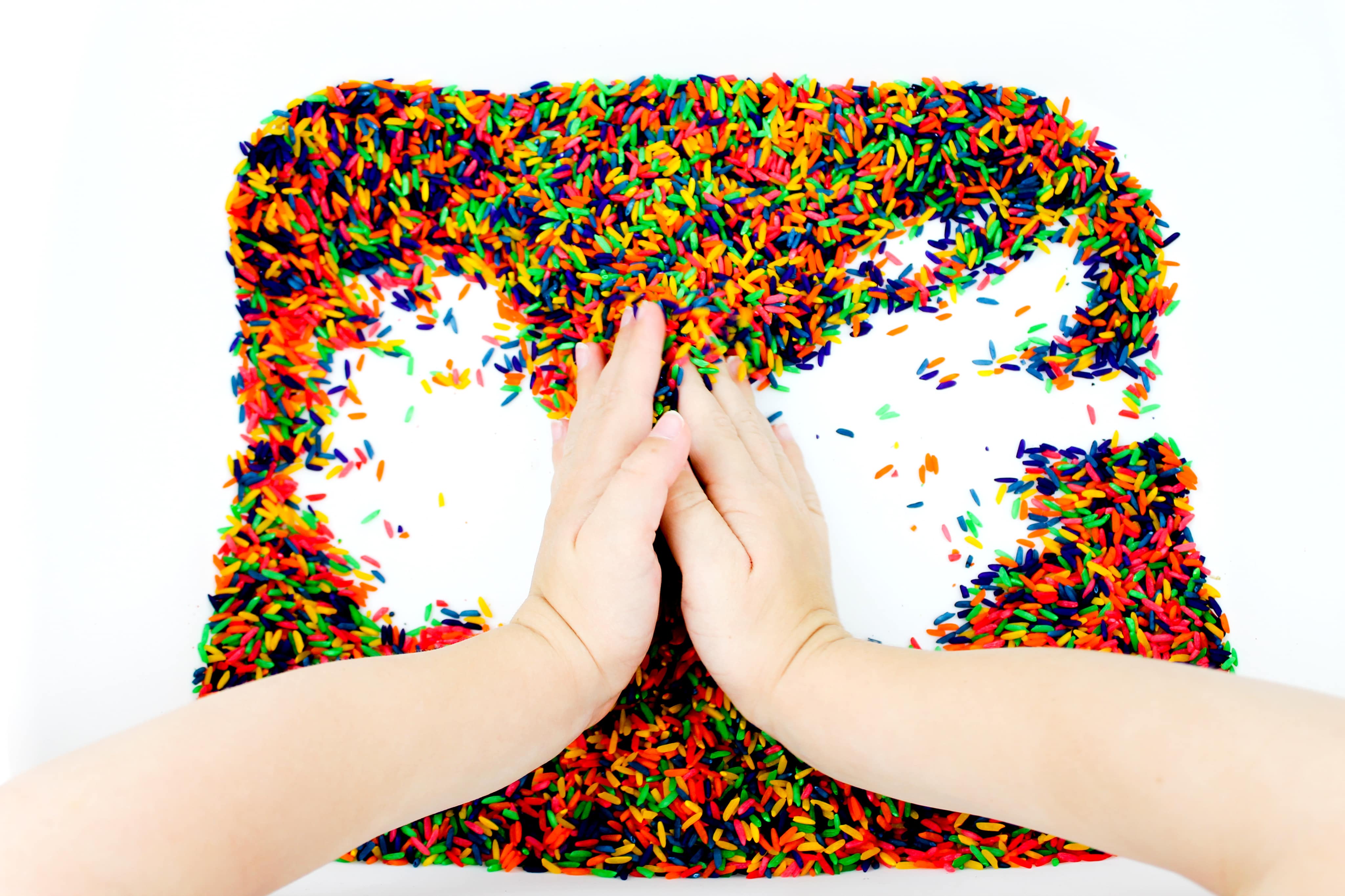 With a toddler at home, I'm always on the hunt for new ideas for sensory play. My son loves to play with a variety of materials and items that we add to his sensory bins.
One of the easiest ingredients to add to a sensory bin is rainbow rice! Instead of adding basic white rice to a sensory bin for play, we like to make colorful rice for added sensory benefits. This helps him learn and recognize primary colors!
Not sure what to use for a sensory bin? Here are a few ideas:
If you'd like to learn how to make rainbow rice for sensory bins, follow this easy to follow photo tutorial below! Get creative with your sensory bins. Add scoops, small cups, toys, etc. to make your sensory bin more exciting!
NOTE: This is not an edible recipe! Adults supervision recommended.
Rainbow Rice for Sensory Play
Supplies:
white rice (uncooked)
food coloring: (red, orange, yellow, green, blue, purple)
6 plastic sandwich zipper bags
rubbing alcohol (or white vinegar)
paper towel lined tray
sensory bin and scoops (optional)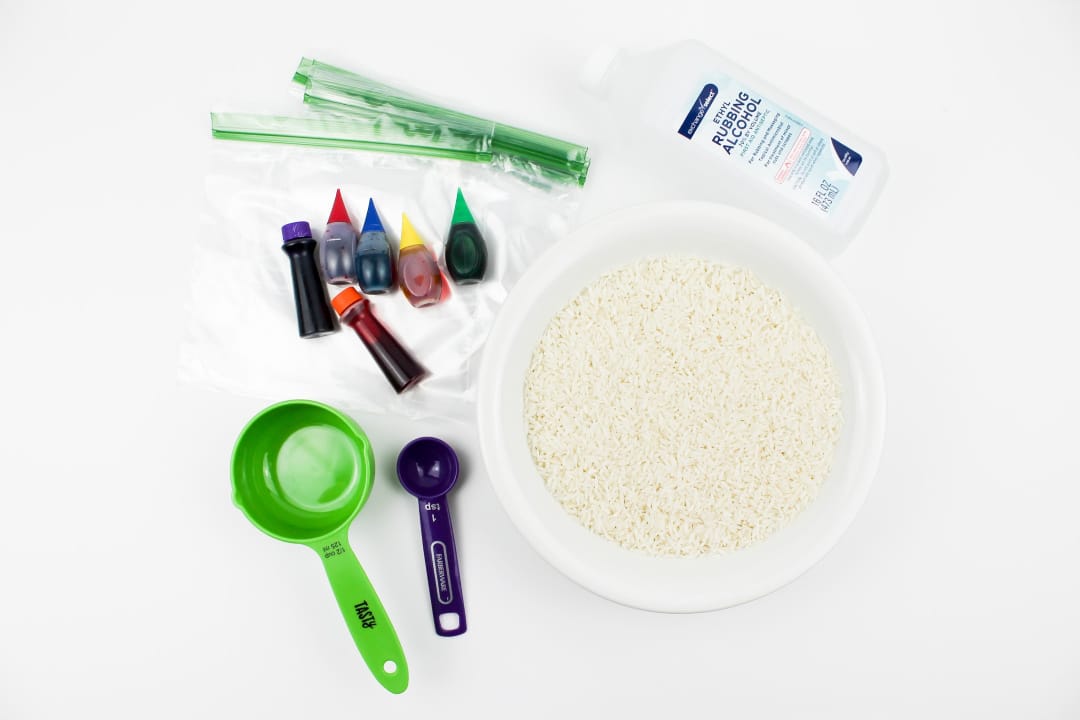 Directions:
Add 1/2 cup of rice to each bag.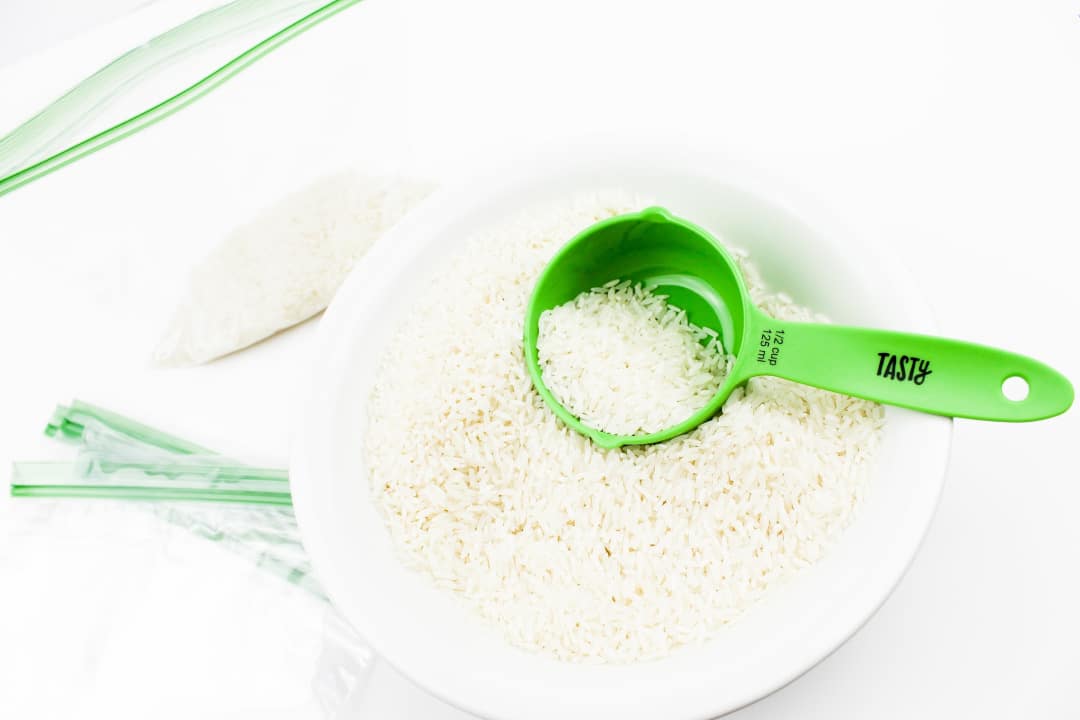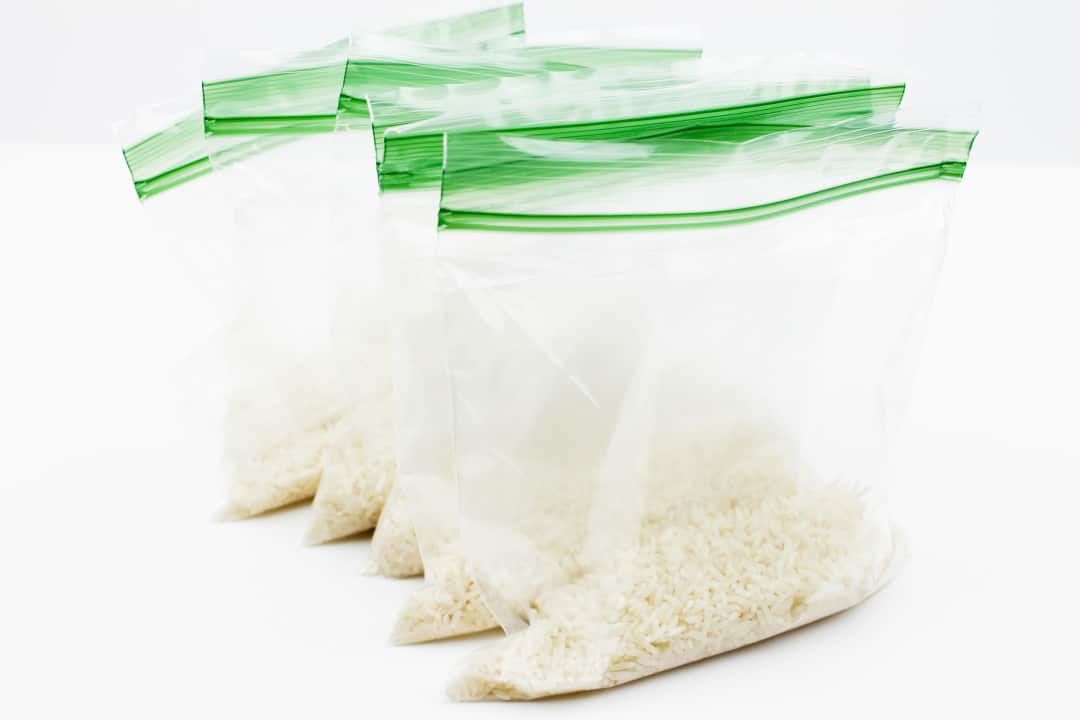 Add 15 drops of each food coloring to each bag of rice. You can easily find the primary colors of food coloring: red, yellow, green, blue. If you don't have orange food coloring, add 8 drops red and 8 drops yellow. If you don't have purple food coloring. mix red and blue food coloring together until you get the desired shared. For light purple, use more red food coloring. For dark purple, use more blue.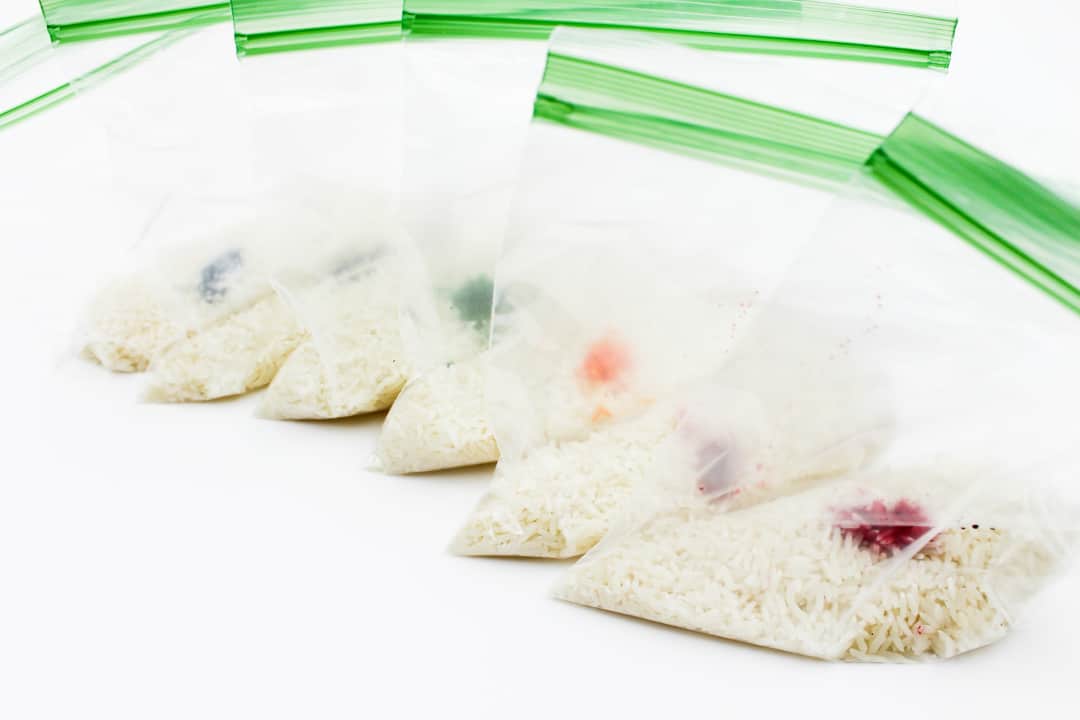 Add 1 tsp of rubbing alcohol to each bag.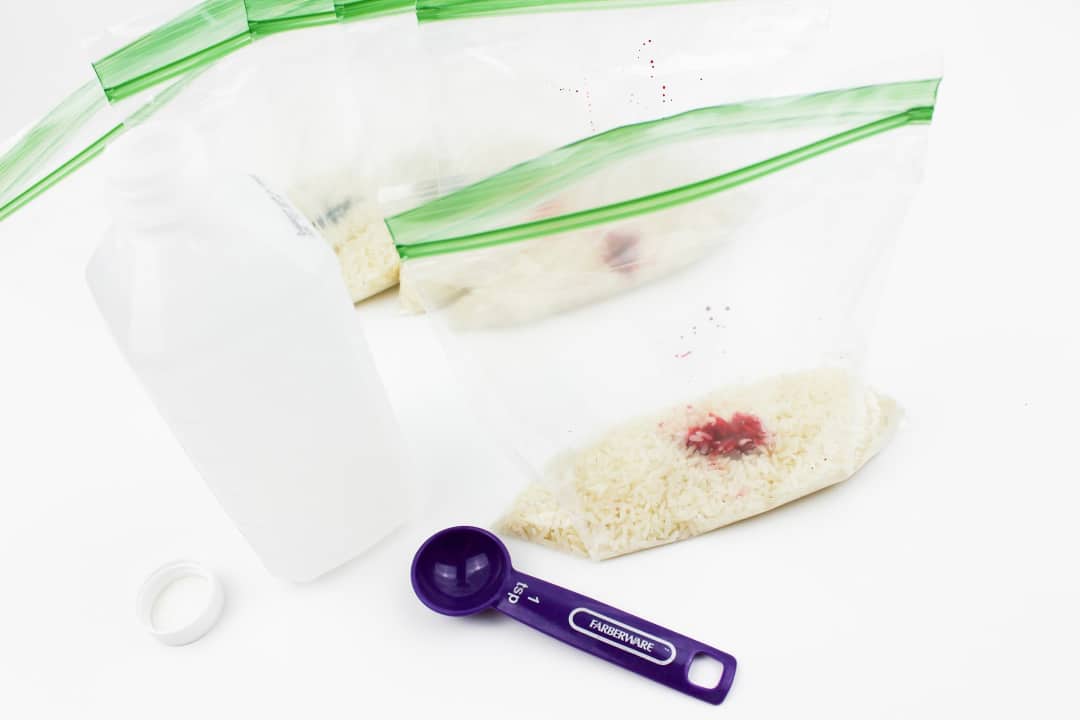 Close the bag well and start mixing the rice and food coloring mixture together with your hands.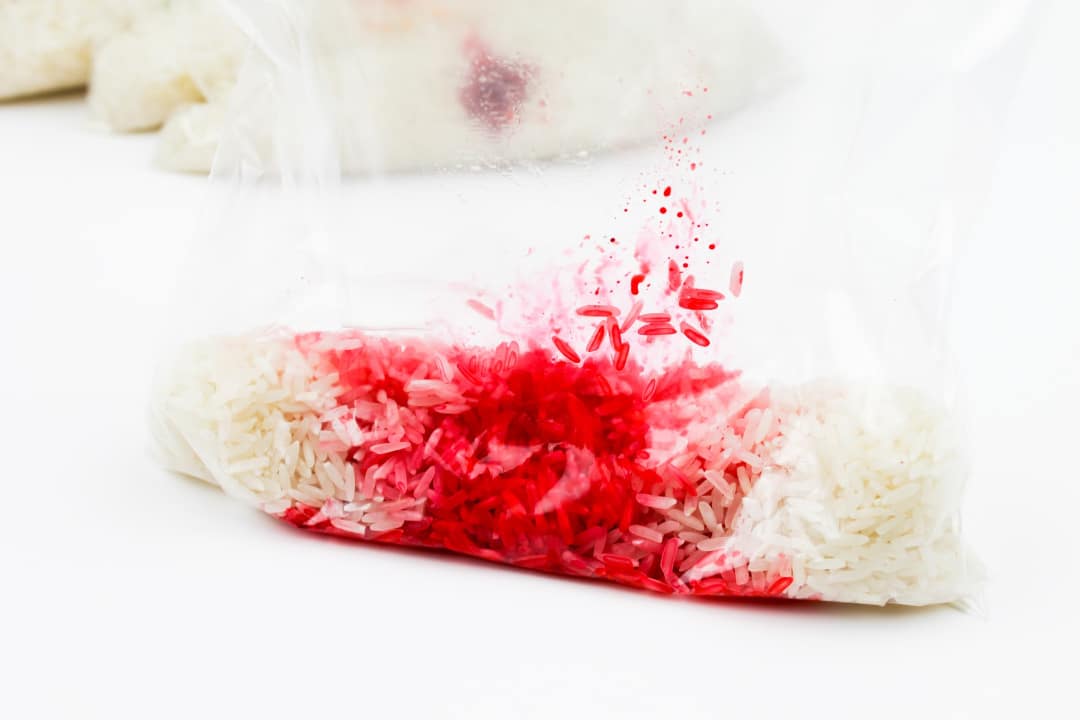 Mix the rice together until all rice is colored.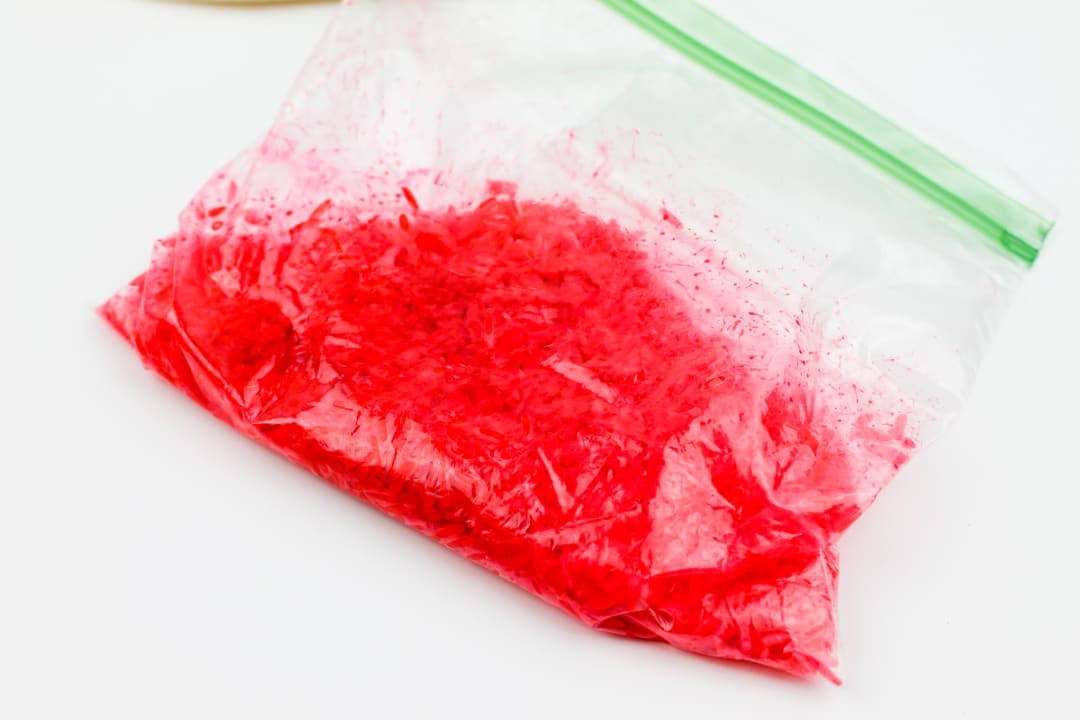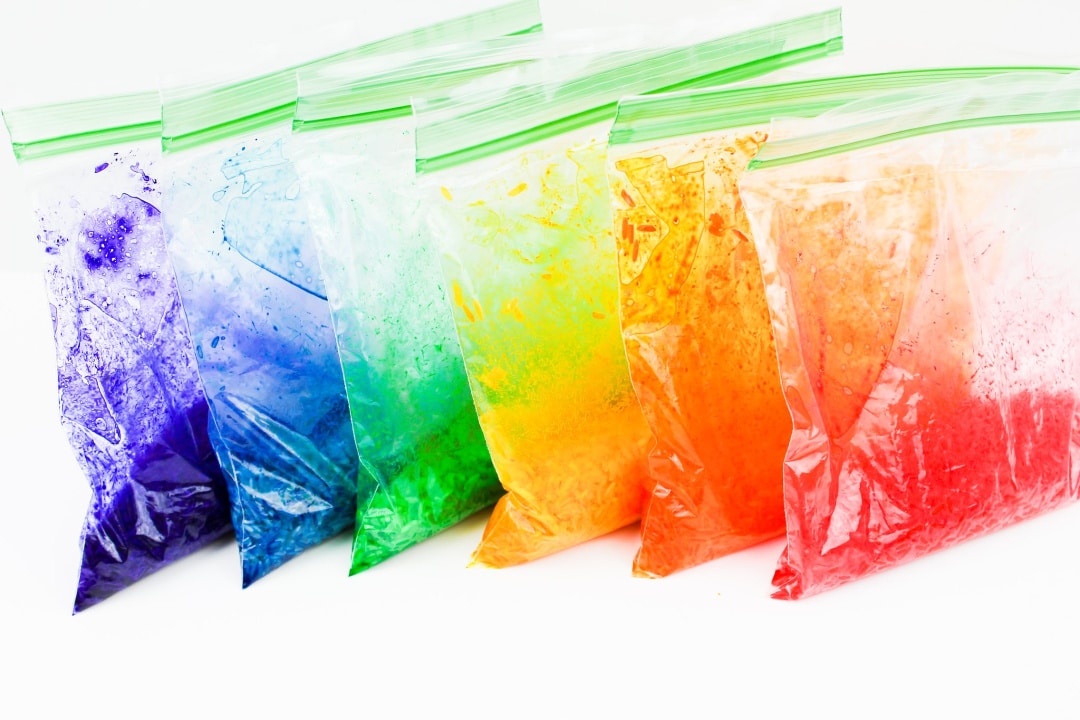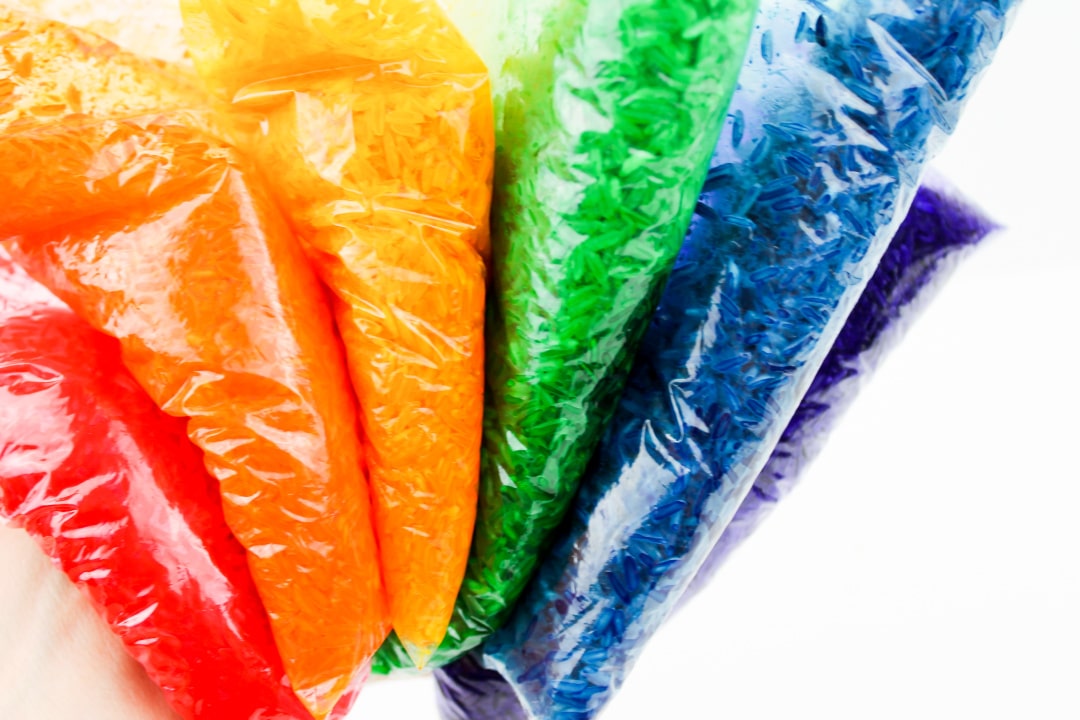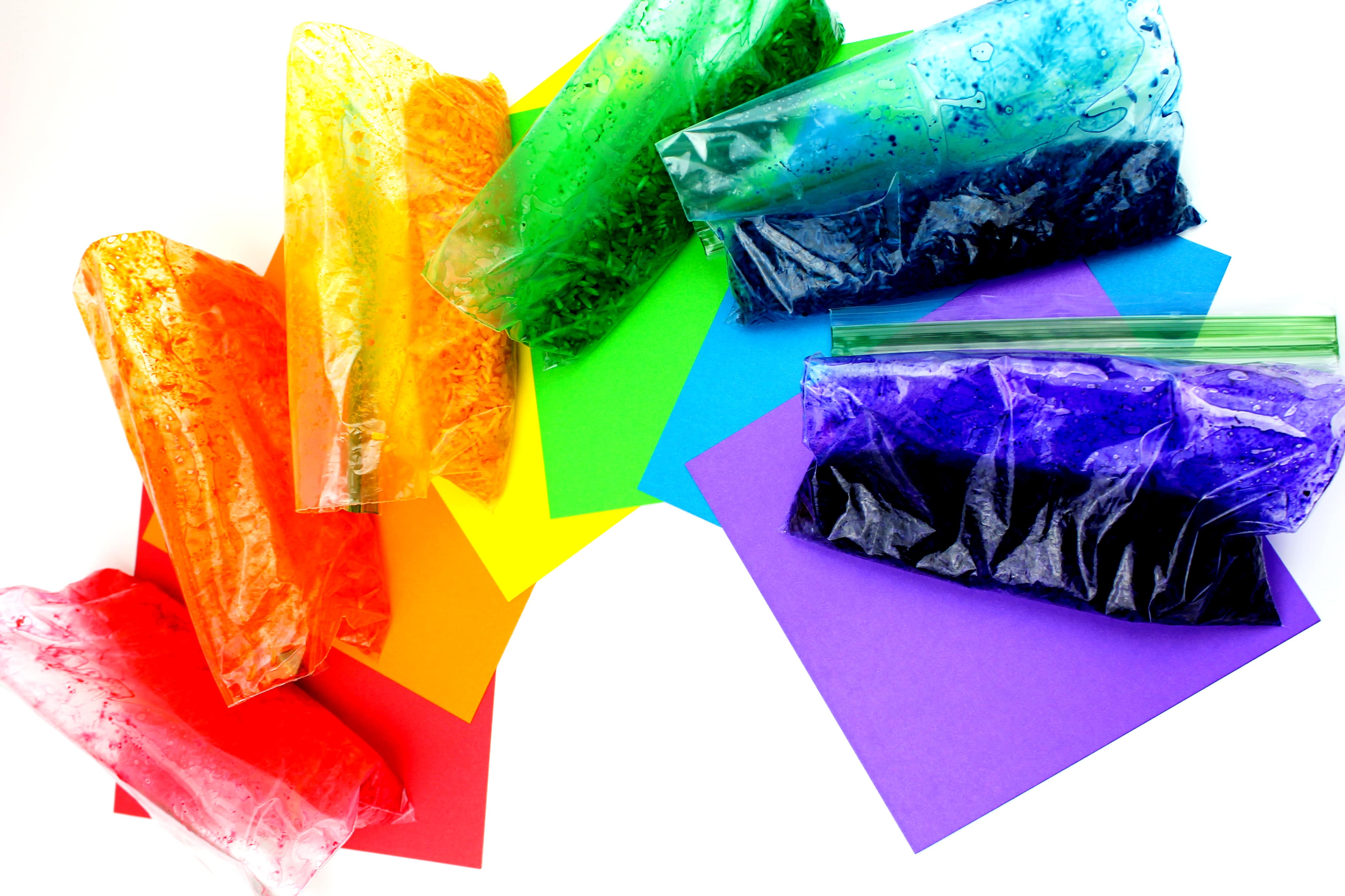 Pour the rice onto a paper towel lined drying tray and allow rice to dry completely. When rice is dry, add rice to sensory bin, cups, etc. for play time!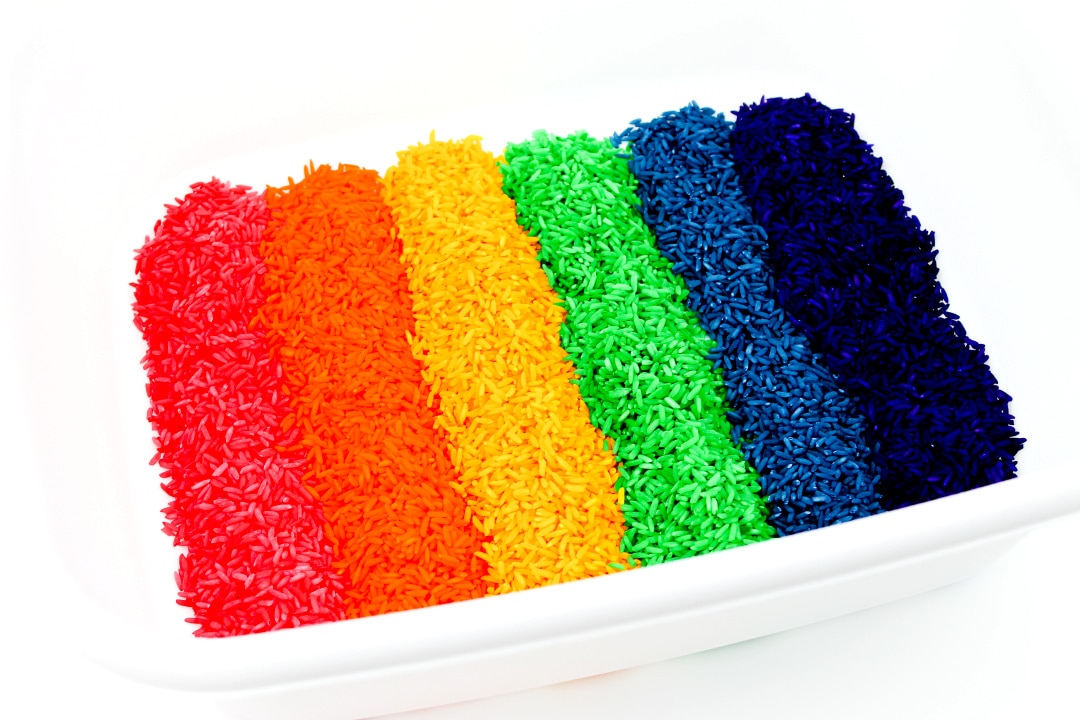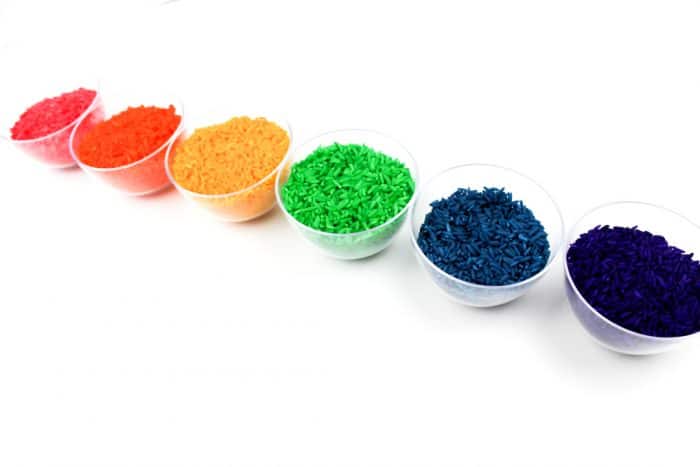 Mix the rainbow rice together when you are ready!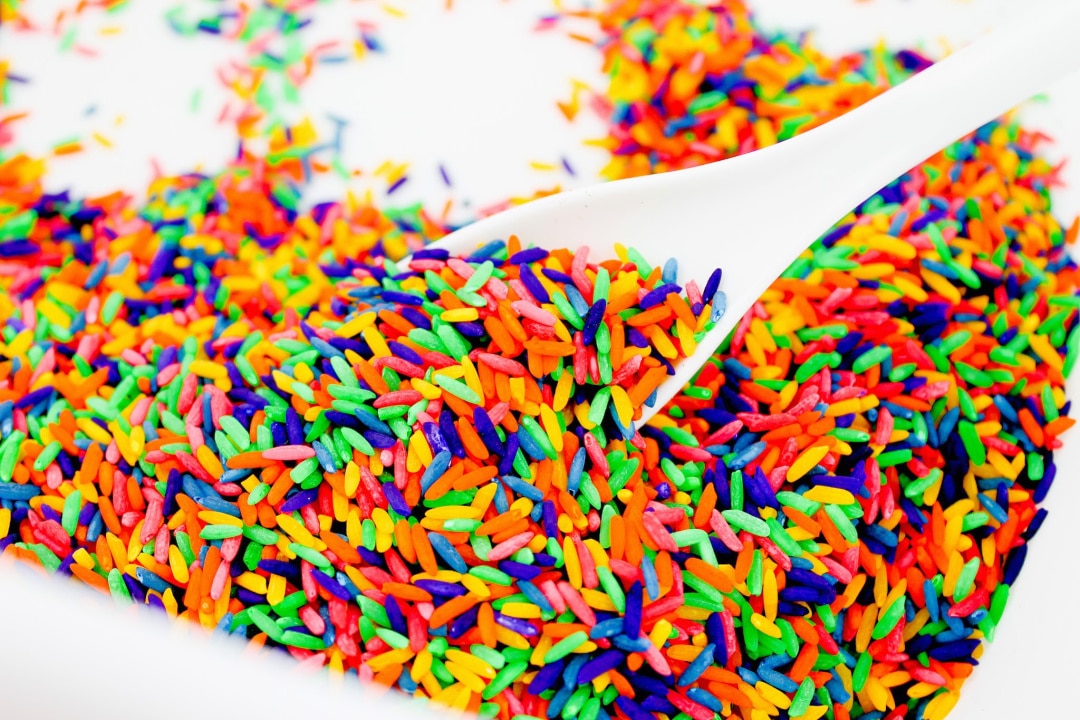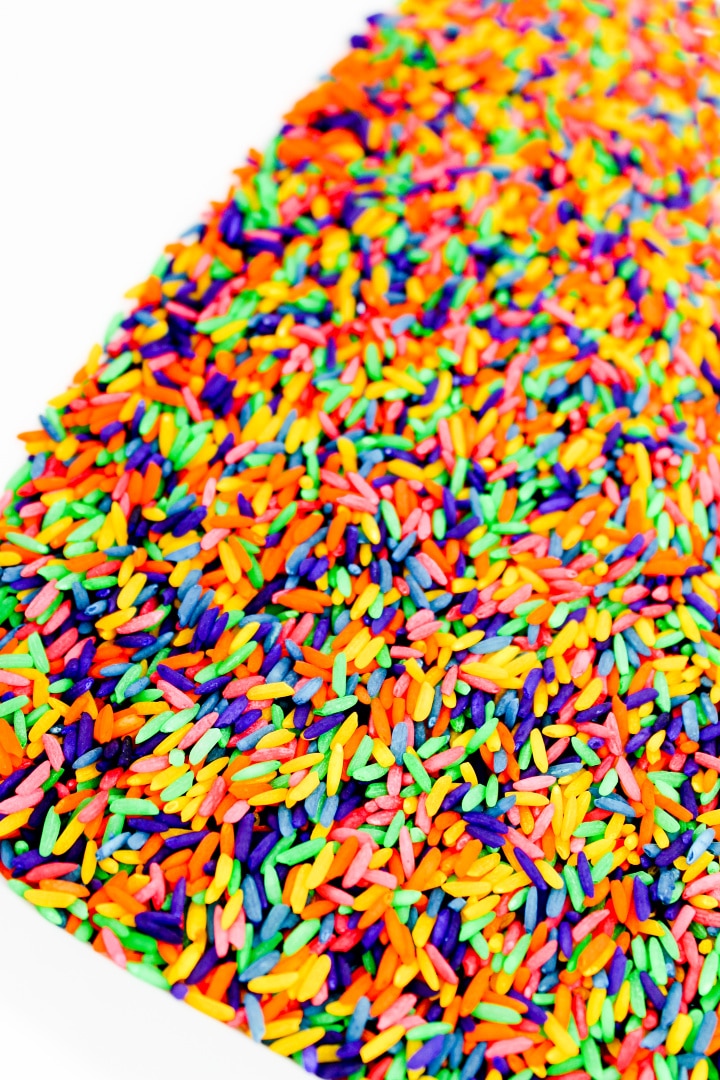 Allow the child to play with the rainbow rice using their hands, scoops, spoons, cups, etc.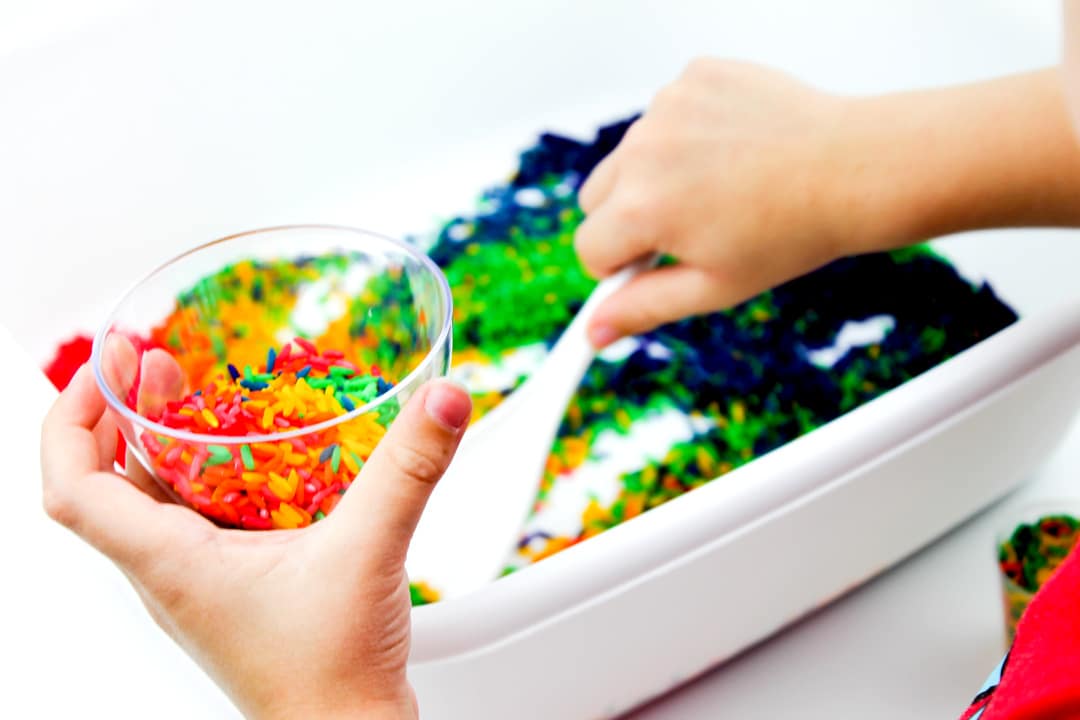 Here are a few rainbow themed books to help supplement this activity:
How to Make Colorful Sand (Using Salt!)
View our collection of sensory bottles for more sensory play.
Come back and let us know if you create this for your little ones for sensory play! Share this with your family and friends:
Pin to Pinterest: