Low Carb Peanut Butter Chocolate Chip Cheesecake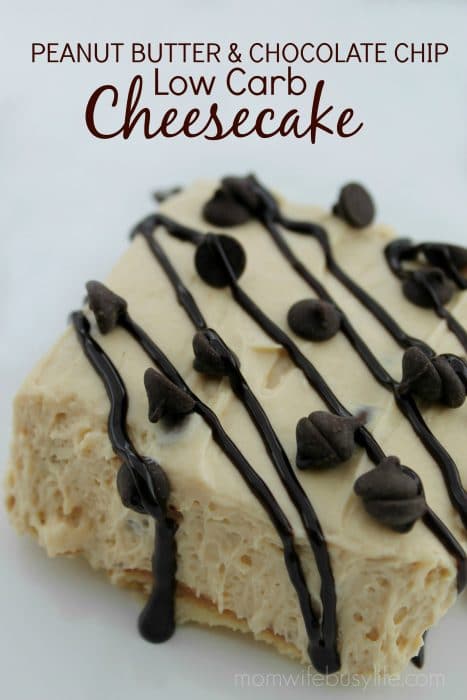 I've been following a low carb lifestyle for eight months now and can report a twenty-six pound weight loss! I'm happy to be committed to living a healthier lifestyle and watching my sugar intake. It was hard to kick the sugar habit, but I have created a recipe that I can enjoy when I'm craving something sweet to eat! I love chocolate, peanut butter, and cheesecake, so this is the perfect combination to enjoy together if you are watching your carbs! If you are looking for a light and fluffy dessert with the perfect amount of sweetness, this is for you!
Low Carb Peanut Butter Chocolate Chip Cheesecake
Ingredients for Crust:
Ingredients for Filling:
8 oz. package of whipped cream cheese
3/4 cup of Swerve sweetener
3/4 cup whipped peanut butter
1 1/2 cups of heavy whipping cream
1/2 cup of stevia sweetened Lily's Dark Chocolate Chips
Topping:



Directions:
Combine crust ingredients (almond flour, sweetener, butter) in a mixing bowl and mix well. Mixture will be crumbly.
Press crust down into a lightly greased (I use an olive oil spray) 8X8 baking dish.
Bake at 350 degrees for about 7-10 minutes or until crust is slightly brown. Set aside and let cool.
In a medium mixing bowl, mix filling ingredients (cream cheese, sweetener, peanut butter) with an electric mixer until blended. Add the whipping cream and whip until mixture is creamy and fluffy and a peak forms.
Stir in chocolate chips.
Spread mixture onto cooled crust evenly.
Refrigerate for a few hours before serving.
Sprinkle with leftover chocolate chips and drizzle the chocolate sauce on top before serving!
More great recipes:
Get access to ALL recipes here!