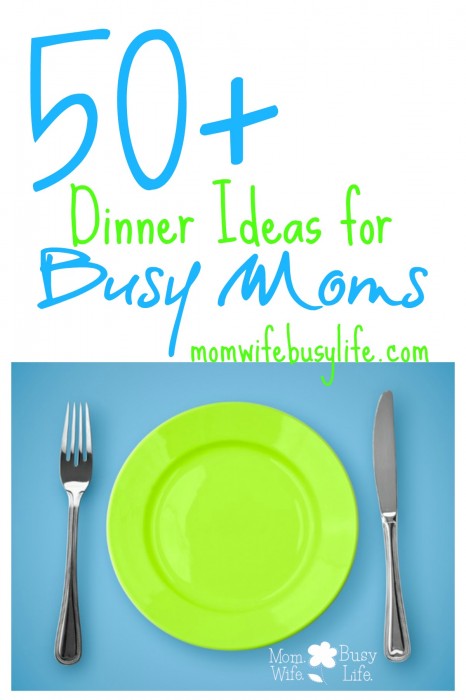 Dinner Ideas for Busy Moms
Are you a busy mom or wife struggling to come up with dinner ideas to make each week for the family? If you are like me, you tend to forget what to make during the week when you have several other things to juggle and remember!
I created a list below of 50+ dinner ideas for busy moms. The purpose of this list is to serve as a reminder of menu ideas that you can make during the week because it's easy to forget them if you don't have this list available. Many of these do not require a recipe because they are very basic. Print this list and laminate it! Take it with you to the grocery store each week to help you remember what you can make while you are browsing the aisles!
Lasagna
Spaghetti
Ravioli
Calzones
Beans & Cornbread
Beans & Rice
15 Bean Soup
Red Beans & Rice with Sausage
Frito Pie
Hot Dogs
Corn Dogs
Grilled Cheese Sandwiches
Macaroni & Cheese
Chili Cheese Dogs
Nachos
Tacos
Beef or Chicken Fajitas
Enchiladas
Burritos
Hamburgers
Peanut Butter & Jelly Sandwiches
Steak & Baked Potato
Chicken Fried Steak
Fried Chicken with Mashed Potatoes
Beef or Pork Roast
Pork Chops
Pork Ribs
Beef Stew
Meatloaf
Sloppy Joes
Tuna Sandwiches
Gumbo
Jambalaya
Soup & Salad
Baked Chicken
Grilled or Fried Chicken
Sweet & Sour Chicken
Chicken Noodle Soup
Chicken & Dumplings
Chicken Cacciatore
Chicken Parmesan
Chicken Alfredo
Stuffed Bell Peppers
Pot Pie
Grilled or Fried Fish
Do you have any ideas to add to this list? Leave a comment!