My girls are at the age where they love to work on arts and crafts with me. Recently, I found that we were throwing away so many useful items that could be turned into fun crafts — things like jars, toilet paper and paper towel rolls, containers, and more. Instead of being wasteful, we started turning our trash into creative treasures.
We go through milk often and milk jugs are a common household item that tend to make it into the recycle bins on a regular basis. We've also been going through nursery water jugs lately since my baby boy has moved on to formula.  The best part about these water jugs is that we don't end up having to clean them out and they don't end up smelling like sour milk! If you have water jugs, I recommend using those for this Halloween craft, but if not, milk jugs work great, too — just make sure you wash them well before using.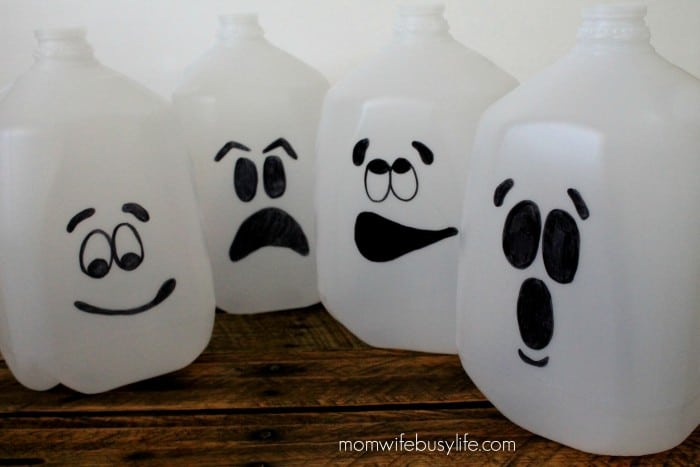 Create Milk Jug Ghosts to use as a Halloween decoration this year with your kids with your used milk or water jugs! This is a fun and simple craft to make with the kids and a very frugal activity, too. We don't purchase Halloween decorations
anymore. Instead, I allow my children to help us make fun Halloween crafts to set around the house this time of year. The best part about these crafts is the fact that you can literally toss them into the recycling bin when you are finished with them! No need to save them and clutter up the house. Just bookmark this post and make them again next year with different faces!
Milk Jug Ghosts Halloween Craft
Here's what you'll need to make your Milk Jug Ghosts:
Directions:
1. Using a marker, draw a ghost face on the side of the jug that has no label or writing. (You can find examples of faces by doing a simple Google search of "ghost faces")
2. ***Step 2 for Adults only.*** Cut a small square opening for the flameless candle on the opposite side of the jug at the bottom.
3. Turn on the flameless tea light candle and place it inside the jug.
4. Find a great place to display your Milk Jug Ghosts!
More Halloween Crafts:
Milk Jug Pumpkins
Vampire Blood in a Bottle
Ghost Eggs
Spooky Spider
Plus check out this Vampire Donuts recipe!