These Chocolate Chip Pumpkin Muffins are a great option for pumpkin lovers out there. Serve them for breakfast or as a treat after dinner. They are delicious alongside a hot cup of coffee!
When the fall season comes around, I seek out anything and everything PUMPKIN! I absolutely love pumpkin. I love the taste and the smell of pumpkin when the cooler temperatures roll around!
I love to bake with pumpkin once October rolls around. I get started early so that I can take advantage of as much pumpkin deliciousness as I can!
My kids are getting older and enjoy helping me bake. They help me with everything from gathering the ingredients, measuring the ingredients, pouring, stirring, mixing — you name it. I try to make our baking moments educational but lots of fun, too.
Baking in the kitchen with the kids can help create memories for them to hold on to for a lifetime! I remember the moments when I helped my mom bake in the kitchen. My main way of helping was licking the spoons after stirring the cake mix when we thought it was safe to do so!
This year, I want to share a pumpkin recipe with you that the whole family will enjoy. These Pumpkin Oat Muffins are fun and easy to make, all from scratch. These pumpkin muffins are a tasty treat served either for breakfast with coffee or juice and can be a great after dinner snack, too!
Chocolate Chip Pumpkin Muffins
Makes 12 muffins or 24 mini muffins
Prep time: 10 minutes
Cook time: 20 minutes
Ingredients:
Instructions:
Preheat the oven to 350 degrees.
Prepare a muffin pan by lining each cup with paper liners or greasing each muffin cup with nonstick cooking spray.
Combine the flax seed, oats, oat flour, salt, cinnamon, pumpkin pie spice, baking soda, and baking powder in a large mixing bowl. Whisk together the ingredients and set aside.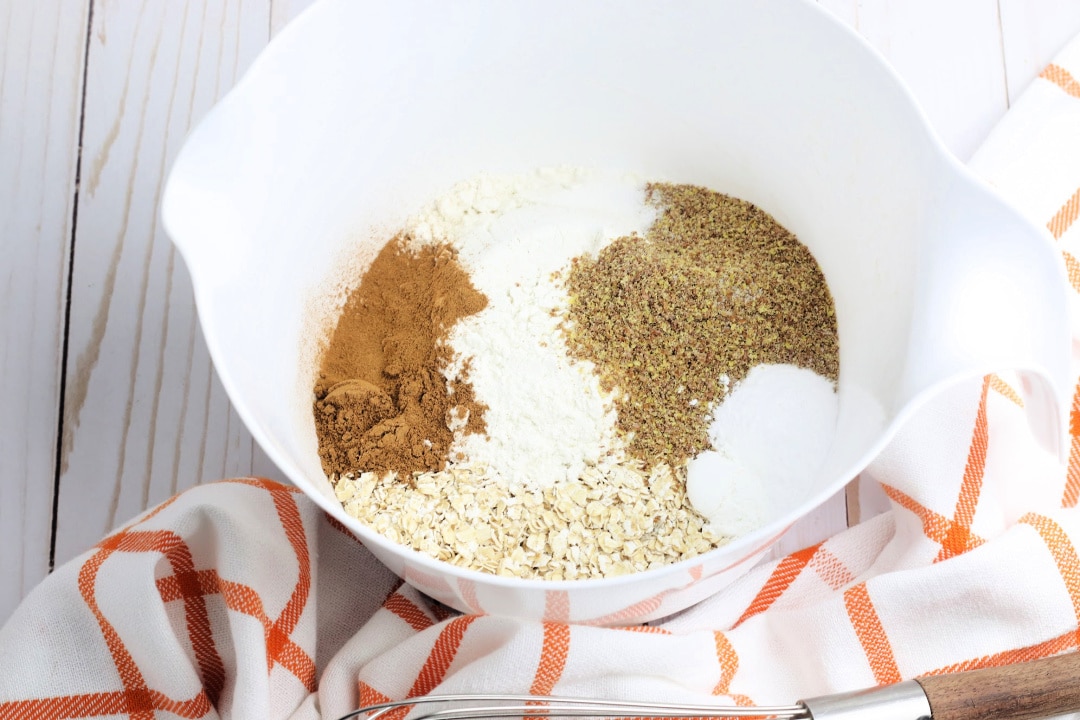 Add the pumpkin, egg, brown sugar, milk, and vanilla extract in another bowl. Whisk these ingredients together until all are mixed well.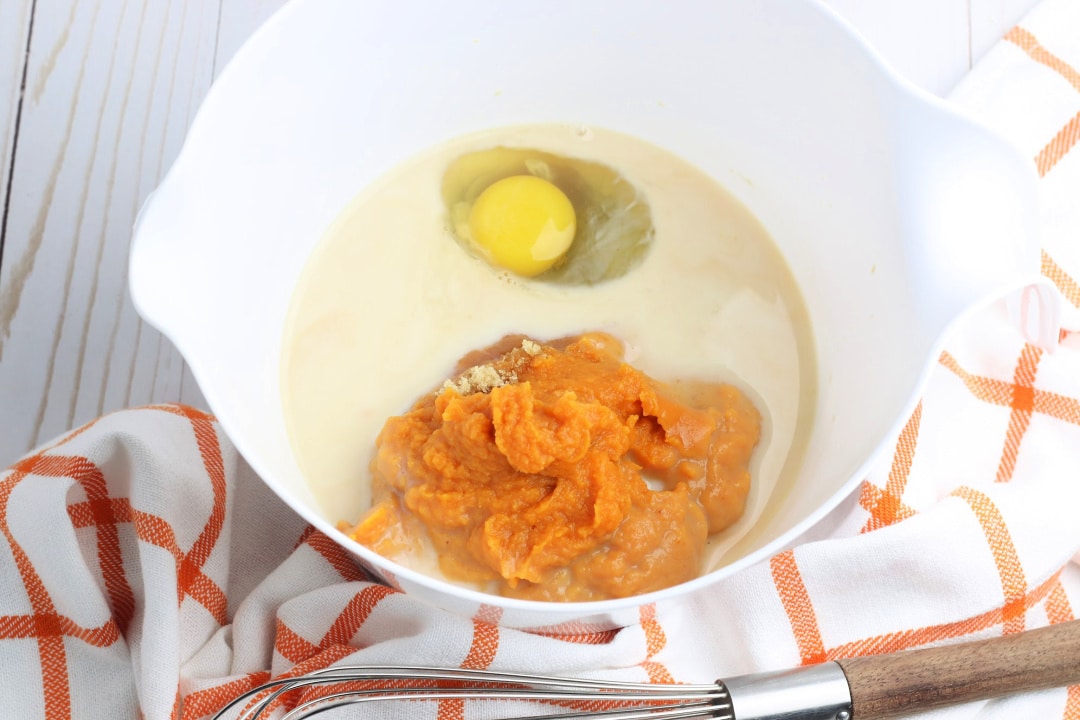 Add the wet ingredients to the dry ingredients. Stir until just combined.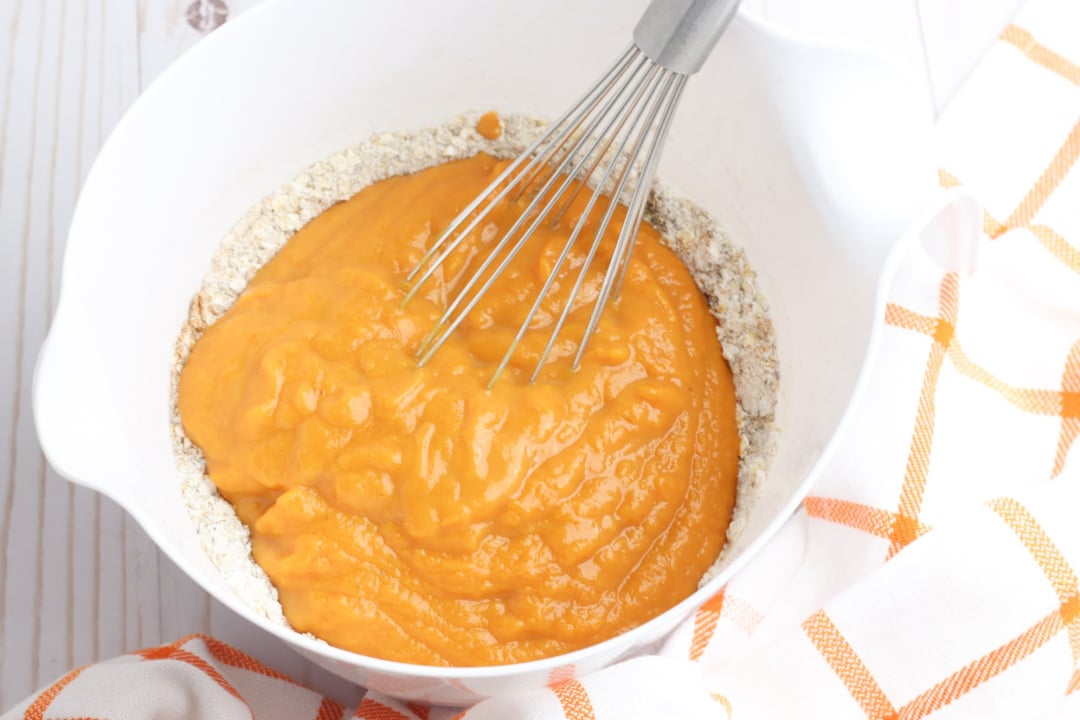 Fold in the chocolate chips gently.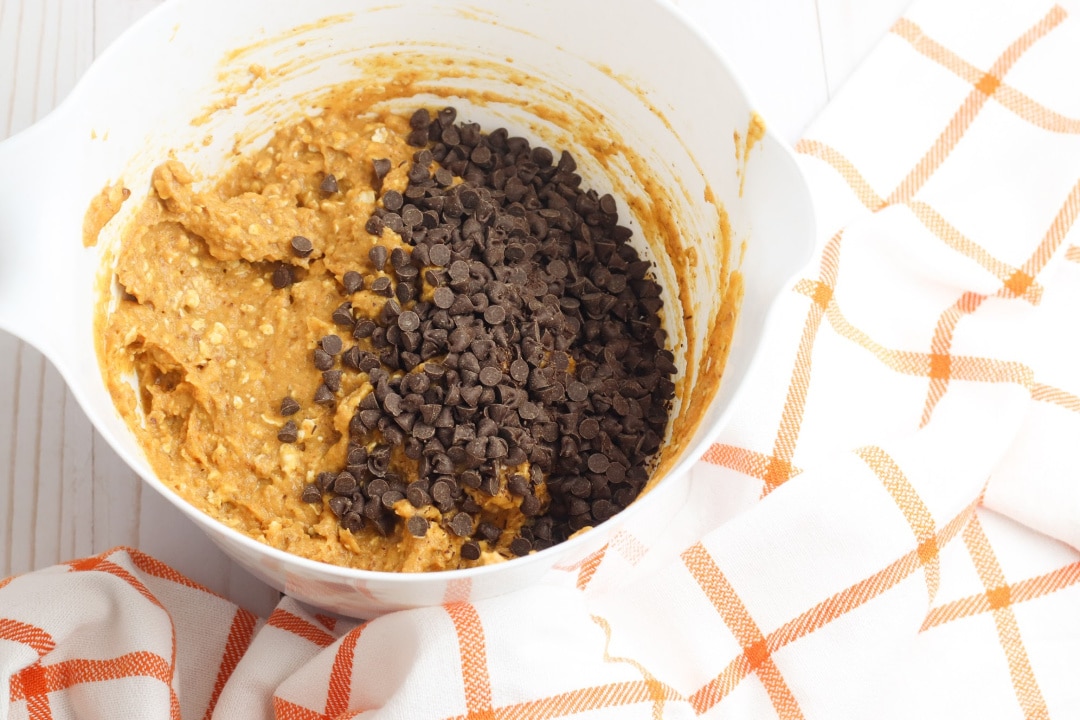 Scoop the batter into prepared muffin pan. Fill each cup ¾ of the way full of batter. Do not overfill.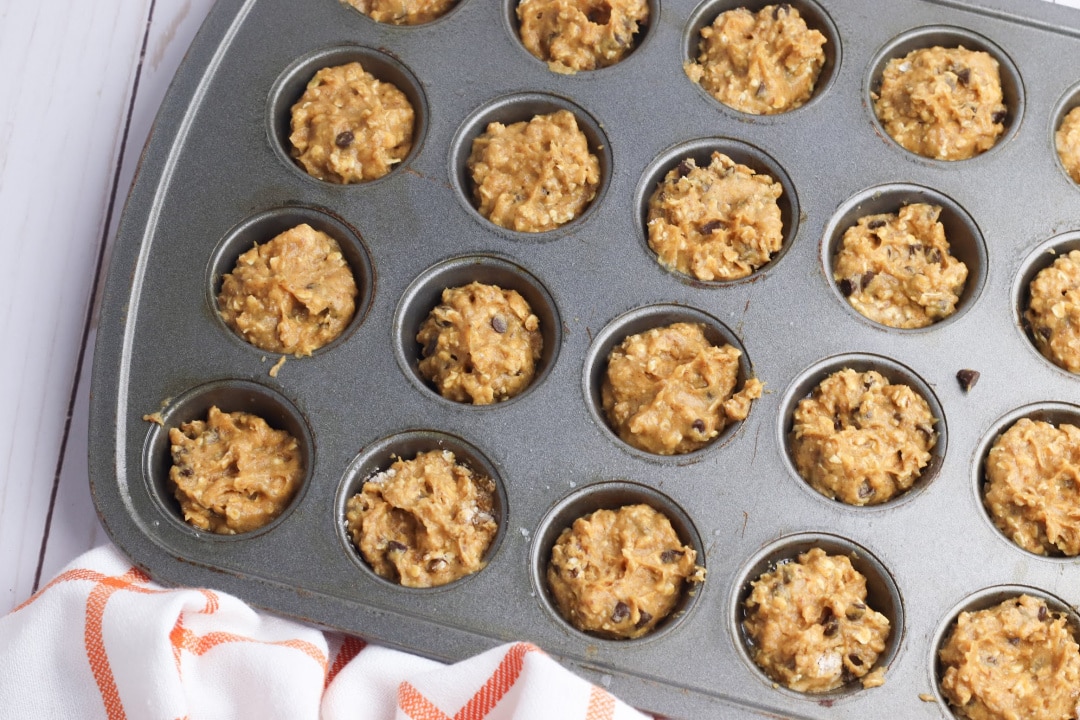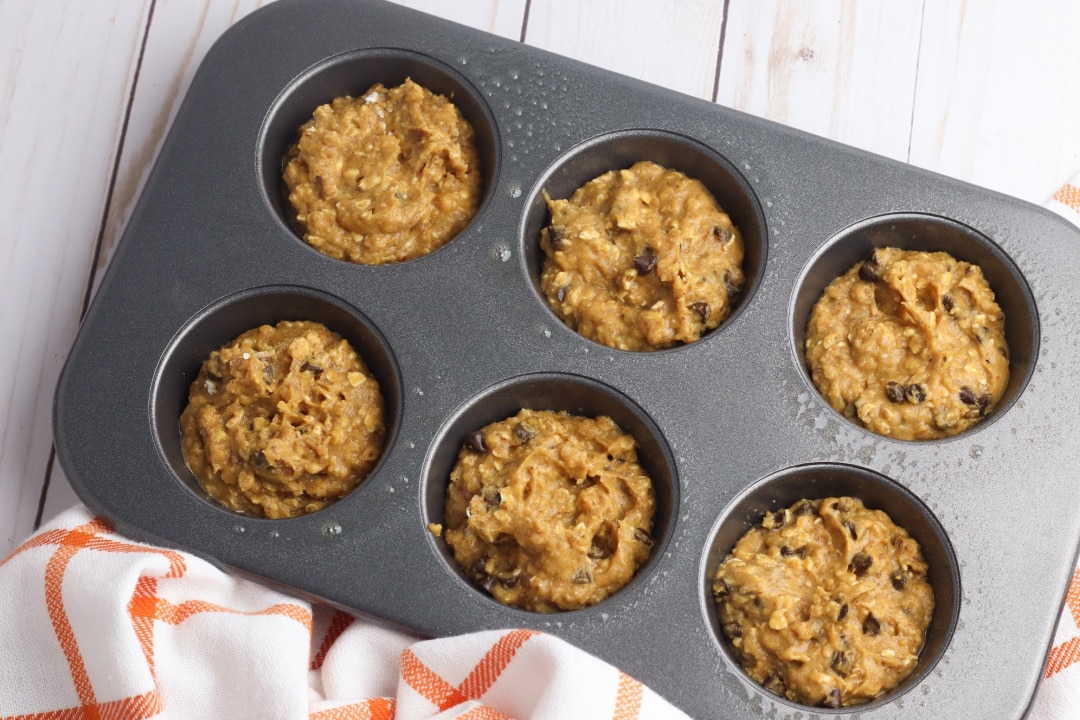 Bake Pumpkin Oat Muffins for 18 to 20 minutes for regular muffins or 8 to 10 minutes for mini muffins.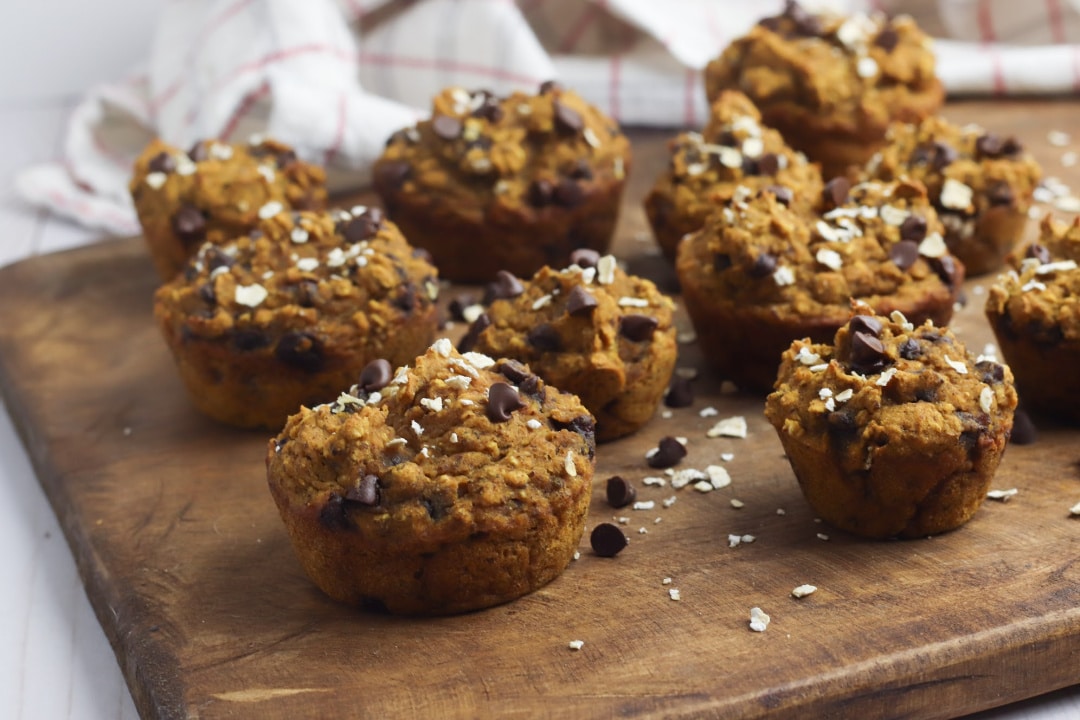 Allow muffins to cool in the pan for at least five minutes before removing. Place muffings on a wire cooling rack to cool completely.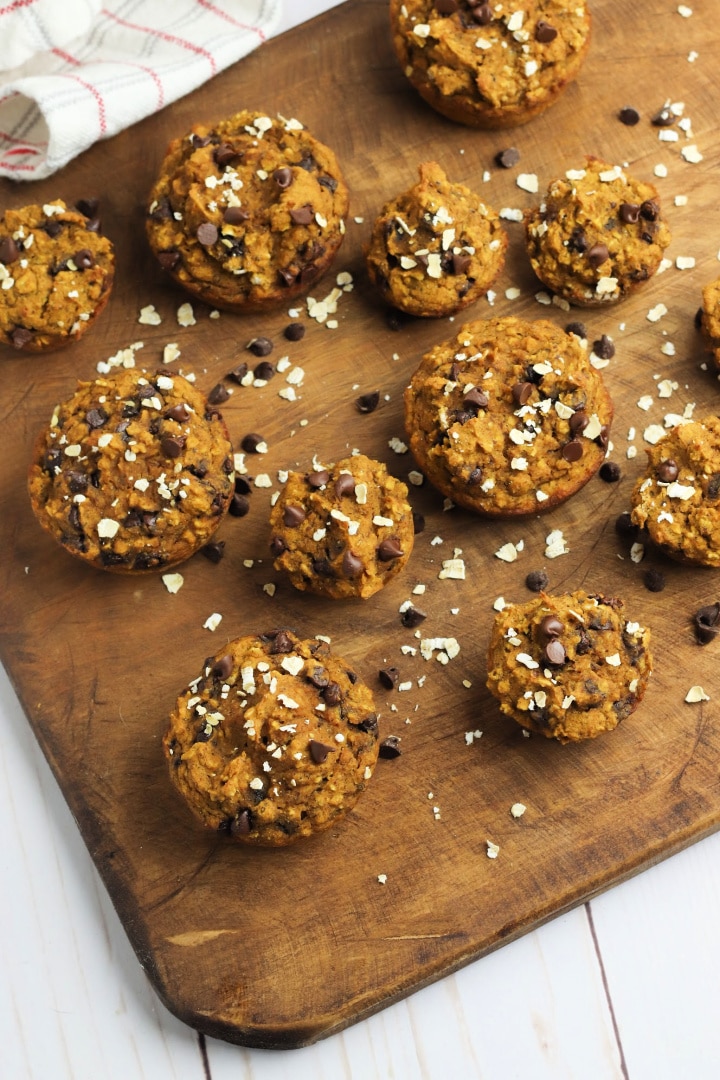 Before you leave, we have more pumpkin ideas to share with you!
Creating our Moist Pumpkin Bread Recipe is a yearly tradition at my house! I slice the pumpkin bread into thick slices and enjoy with a hot cup of coffee for breakfast.
Check out our Toasted Cinnamon Pumpkin Pie Recipe. The crust on this pie is unique and made from graham crackers and cinnamon cereal. This is a fun recipe to get the kids involved with.
Love a good pumpkin dip recipe? Our Pumpkin Pie Spice Dip with Homemade Cinnamon Sugar Chips is a great dip to serve at your next gathering. Served warm, this dip and chips recipe tastes similar to eating a pumpkin pie!
Have you ever tried a Pumpkin Pie Smoothie? This smoothie is topped with whipped cream and tastes like a pumpkin pie without the crust!
If you are wanting to pamper yourself this fall, try our Pumpkin Vanilla Sugar Scrub. This recipe is made with ingredients that you could eat! Use this sugar scrub to exfoliate when you get a moment to sneak away for some alone time.