I love anything and everything pumpkin when the fall season rolls around! Enjoy this selection of tasty Pumpkin Desserts this year!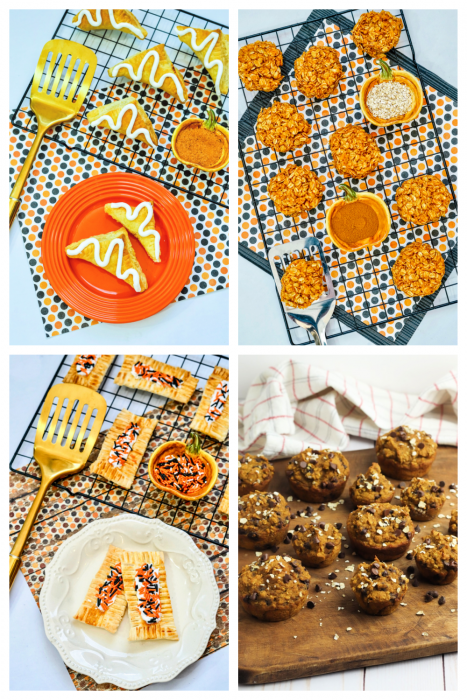 When you think of tasty pumpkin desserts, the first thing that probably comes to mind is a delicious pumpkin pie. While pumpkin pie is delicious, did you know there are so many different pumpkin desserts that are just as good, if not better, that can be made?
Pumpkin desserts usually start popping up in the fall once the weather starts to get a bit cooler, but these desserts are good enough to be served all year long!
From pumpkin flavored cheesecakes to desserts with your favorite pumpkin spice flavors, here are just a few tasty pumpkin desserts that you are sure to love.
Tasty Pumpkin Desserts
Air Fryer Pumpkin Pie Turnovers
Use your air fryer this fall season to create these tasty air fryer pumpkin pie turnovers!
Serve these yummy pumpkin pop tarts for breakfast this year!
Grab the pumpkin pie spice and other simple ingredients to create these delicious No-Bake Pumpkin Cookies!
Our seasonal pumpkin bread recipe is a family favorite! We make this recipe each year at least once. Let the kids get involved with making this moist pumpkin bread!
A smoothie that's like a dessert? Yes, please! This smoothie tastes similar to a pumpkin pie and tastes great when it's topped with whipped cream.
Chocolate Chip Pumpkin Muffins
These moist chocolate chip pumpkin muffins are great to serve with your morning cup of coffee!
Our crust for this pie uses cinnamon cereal! This is a fun recipe to make with the kids.
Pumpkin Pie Spice Dip with Cinnamon Sugar Chips
Enjoy this tasty dip with homemade cinnamon sugar chips this fall season.
Layered Pumpkin Cheesecake Bars
The perfect pumpkin dessert, these pumpkin cheesecake bars are an easy make ahead dessert that everyone will enjoy!
A dessert any pumpkin spice latte lover will enjoy! Imagine your favorite pumpkin flavored latte drink turned into a delicious dessert!
Pumpkin pie doesn't last long, but this pumpkin pie squares recipe will allow you to get more of that delicious pumpkin pie taste in something a little bigger than just pie size.
Another delicious dessert for pumpkin spice lovers, these cookies use an old-fashioned pumpkin cookie recipe and is topped with a delicious maple frosting!
Instant Pot Caramel Pumpkin Cheesecake
A great dessert for the holidays or to satisfy any sweet tooth, this caramel pumpkin cheesecake is made in the Instant Pot so you can whip it up in no time.
Slow Cooker Spiced Pumpkin Pudding
Served warm, with a bit of ice cream on top, or after being chilled in the fridge, this dessert is a crowd pleaser!
Full of pumpkin flavor, this bourbon cake is also soaked in a butter bourbon sauce to bring the delicious flavors together.
Marshmallow Mousse Pumpkin Pie
A tasty no-bake dessert that is perfect for any after dinner treat. You can serve the pie with a pumpkin pie spice flavored whipped cream for that extra touch of goodness.
Another great no-bake dessert, this pumpkin éclair cake is a great easy go-to dessert when you want to cure that sweet tooth of yours.
This simple pumpkin roll recipe will be so delicious that you will never buy a store bought one again. It's an easy foolproof recipe that is sure to impress.
Classic choux pastry puffs are filled with a sweet pumpkin flavored cream cheese to create these delicious cream puffs.
This parfait dessert is layered with a delicious graham cracker crust, creamy pumpkin pudding, whipped topping and is then topped with pecans for extra flavor.
Pumpkin Carrot Cake with Coconut and Cream Cheese
With a splash of coconut and topped with a delicious cream cheese frosting, this carrot cake is sure to be a hit!
This gluten free pumpkin dessert is made with a homemade pumpkin puree for an extra delicious homemade taste.