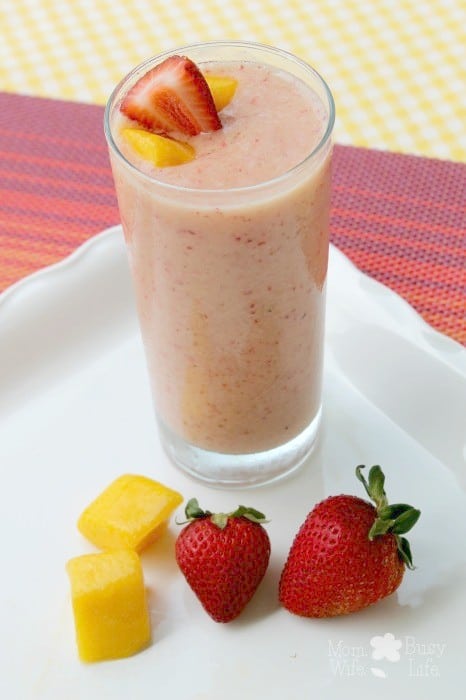 If you've been following my website, then you may be picking up on the fact that I love strawberries. If you were to make a visit to my home and open my refrigerator, you'll most likely find strawberries inside, especially if it's the summer season. Strawberries are the perfect summertime fruit to have on hand. I add so many strawberries to recipes, from salads, to water, to desserts! Strawberries are delicious!
One of the easiest ways to use strawberries is to cut them up and throw them into smoothies! I like to use my strawberries in smoothies when I know that there's a chance they could go bad before I get a chance to eat them. I also like to pair the fruit up with another complimentary fruit such as mango! You can use fresh or frozen fruits for your smoothies. For this Strawberry Mango recipe, I used fresh strawberries and frozen chunks of mango!

Strawberry Mango Smoothie
Check out these blenders for making smoothies!
Ingredients:
2 Cups of Almond Milk (sweetened or unsweetened)
2-3 Cups of Ice
12-18 Fresh or Frozen Strawberries
1 Cup Fresh or Frozen Mango Chunks
Optional: 1 Organic Stevia Packet

Directions: 
Cut the stems off of the strawberries and wash well.
Pour the almond milk into a blender. Add ice. Blend until ice is crushed.
Then add in strawberries and blend.
Add in the mango chunks and sweetener and blend.
Serve and enjoy!
Makes 4-6 glasses. You can store the remaining smoothie mixture in the refrigerator and consume within the day. 
More Smoothie Recipes: