Calling all busy moms!
As summer arrives with its scorching heat, it's essential to stay cool and nourished. But let's face it, finding time for self-care can be a challenge.
Fear not, super moms! We have the perfect solution for you: the Strawberry Mango Smoothie!
Packed with vitamins, bursting with flavor, and ready in minutes, this delightful treat will not only keep you refreshed but also give you the energy boost you need.
Get ready to indulge in this sweet, fruity concoction that will make your summer days a whole lot brighter!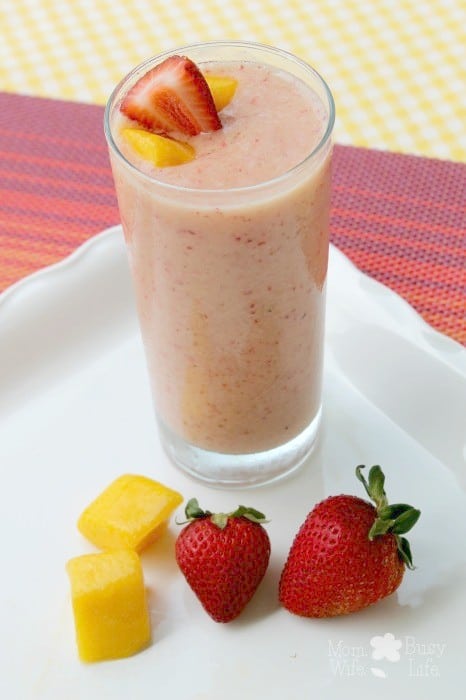 Summer is a time for fun in the sun, but it can also be overwhelming for busy moms.
Juggling work, kids, and household responsibilities can leave little time for self-care. Amidst all the chaos, it's easy to neglect our own well-being.
That's why it's crucial to find quick, easy, and healthy options that can keep us going.
Enter the Strawberry Mango Smoothie! With its vibrant colors and invigorating taste, this smoothie offers a delightful escape from the daily hustle.
It's a chance for busy moms to take a moment for themselves and recharge their batteries while treating their taste buds to a burst of summer flavors.
The Perfect Pairing: Strawberries and Mangoes
The magic of the Strawberry Mango Smoothie lies in the perfect pairing of these two delightful fruits.
Strawberries provide a natural sweetness that satisfies even the pickiest sweet tooth. Mangoes, on the other hand, bring a tropical twist to the smoothie.
The combination of these fruits creates a symphony of flavors that will transport you to a sunny beach, even if you're just sipping it in your backyard.
Time-Saving Hacks for Busy Moms
We understand that time is of the essence for busy moms.
That's why we're here to share some time-saving hacks that will make preparing the Strawberry Mango Smoothie a breeze.
One tip is to prep your fruits in advance.
Wash, chop, and freeze your strawberries and mangoes, so they're ready to go whenever you crave a smoothie.
You can also consider investing in a high-speed blender that will effortlessly blend your ingredients into a velvety smooth consistency.
The magic bullet blender is my favorite blender for smaller portion smoothies on the go!
Another time-saving hack is to make a large batch of the smoothie and store it in individual portions in the freezer.
That way, you can simply grab a pre-portioned smoothie whenever you need a refreshing pick-me-up.
Customization Options to Suit Your Tastes
The Strawberry Mango Smoothie is not just a one-size-fits-all recipe. It's a canvas for your creativity!
Feel free to add your own twist and customize it to suit your tastes. For some added creaminess, you can incorporate a dollop of yogurt or a splash of coconut milk.
If you want to boost the nutrition content, throw in a handful of spinach or kale without compromising the taste.
For those looking to up their fiber intake, chia seeds make a great addition.
The options are endless, and you have the freedom to experiment until you find your perfect blend.
Don't be afraid to get creative and tailor the smoothie to suit your unique preferences.
The Perfect Summer Drink
The Strawberry Mango Smoothie isn't just a beverage; it's the perfect summer drink! When the afternoon heat drains your energy, this refreshing smoothie comes to the rescue.
It provides a burst of natural sugars from the fruits, giving you an instant energy boost.
Moreover, its hydrating properties help combat dehydration during hot summer days.
Whether you're relaxing by the pool, chasing after the kids in the backyard, or on the go between errands, this smoothie makes for a delightful and convenient drink.
Pour it into a portable container, and you have a cool companion to keep you refreshed throughout your summer adventures.
Make your Strawberry Mango Smoothie today!
Busy moms, it's time to prioritize self-care and indulge in the Strawberry Mango Smoothie this summer!
This tantalizing blend of strawberries and mangoes is a quick and easy way to treat yourself this summer.
With its vibrant flavors and countless customization options, it's a recipe that adapts to your preferences.
So, take a break from your busy schedule, grab your blender, and let the Strawberry Mango Smoothie transport you to a tropical paradise.
Embrace the joy of sipping on this delightful creation, and remember that you deserve a little taste of summer bliss amidst the chaos.
Cheers to the busy moms who make self-care a priority and enjoy the sunshine in a glass!
Strawberry Mango Smoothie
Ingredients:
1 cup frozen strawberries
1 cup frozen mango chunks
1 ripe banana
1 cup coconut water (or substitute with regular water or your preferred milk)
1 tablespoon honey or maple syrup (optional, for added sweetness)
Directions:
Start by gathering all the ingredients: frozen strawberries, frozen mango chunks, a ripe banana, coconut water (or substitute), honey or maple syrup (optional), and fresh mint leaves for garnish.
If your strawberries and mango chunks are not pre-frozen, wash them and place them in the freezer for a few hours or overnight until they are frozen solid. Frozen fruits give the smoothie a thick and creamy consistency.
Peel the ripe banana and break it into smaller pieces for easier blending.
Get your blender ready and add the frozen strawberries, frozen mango chunks, ripe banana, and coconut water (or substitute liquid) to the blender jug.
If you prefer a sweeter smoothie, add a tablespoon of honey or maple syrup to the blender. This step is optional and can be adjusted based on your taste preferences.
Secure the blender lid tightly and start blending on high speed. Let the blender work its magic and blend the ingredients until you achieve a smooth and creamy consistency. This usually takes a few minutes, but you can blend for longer if needed.
Once the smoothie reaches your desired consistency, pause the blender and give it a taste. Adjust the sweetness or thickness by adding more honey, coconut water, or frozen fruits if necessary.
Once you are satisfied with the taste and texture, it's time to serve your smoothie. Prepare your favorite glass or glasses for pouring.
Carefully pour the smoothie into the glass, admiring its vibrant color as it fills the glass.
To add an extra touch of freshness and visual appeal, garnish your smoothie with a few fresh mint leaves. Place them gently on top of the smoothie.
Now, it's time to enjoy your homemade Strawberry Mango Smoothie! Sip it slowly and savor the tropical flavors and creamy texture. You can serve it with a straw or use a spoon if it's thick enough.
If you want to share the bliss, take a photo of your smoothie creation and share it with friends, family, or on social media. Spread the joy and inspire others to make their own refreshing summer treat.
Remember, this recipe is flexible, and you can adjust the ingredients and quantities to suit your taste preferences.
Have fun experimenting with different variations and enjoy the sweet taste of summer!