Enjoy these free Thanksgiving Q Tip Painting templates! Templates include a cooked turkey, loaf of bread, bowl of food, pumpkin pie, and corn on the cob.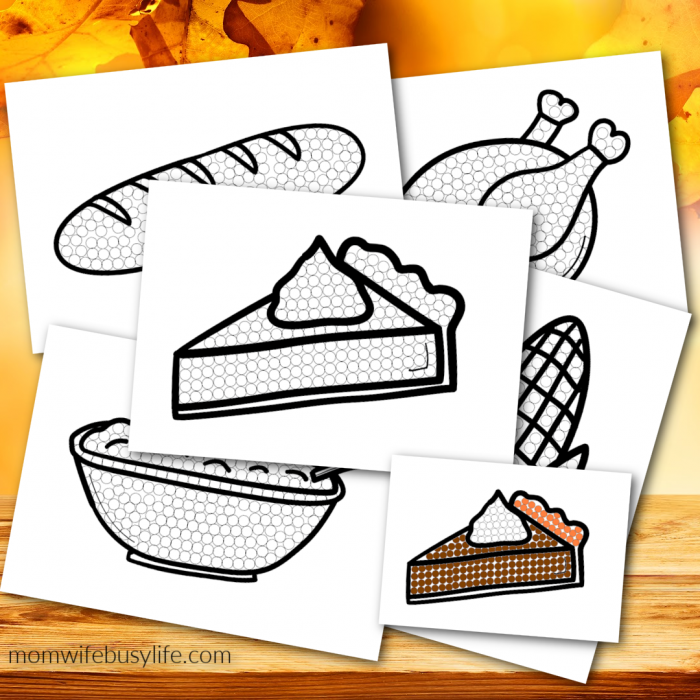 FREE Printable Thanksgiving Q-Tip Painting Pack: The Perfect Fall Activity for Kids
Fall is here, and with it comes the magical aura of Thanksgiving — the delicious turkey, the sumptuous side dishes, the heartwarming memories with family, and the joy of seeing our children revel in the festivities.
But what if, amidst the hustle and bustle of the holiday preparations, you could introduce your little ones to a fun and educational activity?
And what if it's something that could keep them engaged and develop their fine motor skills at the same time?
More FREE Q Tip Painting Templates
As a busy mom, you're constantly juggling between roles and responsibilities. Which is why I am thrilled to introduce the FREE Printable Thanksgiving Q Tip Painting Pack.
It's designed especially for your little ones, ensuring they are not only entertained but also learning in the process.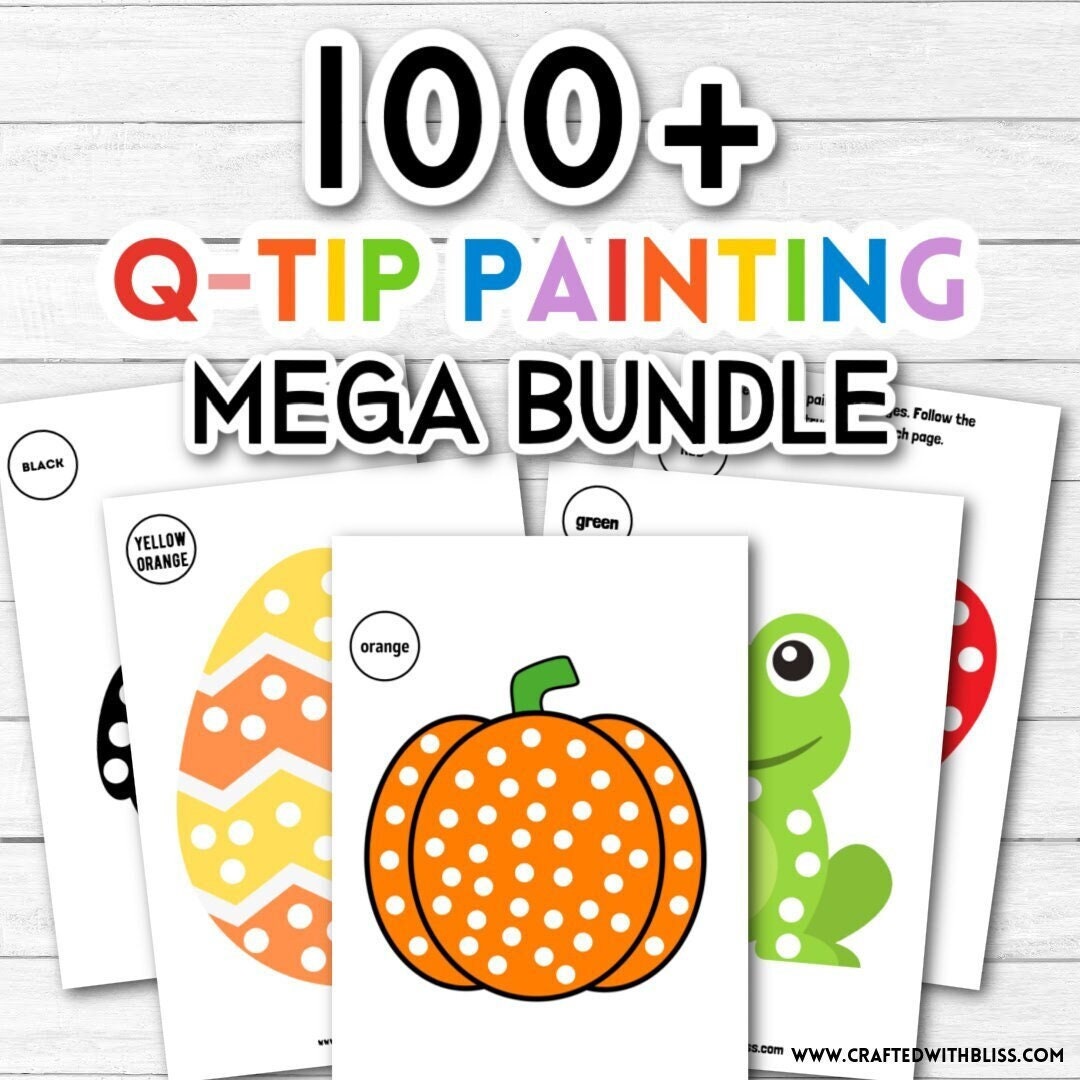 Buy Now: Q-tip Painting Mega Bundle
Why should busy moms take advantage of this free printable pack?
Zero Cost, Maximum Fun:
Freebies are always welcome, especially when they promise hours of entertainment for our kids.
By just printing out the templates, you have a ready-made activity pack without the associated costs.
Engaging and Educational:
While it might seem like a simple painting activity, Q-tip painting is known for aiding children in developing their fine motor skills.
The meticulousness required to fill in the circles helps improve their hand-eye coordination.
Less Mess:
Let's face it, while we all want our kids to embrace their creative side, the aftermath of a painting session can be daunting.
With Q-tip painting, there's significantly less mess to worry about.
Theme Learning:
The beautiful templates in this pack, which include a cooked turkey, loaf of bread, bowl of food, pumpkin pie, and corn on the cob, not only resonate with the Thanksgiving theme but also educate kids about the various elements associated with the festival.
Benefits for kids during their fall break:
Constructive Time Utilization:
Fall breaks can be a mix of fun and chaos. The latter, especially when kids run out of things to do. This printable pack promises to keep them engaged constructively.
Creativity Boost:
Each child is an artist in their own right. The Q-tip painting activity will allow them to experiment with colors, shades, and patterns, giving a boost to their innate creativity.
Cognitive Development:
As kids decide on colors, and focus on filling the tiny circles without going outside the lines, they are making decisions and enhancing their cognitive skills.
Bonding Opportunity:
This activity can be a great bonding exercise. Sit down with your kids, get your hands dirty with some paints, and create your own Thanksgiving masterpieces.
Sense of Achievement:
The joy of completing a task cannot be understated. As kids finish painting each template, they experience a sense of achievement, which is essential for building their self-esteem and confidence.
How to use the Printable Thanksgiving Q Tip Painting Pack:
Download & Print: Access the pack and print the templates on good quality paper.
Gather Supplies: All you need are some Q-tips and paints. You can even experiment with various types of paints (watercolor, acrylic) to see which one your child prefers.
Set the Scene: Lay out a protective cover on the table (old newspapers or a tablecloth will do), place the paints in small bowls or plates, and let the fun begin!
Mix & Match: Encourage your children to mix colors and see the magic unfold. What shade do they get when they mix red and yellow? How about blue and red?
Display with Pride: Once your child completes their masterpiece, don't forget to display it. Whether on the refrigerator door or in their room, it will serve as a reminder of the fun they had.
In conclusion, the FREE Printable Thanksgiving Q Tip Painting Pack is more than just a set of templates.
It's an opportunity.
An opportunity for kids to learn, to create, to develop skills, and to have fun. And for moms, it's a chance to engage with their children, to teach them, and to create lasting memories.
This fall, don't miss out on this fabulous, free resource.
After all, the essence of Thanksgiving lies in sharing, loving, and being grateful.
So, why not share this beautiful activity with your child and be grateful for the beautiful moments it brings?
Happy painting and Happy Thanksgiving!
Thanksgiving Q Tip Painting
Supplies needed:
Templates include a loaf of bread, cooked turkey, bowl of food, corn on the cob, and pumpkin pie.
More Q Tip Painting Ideas: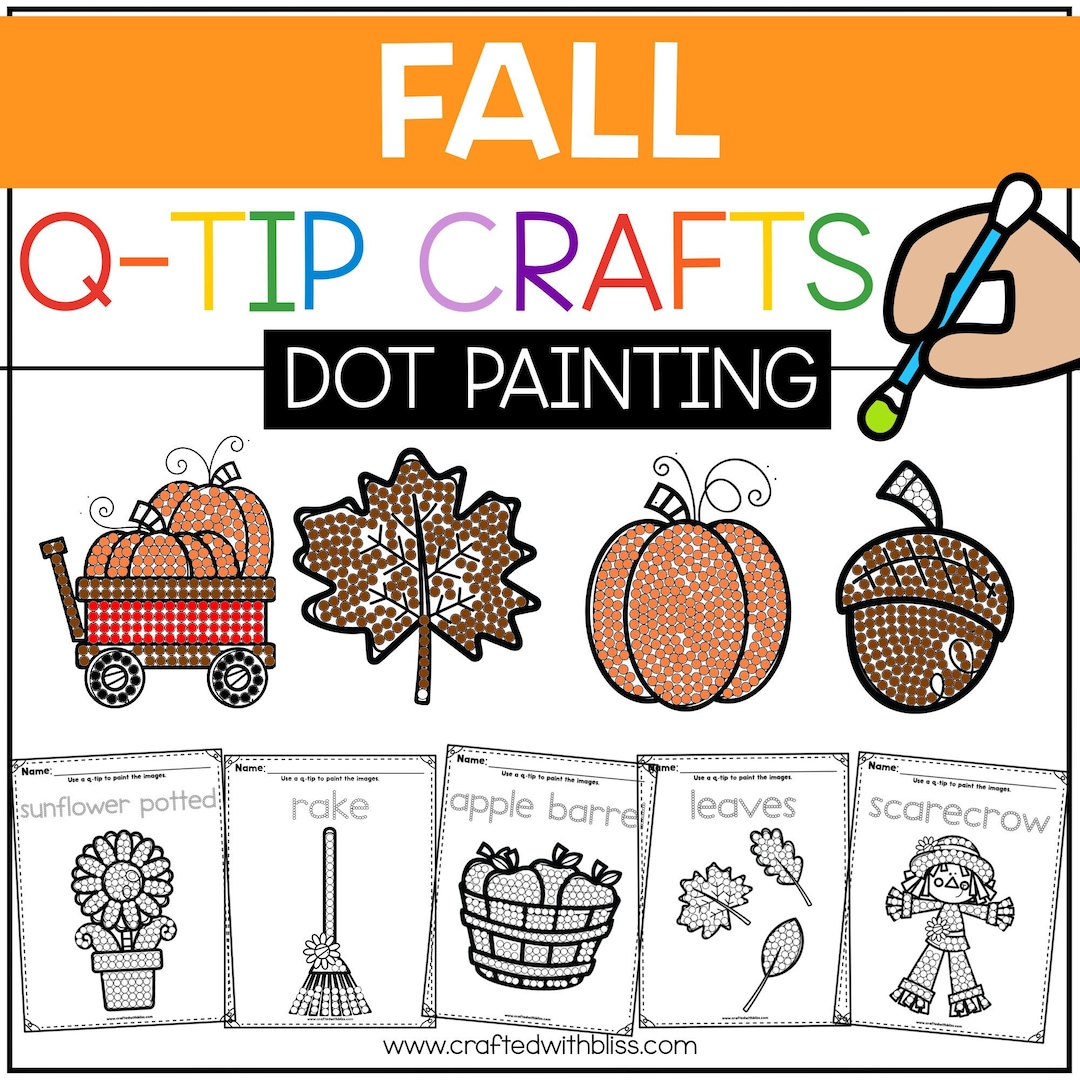 Fall Season Q Tip Painting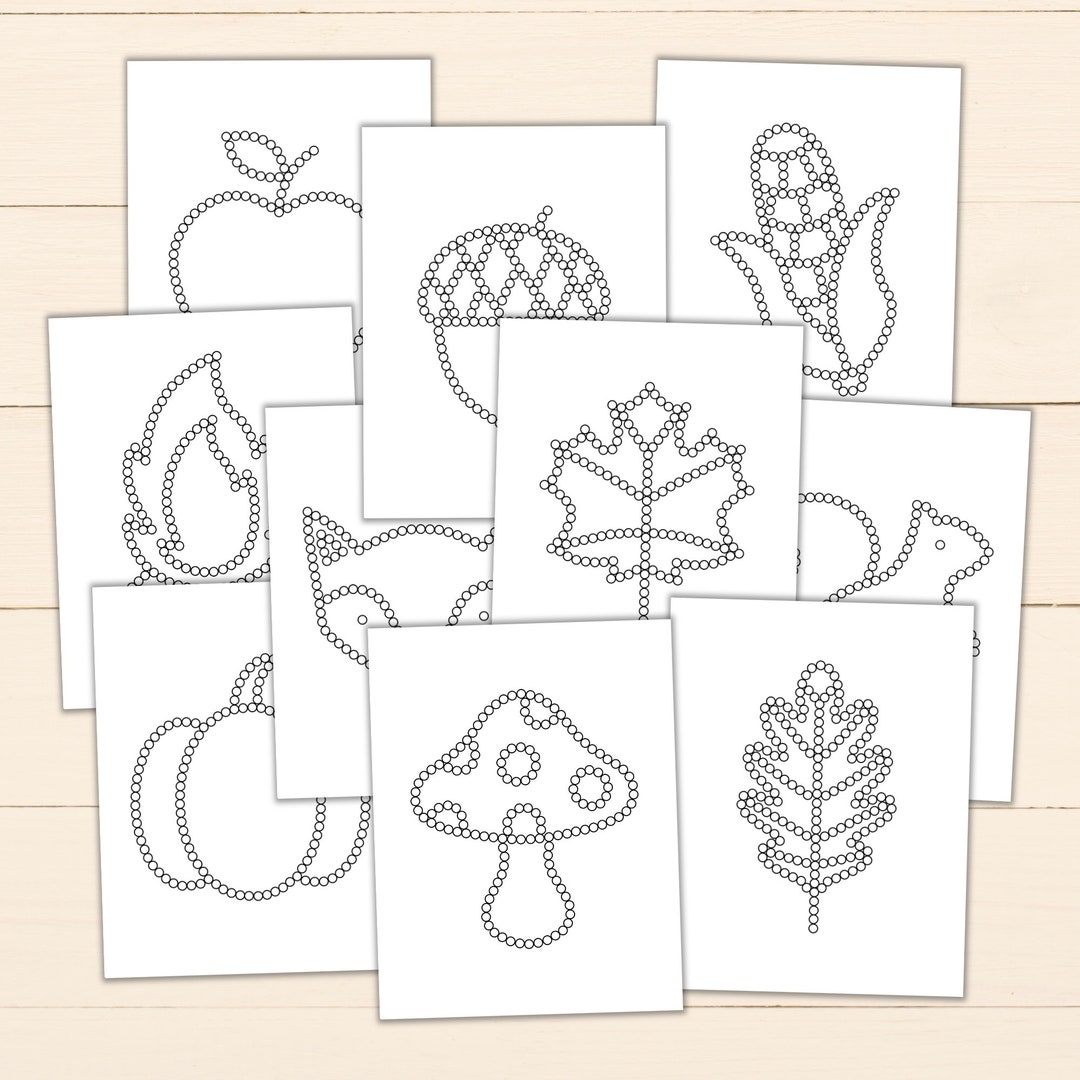 Fall Q-Tip Printable Pack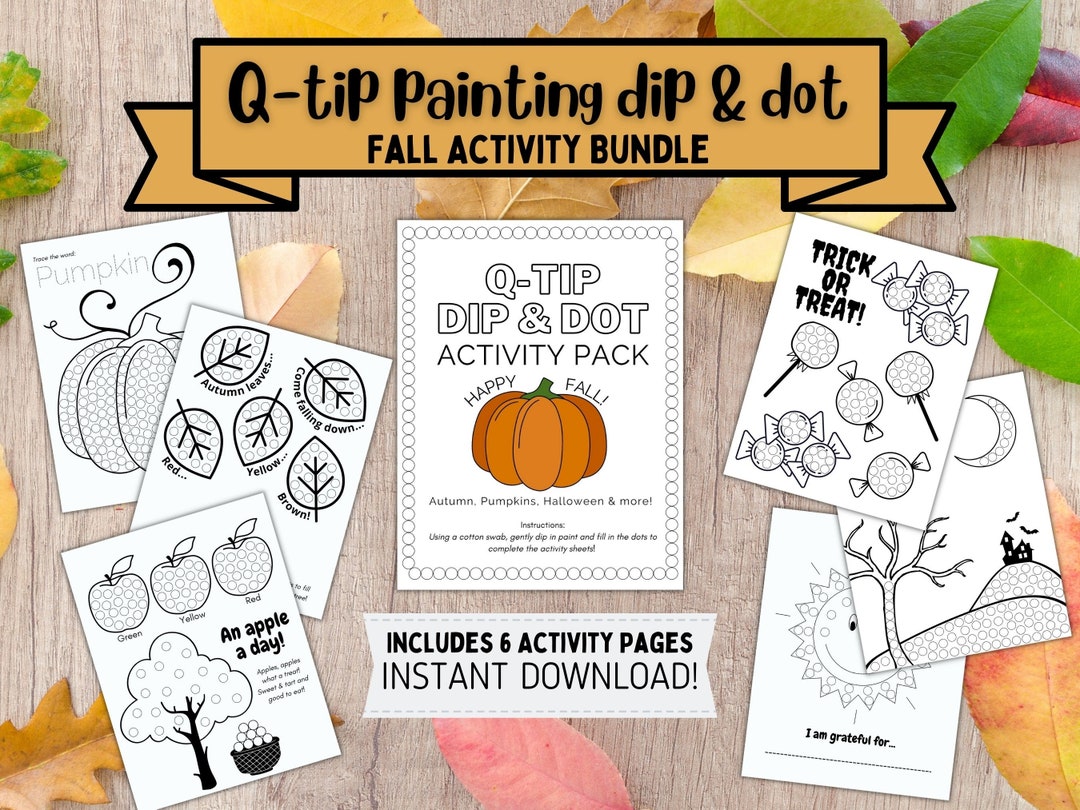 Fall Q Tip Painting Bundle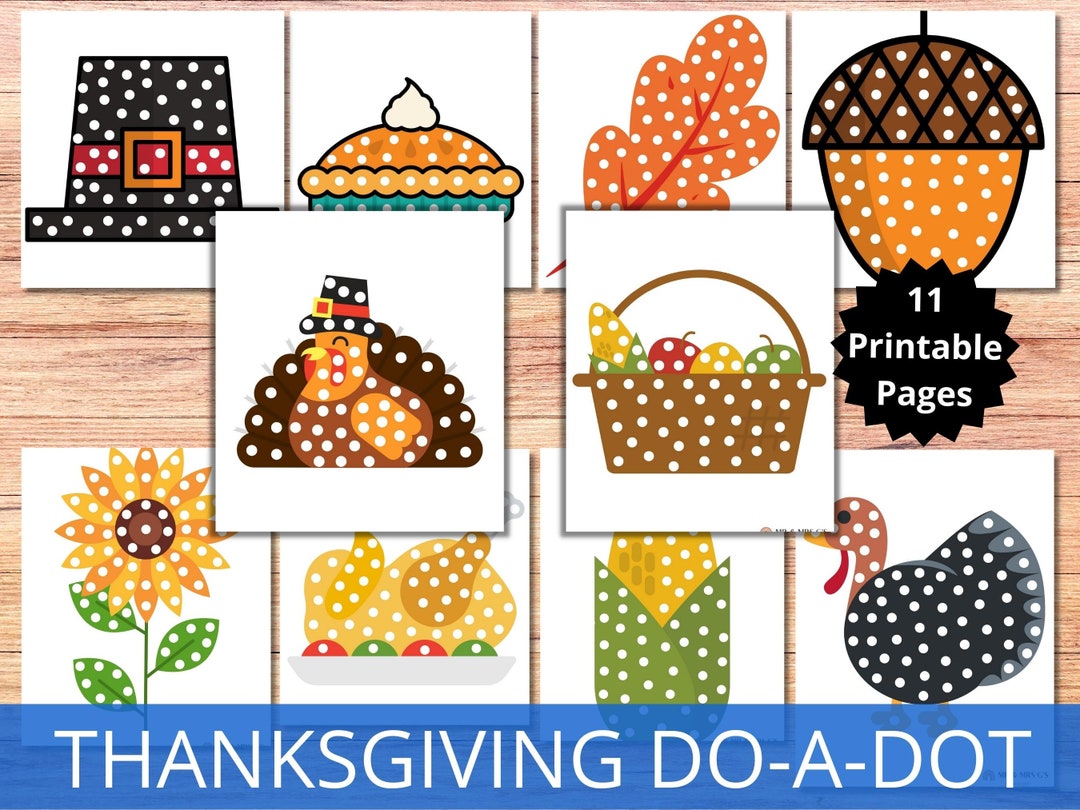 Thanksgiving Do-a-dot Painting Q-tip Bundle
Frequently Asked Questions (FAQs) about the FREE Printable Thanksgiving Q Tip Painting Pack
What age group is this activity suitable for?
This painting pack is versatile and can be enjoyed by children of various age groups. However, it's primarily designed for kids aged 3 to 8 years. For younger children, supervision is recommended to ensure they don't ingest any paint.
Can I use something other than Q-tips?
While Q-tips are great for filling in the small circles, feel free to get creative. You can use paintbrushes, fingers, or even cotton balls for different effects.
Is there a specific type of paint you recommend?
Non-toxic child safe paints work well with this activity. If you're concerned about potential messes, washable paints are a good option for younger children.
The circles are too small for my toddler. Any suggestions?
If you find the circles too small, you can enlarge the printables using a copier or printing at a larger scale. This way, your toddler will have a bigger canvas to work on.
How can I prevent the paint from bleeding through the paper?
Using a thicker paper like cardstock can prevent bleed-through. Alternatively, you can place scrap paper or a plastic sheet beneath the template while painting.
Where can I download more of such printable activities?
Keep an eye on my blog! I regularly update with seasonal and educational printables for children of all age groups.
Can I share this printable pack with my child's school or playgroup?
You are welcome to share the link to this post to as many people as you'd like so that they can download their own pack!
My goal is to make this available to as many children as possible, so feel free to share the links with other parents, teachers, or caregivers.
How can I ensure the longevity of my child's artwork?
Once the paint is dry, you can laminate the artwork or place it in a clear sheet protector. This will prevent smudging and make it last longer.
My child has finished all the templates. How can we further extend this activity?
Get creative! Encourage your child to create their own Thanksgiving-themed drawing with circles to fill in. This will further boost their creativity and make the activity more personalized.
Can this activity be used for group playdates or parties?
This can be a fantastic group activity. Just ensure you have enough printables and painting supplies for all the children participating.
I hope these FAQs have addressed your questions. Enjoy your painting session and have a festive fall season!