The Perfect Thanksgiving Craft for Busy Moms: Adorable Turkey Handprint Art
With the holiday season right around the corner, many of us are juggling family, work, and festive preparations.
If you're a busy mom looking for a fun and easy Thanksgiving craft for your little turkeys, we've got the perfect solution for you!
Printable Turkey Handprint Art Set for Kids
This handprint turkey craft is not only a fun and adorable Thanksgiving activity, but it's also a great keepsake.
Picture this: your child's hand transforming into a vibrant turkey with colorful fall colors. It's memories like these that make this time of year so special.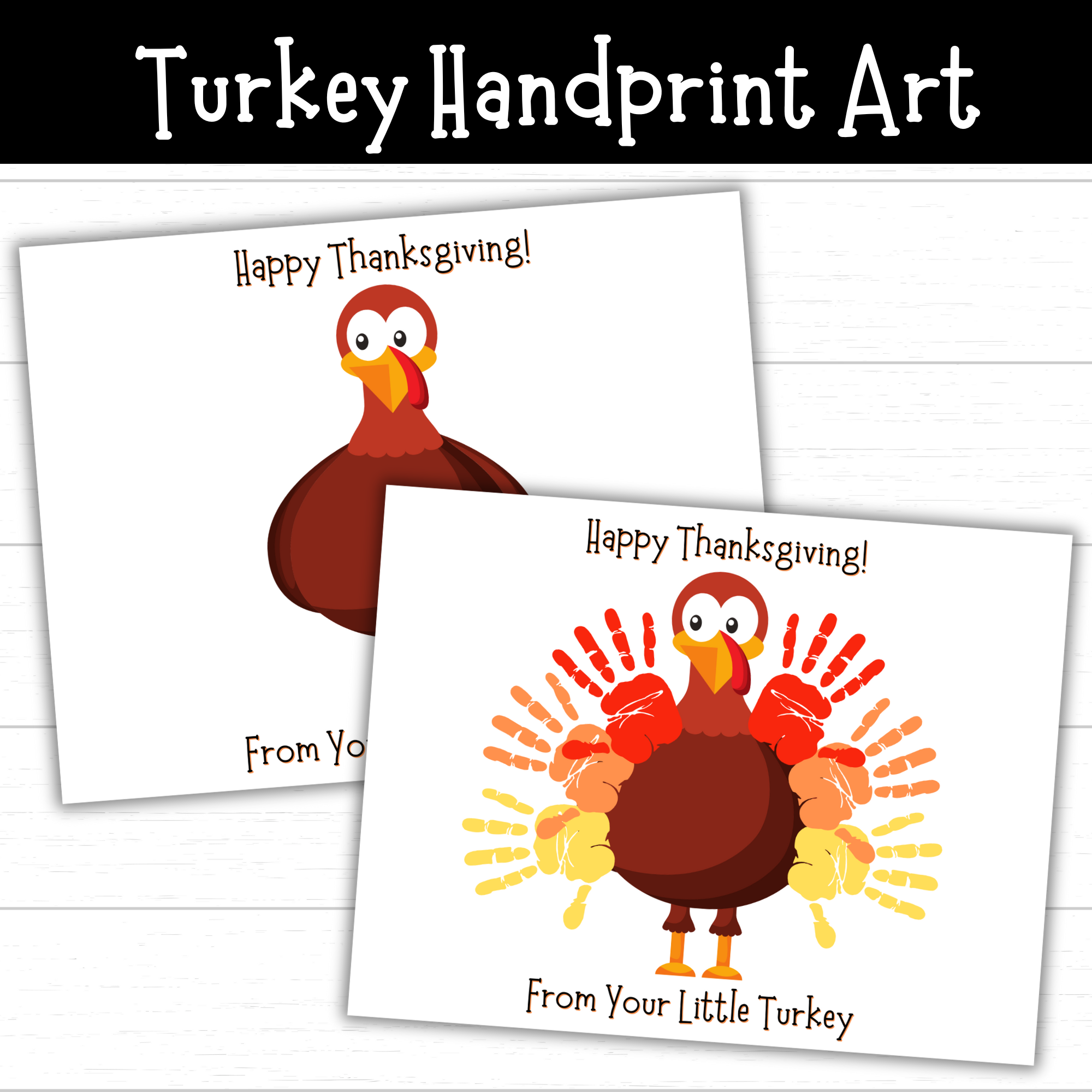 Turkey Handprint Art Printable
Why is this the perfect turkey craft?
Easy and Quick: No more rummaging through craft stores. Just a click, print, and you're all set. This turkey template includes a page that is ready for your child's creative touch.
Flexible for All Ages: Whether you have toddlers or school-age children, this fun craft is suitable for kids of all ages. Younger kids will delight in the simplicity, while older kids can add their artistic flair.
Handprint Crafts Essentials: Grab some non-toxic paint or handprint ink pads in different colors. Use vibrant hues like yellow, red, and orange for the turkey's feathers.
Finishing Touches: A pair of googly eyes (optional) and a piece of white paper or white cardstock paper.
Dip your child's hand in paint or the ink pad and press it down to represent the turkey's feathers. Add the googly eyes and you have an adorable turkey handprint ready!
Pro tip: Keep baby wipes handy for easy cleanup!
Fine Motor Skills: Beyond the fun, handprint crafts like these enhance fine motor skills, especially beneficial for younger kids.
Great Gift Idea: This handprint project makes a perfect gift for family members. Pair it with Thanksgiving poems, and you've got a cherished present.
Tip: Use white cardstock for your art prints. You can also use washable handprint ink pads for this art. If desired, use washable paint.
Extra Tips for Moms:
For a longer-lasting keepsake, print on card stock.
Thanksgiving day can be hectic. Why not make this a fun project a few days earlier? It's a fun way to get the kids excited about the festivities.
If you've done a handprint craft last year, it's great to do it a second time this year. It's a great way to see how much your little one has grown!
This easy Thanksgiving craft is not just a fun Thanksgiving craft; it's an opportunity to create lasting memories.
As the years go by, these little turkeys (both the handprint art and your kids!) will grow, making this fun keepsake all the more precious.
To all our busy moms out there, Happy Thanksgiving!
Amidst the holiday hustle and bustle, taking a moment to create with your child can be the pause you need.
Dive into this adorable turkey handprint craft, and let's celebrate this beautiful season.
Get your printable handprint turkey now!