Create Thankful Memories with a Printable 'Thankful Turkey Headband' Craft for Kids
As the leaves change and the air grows crisp, it's clear that the fall season and Thanksgiving Day are upon us.
It's the perfect time to engage in Thanksgiving crafts, and what better way than with an easy Thanksgiving craft like our 'Thankful Turkey Headband'.
This fun way to create new family memories is perfect for kids of all ages and skill levels.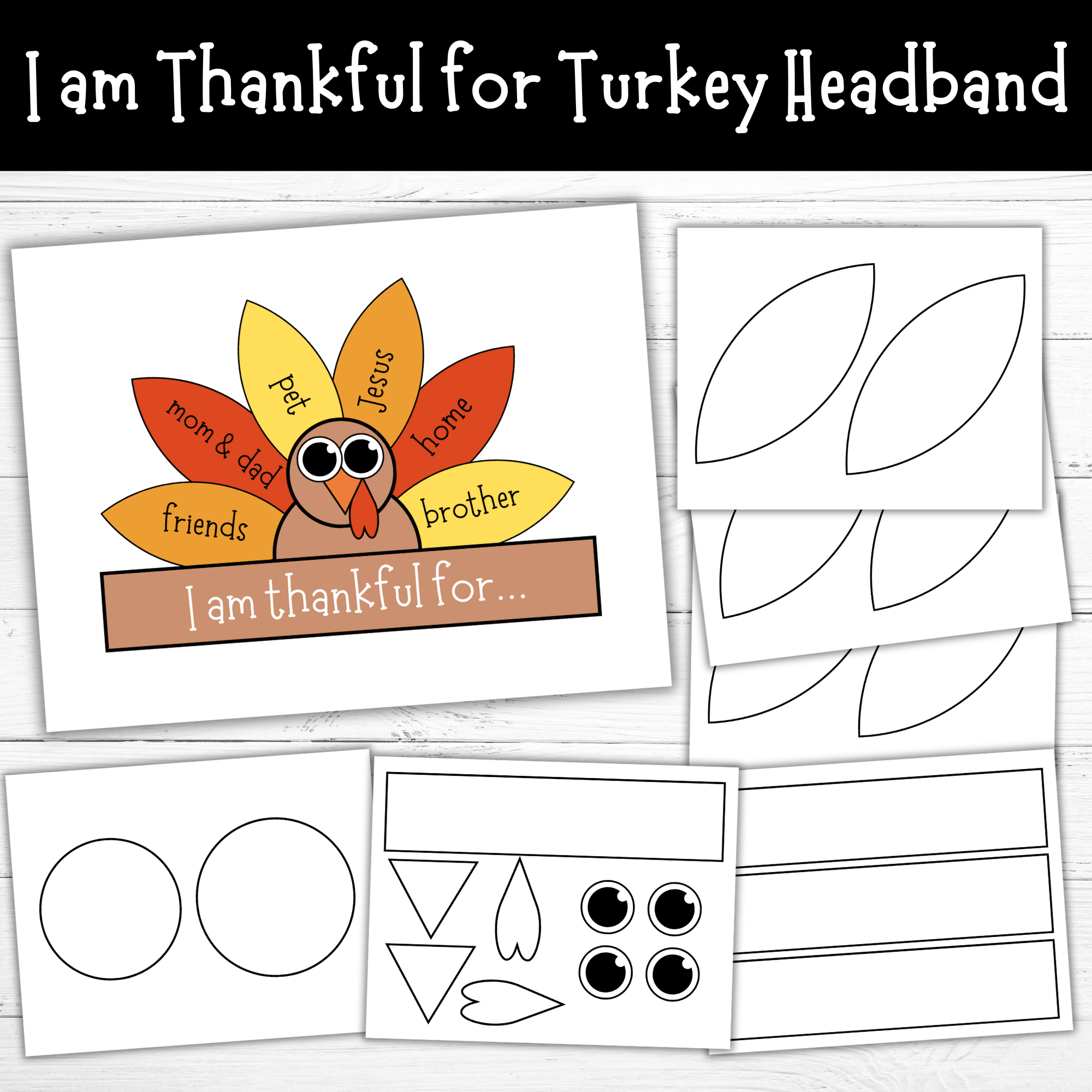 "I am Thankful For" Turkey Headband
Why Choose This Craft for Thanksgiving?
Thanksgiving is not just about the delicious meals; it's also a great opportunity to bond and teach younger children about the spirit of the holiday.
This Thankful Turkey Headband is a simple Thanksgiving craft that's a perfect activity for kids, especially as they await the Thanksgiving dinner.
*Important Note: Depending on the age of the child, he or she may need help putting the headband pieces together.
About the Craft Set:
This printable craft set includes:
Page 1: Shows the completed headband and is an example for what the headband can look like once completed.
Page 2: Features three rectangle strips for the headband, which can be fit around a child's head. Use scissors, tape or glue to secure the headband together. Kids can color these and write what they're thankful for, enhancing their fine motor skills.
Page 3: Includes additional elements like an extra strip, two pairs of eyes, beaks, and waddles.
Page 4: Offers two circles to create the turkey's body and face.
Pages 5-7: Feature turkey feathers to be colored, cut out, and added to the headband, symbolizing what each child is thankful for.
Where and When to Use This Craft:
This turkey headband craft is a great activity for:
Thanksgiving Day: A perfect addition to keep kids engaged during Thanksgiving celebrations.
Classroom Use: Teachers can use this as a fun craft for preschool students or elementary aged children.
Home Crafting: It's a simple activity to keep younger kids entertained and thoughtful about gratitude during the holiday season.
The Benefits of This Craft:
Enhances Creativity: The printable templates offer a quick craft that allows kids to express their creativity.
Develops Fine Motor Skills: Cutting, coloring, and assembling the headband are great for developing hand-eye coordination in young children.
Focuses on Gratitude: It's a perfect way to help kids think about what they're thankful for, fitting perfectly into the Thanksgiving spirit.
How to Make the Craft:
All you need is Crayons, markers or colored pencils, scissors, glue stick, white paper or card stock, and the printable template.
You can add googly eyes or use other craft supplies for decorating if desired. The simple supplies mean it's an easy way for parents or teachers to set up the activity.
There's no better way to celebrate Thanksgiving than with a fun and meaningful activity like the Thankful Turkey Headband.
It's not just a craft; it's a great opportunity to create lasting memories and teach important values.
So, purchase and download this printable template and get ready to enjoy a fun-filled Thanksgiving with your little turkeys!