Disclosure: This shop has been compensated by Collective Bias, Inc. and its advertiser, Walmart Family Mobile. All opinions are mine alone. #CatchMoreData #Ghostbusters #CollectiveBias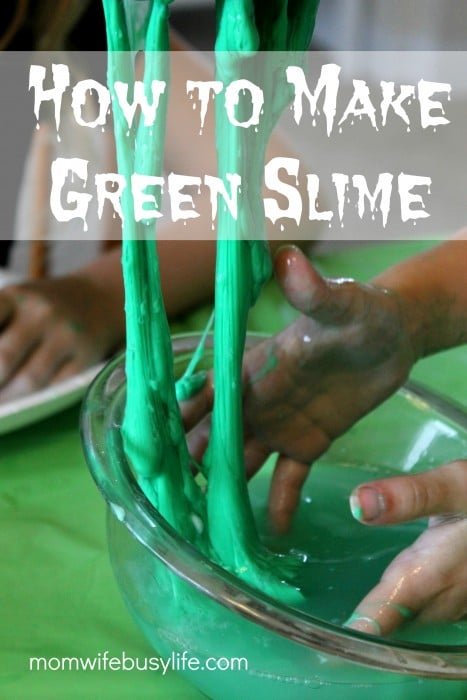 My girls look forward to movie nights at our house. Movie nights around here are very fun for all of us and that's probably why they always ask to have more! We go all out for movie nights and make each movie night fun and unique. Before our family movie night, we take the girls to the store to pick out their favorite candy and drink. When we get home, we create a craft or recipe to go with the theme of the movie we choose to make it more memorable.
This month, we made the choice to watch the NEW Ghostbusters as a family! With Halloween approaching, we felt this was the perfect movie to kick off the start of the month. To celebrate the release of Ghostbusters, our activity idea was to make green Ghostbusters slime, in honor of "Slimer" in the movie. Keep reading for the recipe of this ooey gooey slime!
You can take advantage of the fun, too! Head over to your local Walmart and check out the Walmart Family Mobile PLUS plan! You'll get unlimited Talk, Text, Data; 10GB 4G LTE plus a free movie (rental, new release = $7 value) on VUDU every month, per line for $49.88! We enjoy checking out the new releases via VUDU on our LG K7 phone, now on Rollback at Walmart for only $49.88 (on Rollback from $89.88), with a starter kit for only $19.88, (on Rollback from $25!) The plan is perfect for us, too because we talk and text family and friends on a regular basis. I also need the extra data for running my business when I'm on the go! ***Please note: If purchasing the LG K7 phone phone, you must purchase the "Nano Starter Kit."
The free VUDU movie deal is what inspired us to watch the trending movie Ghostbusters on our television recently! We love to plan our movie nights around our FREE VUDU rental each month. The NEW Ghostbusters is available 10/11 on Blu-ray, DVD and 4K Ultra HD. The extended edition of Ghostbusters on Blu-ray has over 15 more minutes not seen in theaters plus over 3 hours of hilarious extras. You'll also have the opportunity to take advantage of a Virtual Reality Experience (VR): All customers who activate new lines on any rate plan from 10/1-10/31 will receive a code providing a free download of the Ghostbuster VR Experience. This is "A Magical experience" giving you a unique experience of firing a proton pack and looking at ghosts straight in the eye! Here's how:
1. Check out the Demos at your Walmart store. Purchase the Walmart Family Mobile product and get your code.
2. Visit GhostbustersVR.com.
3. Register and redeem your code.
4. Download the app from the Apple Store or Google Play to access content.
Don't miss out on the in-store experience at your local Walmart! Check out the Walmart Family Mobile Hub page to find an event in your area where you can find and experience the Ghostbusters Virtual Reality Experience! Take advantage of the brochures and the plastic 3D Hologram, too (as pictured above!)
Now on to a fun activity! Below, you will find the green slime recipe to make your Ghostbusters family movie night more memorable.
How to make green slime:
Note: This is a messy activity! I highly recommend adding a throwaway table cloth on the table to prevent food coloring stains, etc. We chose the green color for our themed green slime activity.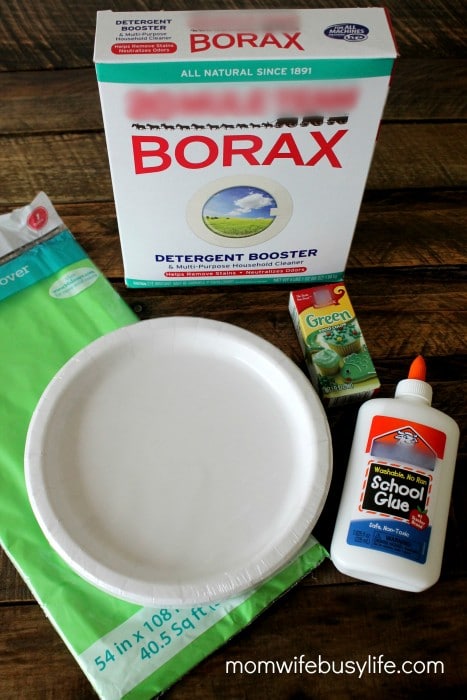 Ingredients:
Directions:
1. Pour glue into a small mixing bowl. (My favorite mixing bowls!)
2. Add green food coloring and stir well. (If you want it to be darker, add more food coloring.)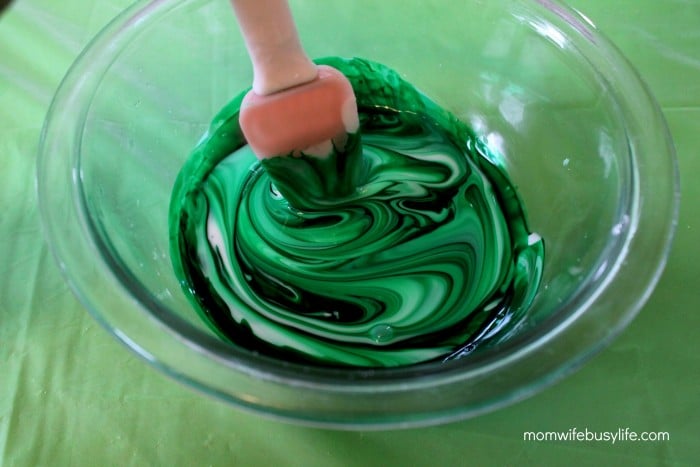 3. Add 1/2 cup of water and stir. Set aside.
4. In another small mixing bowl, add borax with 1 cup of water. Stir well.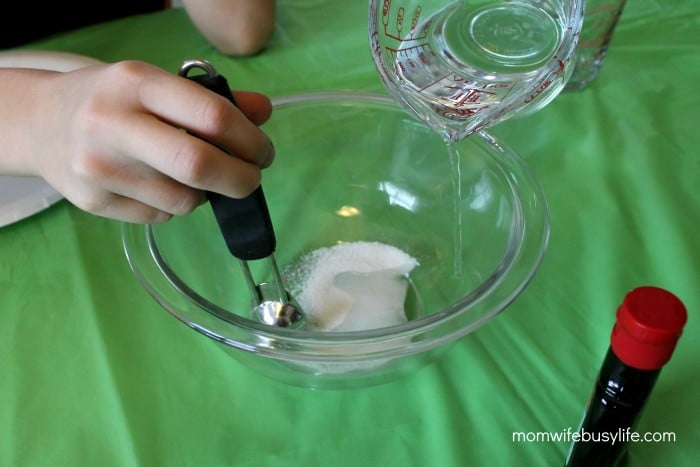 5. Add the glue mixture to the borax mixture and stir slowly until slime forms.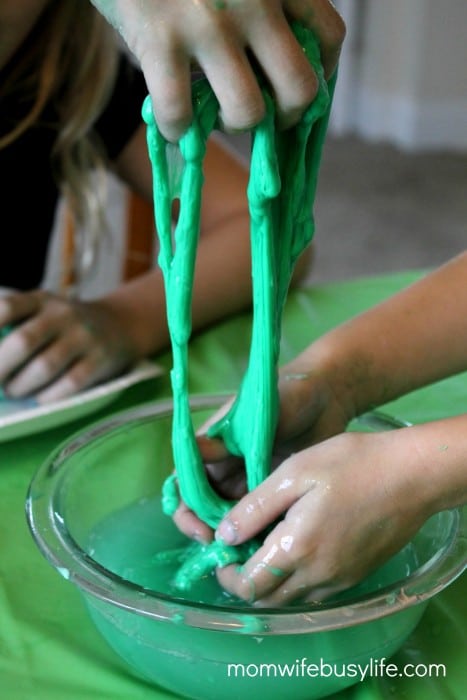 6. Allow your child to dig in and grab as much slime as they can get out! You'll have a bowl left with excess water. Simply pour the water out as you won't need it!
7. Play time! Enjoy hours of fun with your new green slime!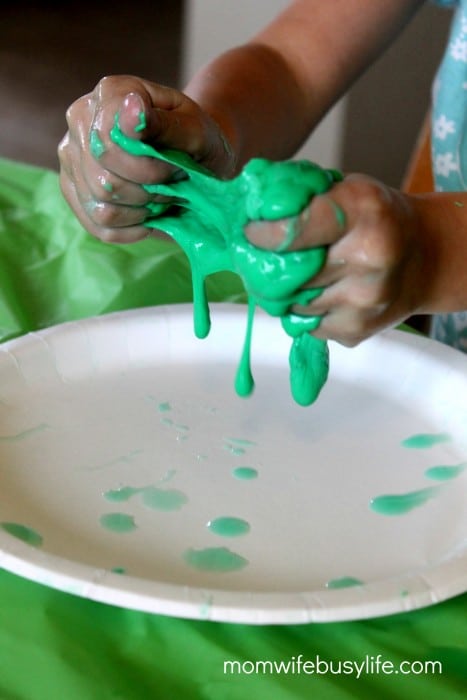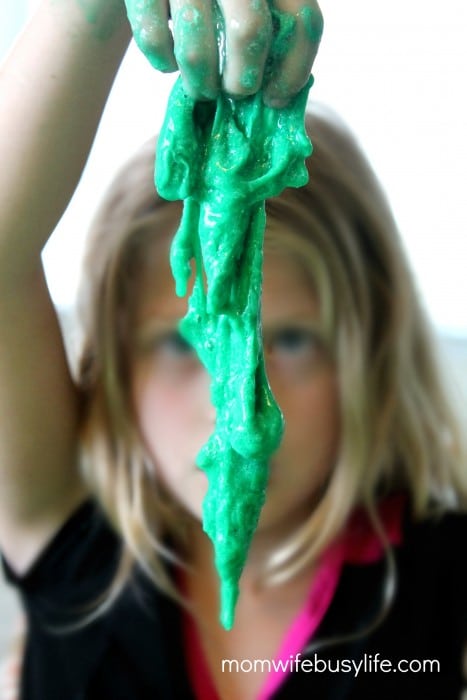 Don't forget to head out to your local Walmart to sign to purchase your LG K7 phone as well as the Walmart Family Mobile PLUS plan! Take advantage of the Ghostbusters fun!
What cool idea would you come up with if you were hosting a Ghostbusters movie night?
Yum