Create this fun and simple 3D Creepy Cupcake Liner Halloween Ghost Craft this year to display in your home.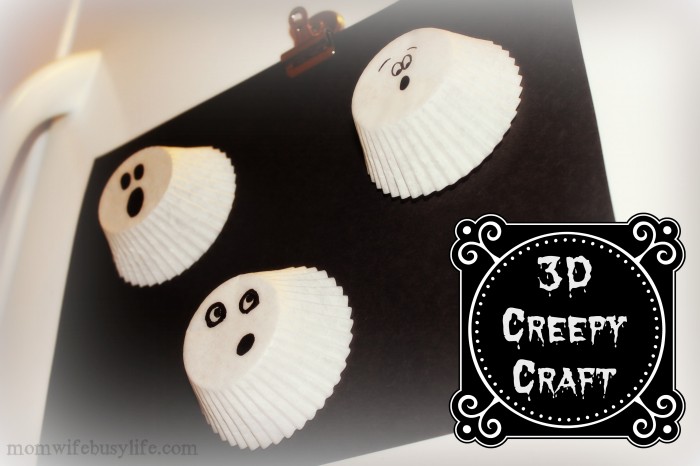 Halloween is just around the corner, and amidst the whirlwind of to-do lists, costume prep, and pumpkin patches, I've got a cute little craft to sprinkle in some ghostly giggles with your little ones.
If you're anything like me, you might be seeking easy-to-do, inexpensive activities that not only keep the kids occupied but also infuse some festive charm into the house.
Enter the Cupcake Liner Ghosts!
These simple specters made out of standard white cupcake liners are not just adorable but are the kind of craft project where the less-than-perfect results just add more character.
What's more, you likely already have all the supplies at home, which means no stressful last-minute store runs.
What You'll Need:
Materials:
Let's Get Crafting:
1. Turn Your Liners into Little Ghosts:
Start with turning the white cupcake liners upside down so that the bottom is facing up. This flat surface will be the ghost's face. Now, the fun part begins!
2. Draw Ghostly Faces:
Take the black marker and gently doodle some fun ghost faces onto the cupcake liner.
Wavy mouths, surprised eyes, or even a cheeky wink – get creative!
Ghost Faces (Ideas for your ghosts!)
Remember, every ghost has its personality, so they don't all have to look the same.
If your tiny tots are struggling with the liner moving too much, a pro-tip is to let them hold up the liner with one hand and draw with the other.
It's a bit like decorating a mask for a ghostly masquerade!
3. Bring the Haunted Scene to Life:
Grab your black construction paper and lay it flat. Decide where you'd like your ghost trio to hover.
Once that's sorted, smear a thick line of glue (about 1/2-1 inch long) where you envision the top of your ghost.
4. Stick the Ghosts:
Now, gently press the top part of your cupcake liner ghost into the glue. The liner's natural fluffiness gives your ghost a 3D effect, as if it's floating right off the paper!
Repeat this with the remaining ghosts.
5. Set the Scene with Chalk:
Here's where the optional white chalk comes in. Allow your little artist to unleash their creativity.
Maybe it's a moonlit night, or perhaps the ghosts are chanting a spooky "Boo!" to scare off any intruders.
The chalk not only gives a misty, ghostly feel but also adds depth to your craft.
6. Let it Dry:
Patience is key. While the excitement might be sky-high, leave the craft flat on a table and let the glue dry. This ensures that our floaty friends stay in place.
7. Display Your Masterpiece:
Once dry, find a prime spot on your refrigerator to hang up this 3D Creepy Halloween Ghost Craft.
Let it serve as a delightful Halloween decoration and a testament to a fun afternoon spent crafting with your kids.
Wrapping Up:
Moms, this Cupcake Liner Ghost craft is a testament to the fact that you don't need extravagant supplies or endless hours to create something fun and festive with your children.
In just a few simple steps, you can have a decoration that your kids are proud of and that adds a playful spookiness to your home.
Moreover, beyond just the craft, this activity presents a great opportunity to bond with your little ones.
Discuss ghost stories, let their imagination roam free, and maybe even indulge in a cupcake or two as a treat post-crafting!
So, the next time you feel the Halloween rush, take a breather, grab those cupcake liners, and remember: sometimes, the simplest crafts leave the most lasting memories.
Happy Halloween and happy crafting, super moms! 🎃👻🧁