Create this fun and simple 3D Creepy Cupcake Liner Halloween Ghost Craft this year to display in your home.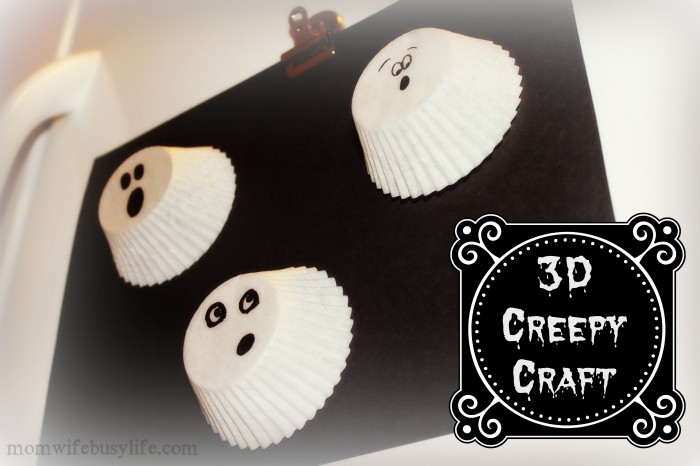 My daughter and I made Reese's cupcakes recently and I had a stack of white cupcake cups leftover. Usually I save them for future cupcake creations but a cute craft idea popped into my head as they were sitting there on my kitchen counter – a creepy Halloween ghost craft! (My husband actually drew the face you see there at the bottom!)
This is a super easy craft that allows your child to be creative!
Materials:
Directions:
Turn the white cupcake cups over to where the bottom of the cupcake cup is facing up.
Very gently color ghost faces onto the cup. Get creative! They don't all have to look the same! It may be easier for the little ones to hold the cupcake cup up and draw the faces.
Place a thick line of glue (about 1/2-1 inch long) on the black construction paper where you would like the top of your ghosts to be.
Set the top part of the cupcake cup ghost into the glue until all ghosts have been glued on.
Your child can use chalk to draw a scene on the paper or to have the ghosts saying, "Boo!"
Leave the craft flat on a table until the glue has dried.
Hang this cute 3D Creepy Halloween Ghost Craft on your refrigerator and display during Halloween!
>> Click here to sign up for my email list and get access to my FREE printable library!