Try this adorable and Easy After School Snacks Recipe – create your own Bagel Bite Boats!
The first day of school is quickly approaching! I've been spending time digging through the deals and checking off school supplies on the school supply lists. This weekend, I decided that it would be a good idea to label all of the school supplies with personalized labels as well as taking time to organize the supplies according to which child they belong to!
Air Fryer Easy Cheesy Pizza Bagels
This is my first official year that I've had to do this, and it hasn't been a walk in the park. In fact, it can be overwhelming, but the great news is that I'm almost finished. I'm making sure I'm organized this year, from school supplies, to our school calendars, and even planning an after school snacks calendar!
When the back to school season approaches, schedules get busy around here. As soon as I pick my girls up, they are usually hungry for snacks. I try my best to get creative when it comes to after school snacks by making food fun for my girls. It makes a difference when I have something easy to prepare.
We got creative with our Bagel Bites and Delimex and made Bagel Bite Boats! My girls had a great time creating our Bagel Bite Boats and we used the Delimex Rolled Tacos as the water and waves! Not only is this a fun recipe, it's tasty as well! We love pizza and mexican food, so this is a great combination!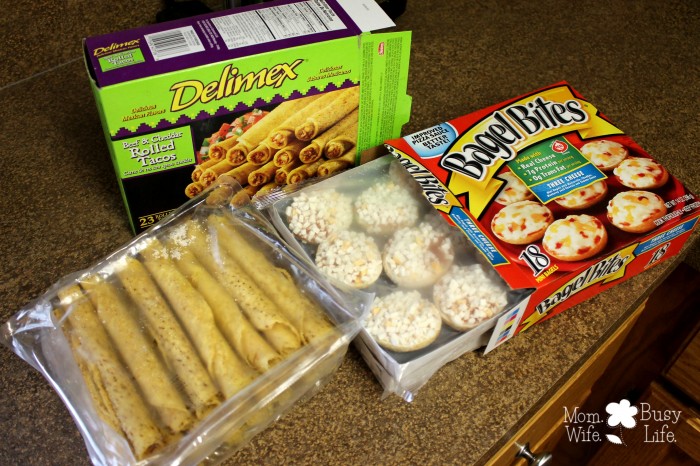 Bagel Bite Boats Recipe
Here's what you'll need:
1 Box of Bagel Bites (for boats)
1 Box of Delimex Rolled Tacos (for water and waves)
Block of Cheese
Toothpicks
Directions:
1. Cut a few pieces of cheese into small triangles. You'll want the triangles to be thick enough to place a toothpick in. Place a toothpick into each triangle of cheese through one of the corners as pictured below.
2. Prepare the Bagel Bites and Delimex Rolled Tacos by following the directions located on the box.
3. Place about 8 Delimex Rolled Tacos on a plate for the water and waves.
4. Insert the toothpicks with the cheese triangles into the Bagel Bites and set the Bagel Bite Boats on top of the Delimex rolls.
Serve and enjoy!
Related: 5 After-School Snack Ideas
The Bagel Bite Boats were a big hit with my girls! They loved creating the boats as well as eating them!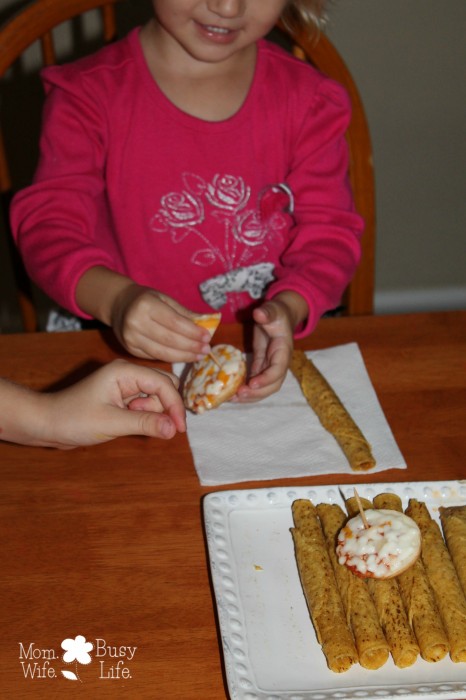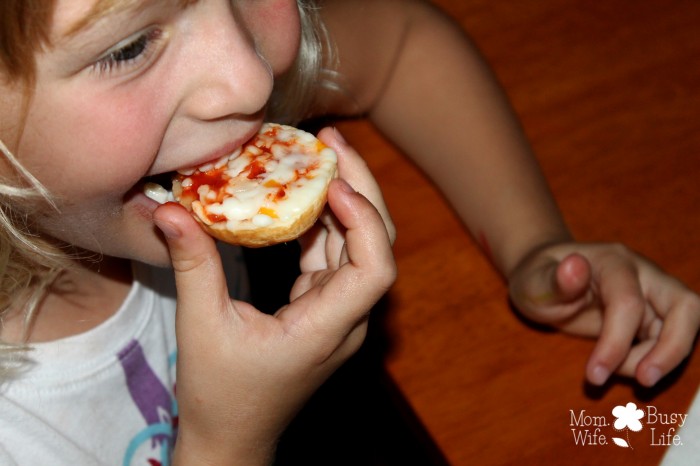 What after school snacks do you like to stock up on for the kids?