It is HOT outside! Stay cool this summer and learn how to plan an indoor beach themed movie day for the kids!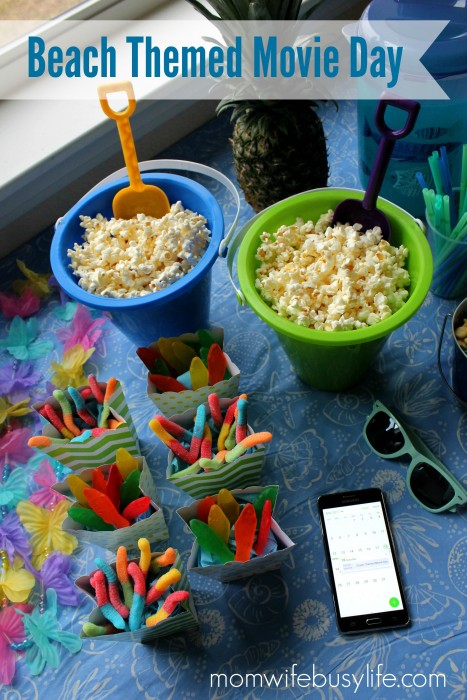 It's getting HOT outside!
My kids love to play outside, but let's face it. Sometimes it's simply just way to hot to enjoy the outdoors.
This summer, bring the cool beach into your home and create a fun Beach Themed Movie day for the kids to enjoy!
I created a fun beach themed area for my girls to enjoy on their Saturday movie day. Our "Beach Themed Movie Day" turned out to be a huge hit.
We play a day each summer to do this now with the kids!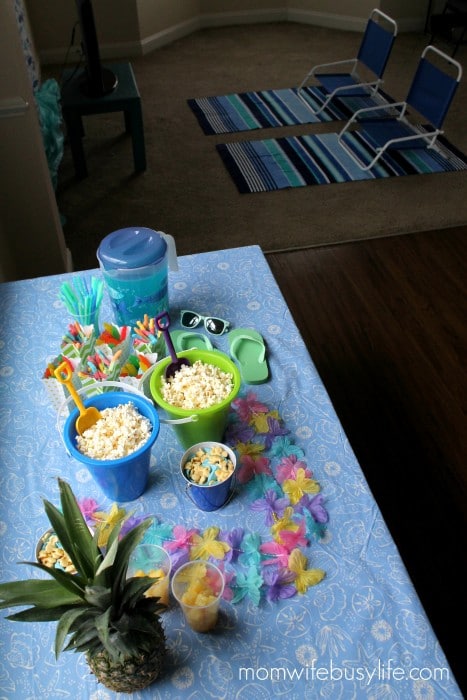 Indoor Beach Themed Movie Day for Kids
For our indoor beach themed movie day, I picked up a few beach themed party supplies and decorations, snacks, and drinks to make this a day to remember.
Don't forget the movie! Allow your kids to help you pick the movie for the day.
We served treat boxes full of gummy worms, gummy fish, fish crackers, and popcorn inside sand buckets with shovels.
We had a real pineapple displayed with a few pineapple chunks to enjoy.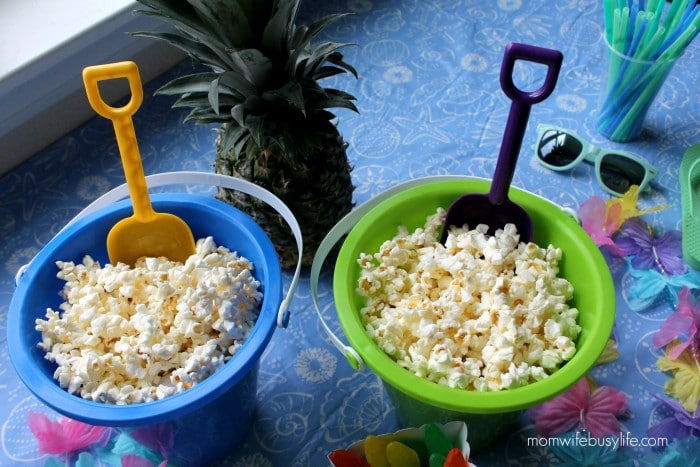 We served "ocean water" with "seaweed" straws. You can use Hawaiian Punch Berry Blue or any blue drink for this idea. Blue and green straws are best for this idea!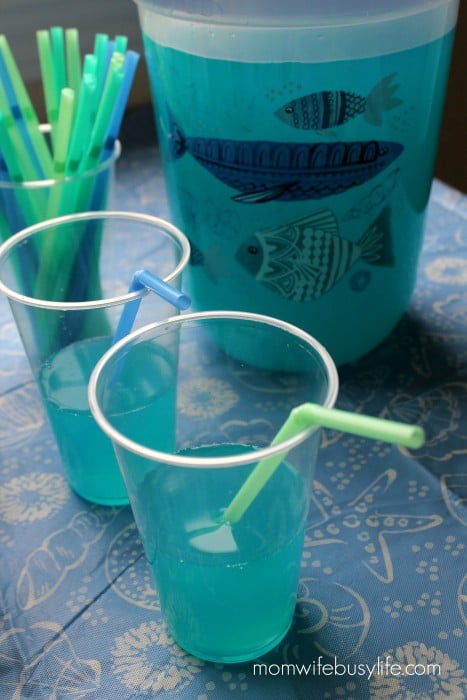 The display of snacks, drinks, and extra decorations such as flip flops for kids and sunglasses for kids were perfect for our Beach Themed Movie Day!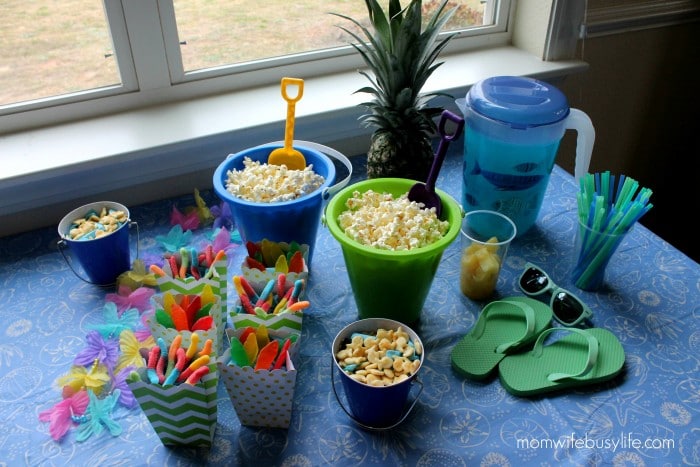 Our party was extra special because of the decor we used to make it seem like we were really at the beach!
The blue beach towels were perfect paired with beach chairs for kids to sit in. The carpet was the "sand."
Indoor Beach Party for Children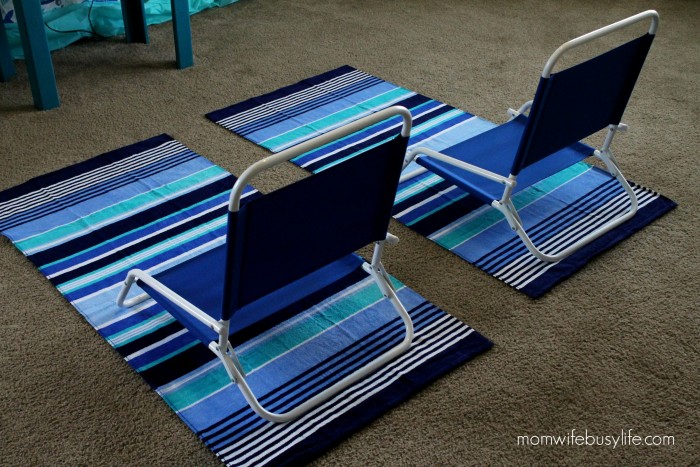 My girls and their friends thought the ocean themed tablecloth backdrop for our movie day was amazing!
We also had a rolled up rectangular plastic table cloth to use as the water.
You can also find ocean backdrop for birthday ideas that would go well with this themed party, too!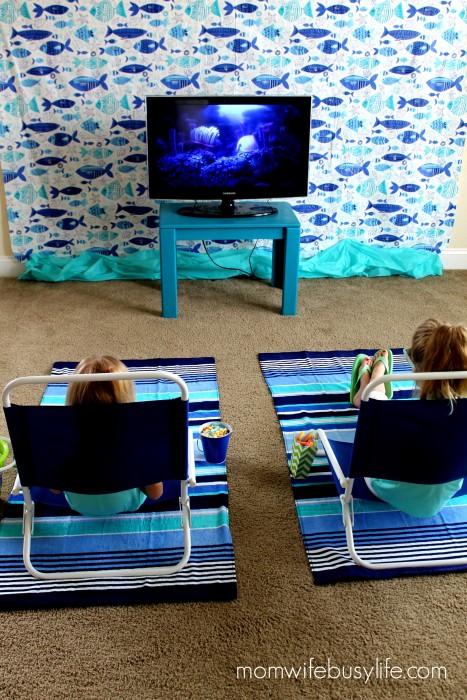 I also had matching outfits for my girls that included a top, leggings, flip flops, sunglasses, and Hawaiian leis.
How to Make Watercolor Paper Leis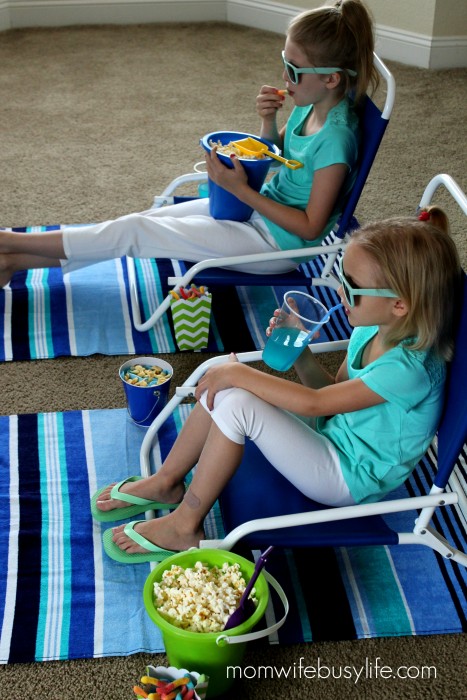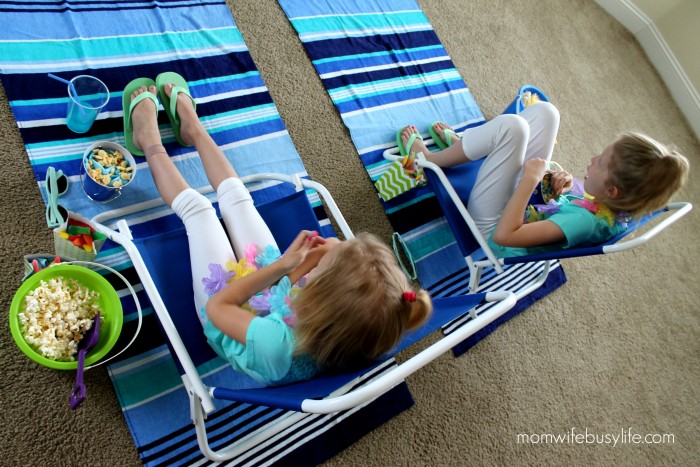 Beach Themed Coloring Pages for Kids:
Beach Themed Crafts and Activities for Kids: