Sidewalk Chalk activities are so much fun for kids to participate in year round! Today, I'm sharing the best sidewalk chalk for kids.
When my three kids get bored, I hand them a bucket of sidewalk chalk. I like to see my kids use their creative minds to create cool art and other fun ideas on the sidewalk! Often times I see them drawing things like rainbows or flowers, maybe a sun or drawings that they have me guess if I can figure out what it is!
They like to write words or complete math problems, too! Take your schooling outdoors this season and let your kids work on educational activities using sidewalk chalk.
Stock up on the chalk below and take the kids outdoors and get creative. I've compiled a list of my favorite sidewalk chalk products to share with you below. Have fun!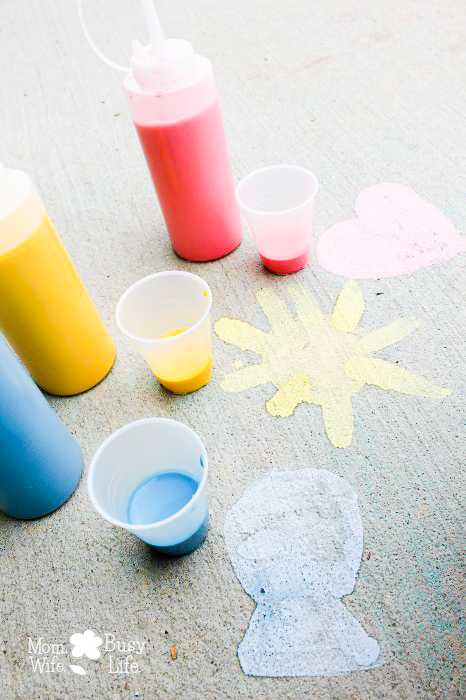 While you are here, check out how we make our own liquid sidewalk chalk!
Best Sidewalk Chalk for Kids
Chalk City Sidewalk Chalk, 20 Count, 7 Different Colors, Jumbo Chalk, Non-Toxic, Washable, Art Set
Chalk City Sidewalk Chalk, 136 Count,17 Different Colors, Jumbo Chalk, Non-Toxic, Washable, Art Set
Joyin 120 Pack Giant Box Non-toxic Jumbo Washable Sidewalk Chalk Set in 10 Colors (120 Pieces)
Creative Kids Premium Sidewalk Chalk Art Play Set, Includes 30 Pieces of Chalk, 1 Bucket, 3 Chalk Holders, 5 Stencils
ArtCreativity Jumbo Sidewalk Chalk Set for Kids – 38 Colorful Chalk Pieces
Crayola Outdoor Chalk, Glitter Sidewalk Chalk, Summer Toys, 5 Count
Chalk Sidewalk Chalk 20 Count- 5 colors
Crayola Washable Sidewalk Chalk
48 Piece Sidewalk Chalk Assortment
48 PCS Washable Sidewalk Chalks
Sidewalk Chalk Kids Chalk for Outside (12 ct box) 2 Pack
Yoobi | Sidewalk Chalk Bucket Set with Accessories | 36 Pieces of Chalk, 4 Egg Chalk, 2 Chalk Holders, 1 Hand Chalk Holder, 4 Stencils and Plastic Carrying Bucket | Multicolor
Sidewalk Chalk Sets for Kids – 20 Count, 5 Bright Colors, Jumbo Outdoor Chalk, Non-Toxic, Washable
Non-Toxic, Non-Staining Kid's Colored Chalk 80 Pack
Sidewalk Chalk Set Neon Glitter Marble (20 Pk) with Bucket
Washable Sidewalk Chalk Set- 15 Colors Chalk Dustless Chalks Indoor Outdoor Children's Chalk Bars Driveway Fun