Learn how to make liquid sidewalk chalk! This liquid sidewalk chalk recipe is super easy and simple to make. You only need a few simple supplies to make this recipe!
Our kids love making sidewalk chalk and drawing fun pictures on the sidewalk during the spring and summer months. Create this DIY sidewalk chalk recipe today and get creative outdoors!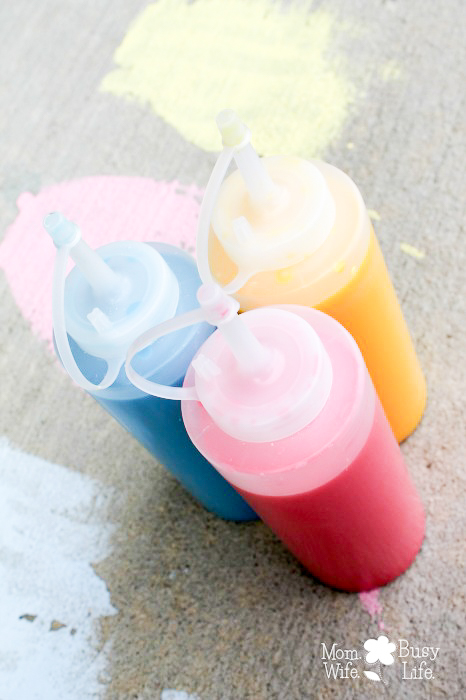 We spend a lot of time outdoors. My kids along with many of the neighbors' kids love to come over to play in and around our yard and on our driveway.
I usually have a lot of fun activities for them to do and the fact that it's shaded in the evening makes it a bit more enticing to the kids. Who wants to play in the hot beaming sun when you can enjoy the shade?
Recently, the kids found my stash of Crayola sidewalk paint. Before I could really say anything, they had poured most of it out and used up the majority of my paint within minutes! I wasn't upset, but I realized that I was out of paint and I thought it would last me all summer!
Instead of buying more paint, I decided to make my own.
If you'd rather purchase sidewalk chalk paint, here's the best liquid sidewalk chalk paint for kids available for purchase.
I've heard about making sidewalk paint before but never tried it. If I would have known how easy it was to make a while ago, I would have been making it for years instead of purchasing it from the store!
To make sidewalk chalk paint, all you need is corn starch, water, and food coloring!
I actually had all of these ingredients at my house at the time, so there was no need to run to the store to purchase anything.
I did however purchase Amazon plastic squeeze bottles so that I could easily store the sidewalk chalk paint.
Can you add food coloring to chalk paint?
For this recipe below, yes, we do add food coloring. The food coloring is added to the corn starch and water mixture. Here's my favorite food coloring set that I purchase regularly.
Does food coloring stain sidewalks?
The answer is yes, it "can" stain sidewalks. However, this recipe has never stained the sidewalks or driveways that we've painted on.
I recommend doing a color test on your sidewalk. You can always adjust the amount of food coloring you use in your recipe.
If you see staining during the stain test, use less food coloring and continue this until you see that your sidewalk does not stain.
Can you use liquid chalk on sidewalks?
Absolutely! I recommend using your personal driveway and sidewalk for liquid chalk. I wouldn't recommend using liquid chalk around other people's property or on public sidewalks, simply because it's tough to do a stain test on these areas and clean up the art when finished.
How long does sidewalk chalk art last?
The chalk art usually stays on the sidewalk until the area is washed with a water hose or if the rain washes it away!
Easy Sidewalk Chalk Art Ideas
If you are wondering what you can draw with your sidewalk chalk paint, easy ideas include drawing stick figures, animals, flowers, a sun, clouds, trees, rainbows, leaves, food, faces with expressions, transportation (cars, boats, airplanes), and more!
Chalk Paint Bottles
These plastic squeeze bottles are great to use for your sidewalk chalk paint! This is a set of 6 bottles and you can create a variety of colors to use for your art ideas and painting needs.
How to Store Sidewalk Chalk Paint
Unfortunately, I do not recommend storing liquid sidewalk chalk paint. This paint is best used all at once and disposed of when finished.
If you are looking for basic sidewalk chalk to play with this summer, here are some great finds:
>>> Best Sidewalk Chalk for Kids <<<
How to Make Liquid Sidewalk Chalk
Supplies:
Directions:
In a two cup measuring cup, add one cup of water and one cup of corn starch.*
Add about 10 drops of food coloring.**
Stir well and pour the mixture into the squeeze bottle.
Shake well before using!
Squeeze mixture into a small cup or container.
Using paintbrushes, paint the sidewalk with the sidewalk chalk paint!
*When working with the corn starch, it can get messy! I recommend placing something like a paper towel or pan under the area you'll be working with to prevent corn starch from getting all over the place.
**Please note: You can add more food coloring for brightness, but make sure you do a color test on your sidewalk to make sure it doesn't stain. By adding more food coloring, the chances of the sidewalk paint leaving a stain is higher. Keep reading to see how my stain test went.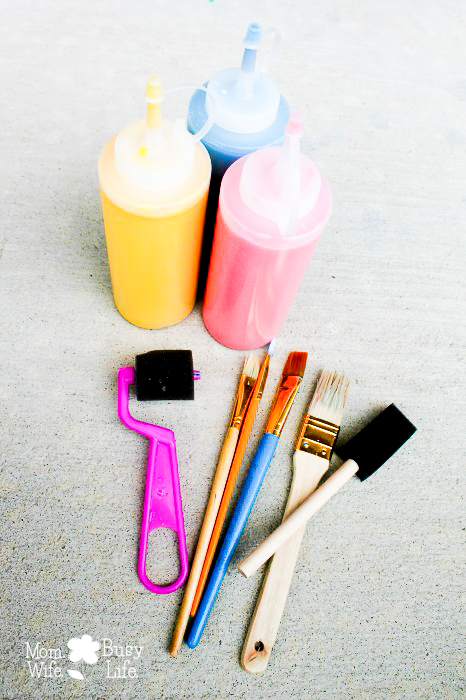 Gather Your Paint Brushes and Painting Cups
We used several types of paintbrushes as well as small cups to hold our paint mixture while painting. If there's paint left after painting, you can easily pour the sidewalk chalk paint mixture into the squeeze bottles so that it's not wasted!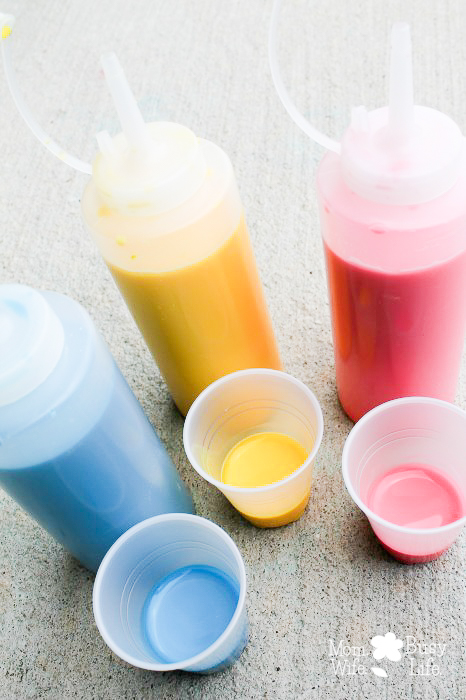 Complete a Stain Test Before Using
I completed a stain test on my sidewalk before using our paint. I have a small power washer that I use to clean our driveway off, so after painting, I let it dry and made sure the paint washed off well with the power washer. I did use more blue food coloring than red or yellow, so my blue section did stain a little and the others did not. I poured a small amount of the mixture out and diluted it with water, ran the test again, and it didn't stain.
I also recommend the kids wearing play clothes when using this paint since it can stain clothing!
Paint Fun Pictures!
Get creative with your paint and let the kids paint fun designs on the sidewalk! When not in use, contents will settle in the bottles. Simply shake the bottles up well before using again!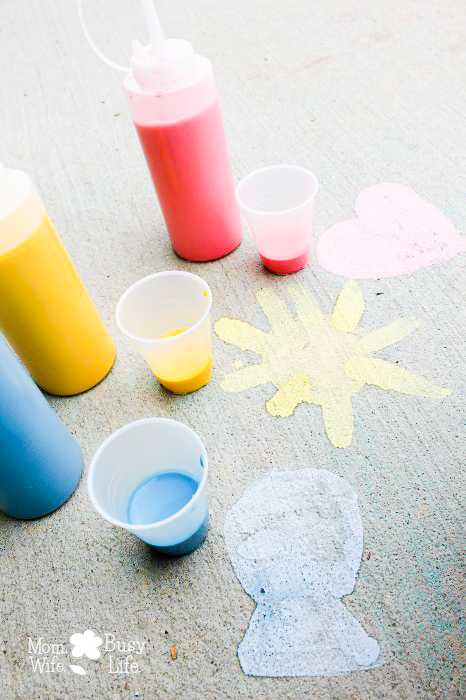 Did you try this recipe? Leave a comment below with your thoughts on this DIY sidewalk chalk paint!
Baking Soda and Vinegar Science Experiment
Shaving Cream Rain Science Experiment