Do you have a teenager that will be celebrating a birthday soon?
Planning a birthday party for a teenager can be a bit more challenging than planning a birthday party for a baby, toddler, or elementary school child.
As children grow up into young adults, their tastes change big time and the entertainment is different.
Happy 14th Birthday Wishes and Quotes for Teenagers
They no longer care as much about bouncy castles, face painting, creative games, or even things like themed decorations.
Birthday Party Ideas for Teenagers
Just because a child is a teen and not into birthday parties like he or she once was, you can still plan a fun celebration to fit his or her needs.
Below, you'll find birthday party ideas for teenagers to help you plan for your next birthday party!
When planning a party, start by coming up with a guest list. Next, check to see the kind of budget that will be used for the party. This might come into play as to what kind of party to throw.
Once these two things are determined, it's time to decide on where the party will be and what everyone will do.
You could always plan a classic sleepover or pool party, but these ideas below are cool ways to celebrate, too.
Teen Mystery Party
Let teens become sleuths by hosting a teen mystery party.
This can be done as more of a formal dinner or just kept simple with food like hamburgers or pizza.
Murder Mystery Kits are available with everything needed to throw a great mystery party.
Teen Party Limousine
If planning to go out for the party and if the finances allow, a really cool way to get around is in a limo.
Teens can talk it up while listening to music and everyone can be in a single vehicle at the same time.
This is especially good if some of the teens going are meeting each other for the first time.
Laser Tag Party
Teens can have high tech fun and excitement with a laser tag party.
Oftentimes laser tag businesses also have party rooms so teens can eat at the same time.
Mall Scavenger Hunt
Mall scavenger hunts are not only fun, they're free!
Teens can work in teams of two while going through the local mall collecting items from a pre-made list.
Sample items include a plastic fork, a sample of cologne, a piece of toilet paper, a receipt, and a store business card.
Rules would need to drawn up such as no running or yelling so as not to bother shoppers.
Try to have at least 25 items to make the game last for awhile.
The team that finds everything first wins individual gift cards for a store in the mall.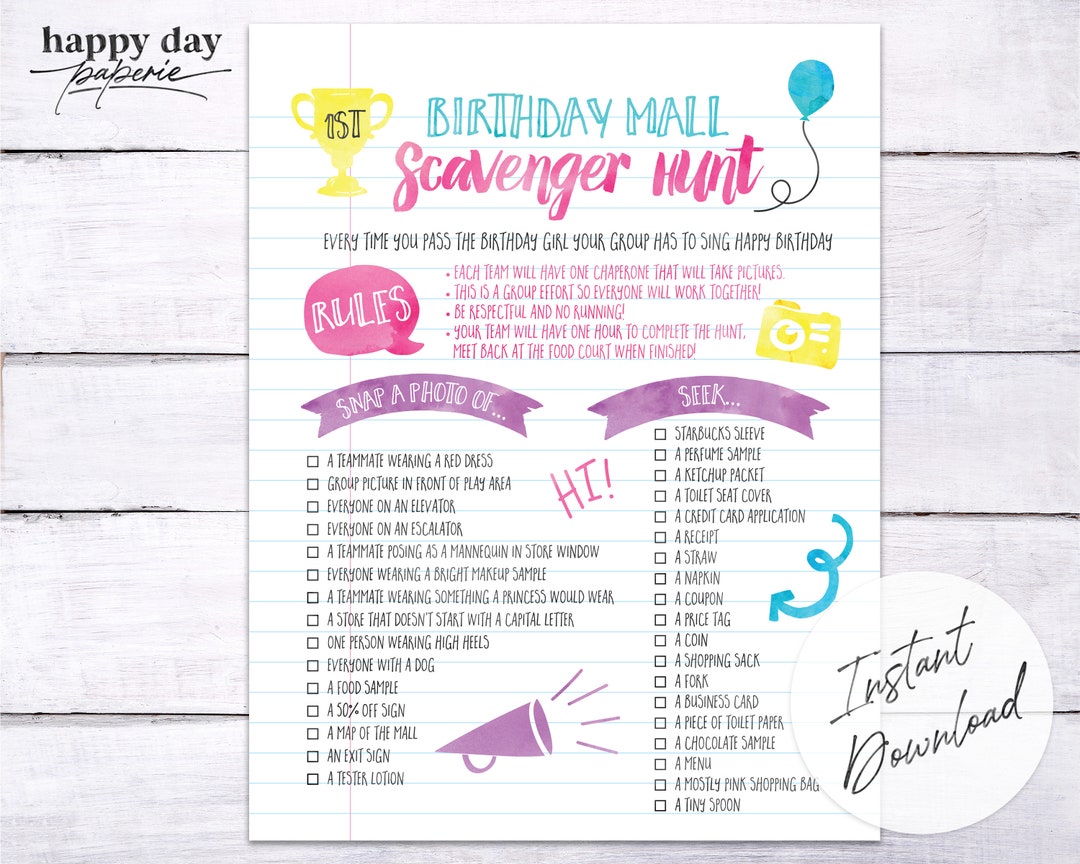 Scavenger Hunt Birthday Party Checklist
Teen Dance Party
A teen dance party can be a lot of fun, especially if activities are thrown in to get everyone dancing.
As some kids are shy, here are some ideas to get everyone dancing.
Have the birthday person pick a partner and start dancing. In a little while, have someone blow a whistle and then, both dancers have to pick a new partner.
Keep going until everyone is dancing!
How about a surprise dance in the dark?
All lights must be out for this one and any lights from music equipment covered.
Have each girl hold out her right and each guy hold out his left. Walk until everyone finds the hand of a partner.
Once everyone has a partner, have them dance to a song and when the song is over, everyone can be surprised with whom they danced with.
If there is an uneven amount and girls and guys, blow a whistle part way through the songs and change partners so hopefully those who didn't find a partner the first time, will get one the second time.
Teen Birthday Party Invitations
Why not create invitations on the computer that reflect the upcoming party?
For example, silhouettes of a couple dancing could be used for a dance party or a picture of the local mall could be used for a mall scavenger hunt party.
This would be a personalized way to invite guests to the upcoming party.
Planning a teen party can not only be fun, but, there are lots of different ideas that can be used to plan just the right party.
Don't forget to take plenty of pictures to share with friends later and as hard as it may be, stick to whatever budget is given.