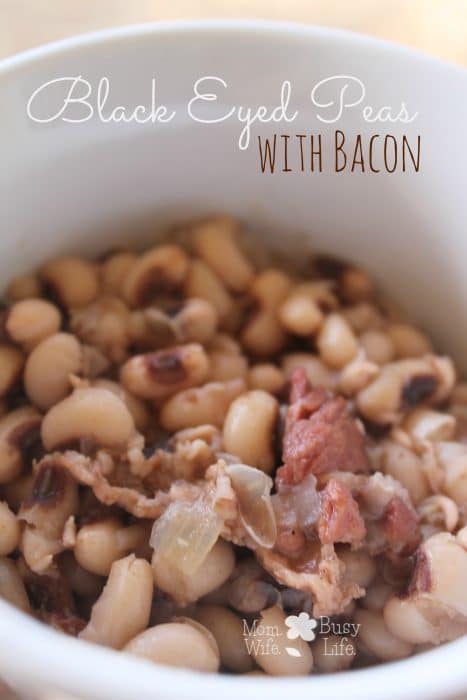 Did you know that Black Eyed Peas are considered "good luck" for the new year? Whether or not that's true, you can be sure we are going to have them every New Year's Day! This had been a tradition in our family since I was a young girl. Do you serve Black Eyed Peas at the beginning of each new year? If not, what are you waiting for?! This Black Eyed Peas with Bacon Recipe is perfect to try.
Here's a great recipe to enjoy at the beginning of every new year or with any southern meal throughout the year! The secret to this recipe? The BACON! The flavor that the bacon adds to this Black Eyed Peas with Bacon Recipe is amazing!
While you are here, check out this popular cornbread recipe that you can make to go with your black eyed peas!
Black Eyed Peas with Bacon Recipe
Ingredients:
Small package of Black Eyed Peas
1 Package of French Onion Soup Mix
1 Small Onion
2 Strips of Uncooked Bacon
Salt and Pepper
Directions:
Pour a small bag of Black Eyed Peas in a colander and rinse beans.
Transfer beans into a large pot of water and soak overnight or for 8 hours.
Do not drain the water.
Put the Black Eyed Peas on to boil.
Add two strips of chopped uncooked bacon into the boiling beans.
Once up to a rolling boil, keeping boiling for 10 minutes.
Turn down heat to low.
Add 1 package of French Onion Soup mix and stir.
Cut up one small onion and add to Black Eyed Peas.
Stir every 20-30 minutes and leave Black Eyed Peas on low for 2-3 hours or until all peas are tender.
If water gets low, add 1 cup of water.
Add salt and pepper and serve!
Check out this New Year's Sensory Bottle for Kids activity! You can also print these free New Year's Day coloring pages.