Are you planning a camping trip with your family? Here's my list of camping essentials for families!
Summer is here and many families are planning summer vacations, daily outings, and fun activities including camping!
Camping is a popular activity to take advantage of in the summer months. I have several memories of camping with my family and every year we got smarter about what to bring with us so that the entire family would have a great time.
Camping Scavenger Hunt Printables
Tent Camping Checklist Printables
If you are planning a summer camping trip, consider these camping essentials.
Camping Essentials for Families
Large tent + sleeping gear
Choose a quality tent that will sleep your entire family comfortably if you aren't camping in a cabin, RV, or pop up camper.
You also want to make sure every member of the family has sleeping gear including sleeping bags, pillows, and/or sheets.
You can also bring egg crate foam to place at the bottom of the tent or on top of a pop up camper/RV mattress if you are looking for more comfort.
We placed a mattress foam topper on the mattress in our pop up camper and we slept well!
Sunscreen
A sunburn can ruin the camping fun in no time. Keep the family safe in the sun by applying sunscreen several times a day while camping.
Bug spray
Bugs can be annoying for any family member camping.
Keep bug spray on hand to repel insects and to help prevent bug bites.
Placing citronella candles around your campsite is another option. Just be sure to monitor the open flames and keep candles out of children's reach.
First aid kit
It can be easy to get scratches and other minor scrapes or cuts when camping, especially when hiking.
Keep a well stocked first aid kit on hand with band aids, antibiotic ointment, and other first aid supplies.
Portable Camping Chairs
Pack plenty of portable camping chairs for the family so that everyone has a place to sit comfortably at your campsite.
We recently received the GCI Outdoor Freestyle Rocker chairs as a gift and they are our FAVORITE chairs!
Lanterns and Flashlights
Bring plenty of lighting options to help light up your campsite at night! Lighting includes lanterns, flashlights, headlamps, hanging lights, and more.
These lighting items will come in handy for playing games around the table, or even walking to the campground restroom when needed!
Portable coffee maker (for mom and dad!)
If you are a coffee drinker, you don't have to miss out on your daily coffee!
While you most likely won't have access to a coffee maker, you can use a portable coffee maker to make yourself a quick and convenient cup.
Family Scavenger Hunt Checklist
Bonus! Print this FREE printable Camping Scavenger Hunt for your family and take it with you on your next camping trip!
You'll also get access to my Camping Bingo and Camping Pack printables!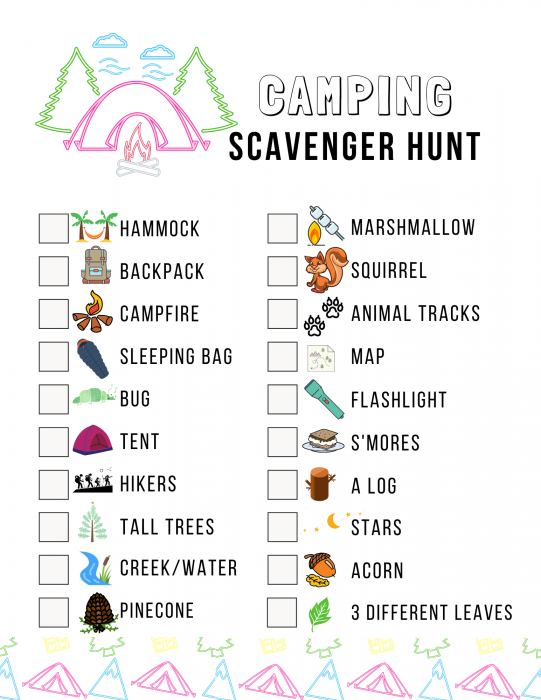 Be prepared with these essentials when you go camping with your family this summer!
What camping essentials would you add to the list?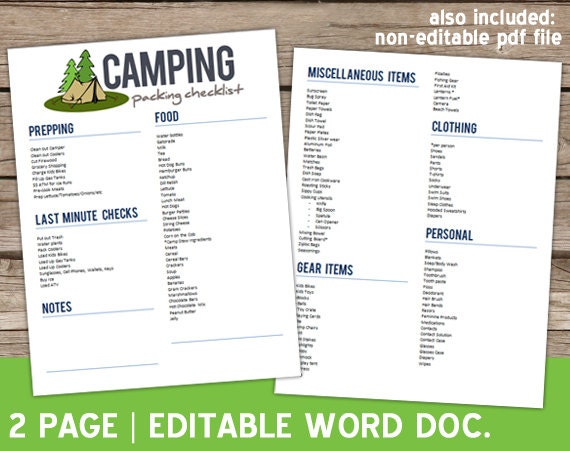 Editable Camping Checklist for Summer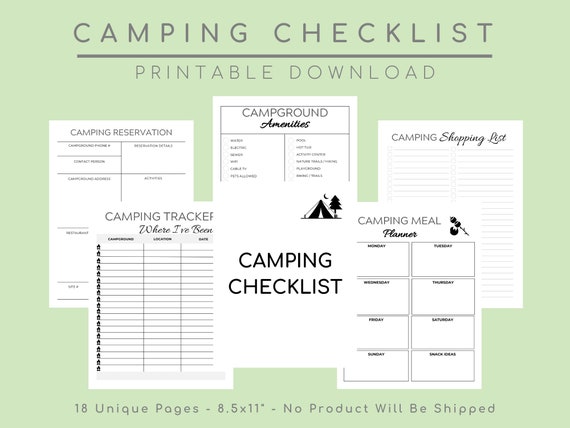 Printable Camping Checklist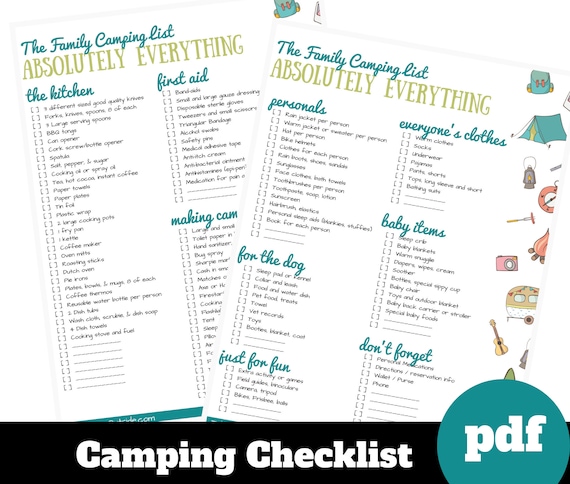 Camping Packing Lists Printable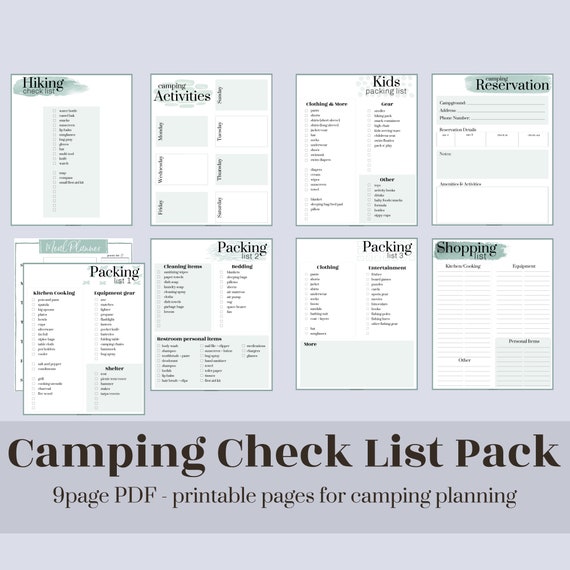 Camping Checklists and Worksheets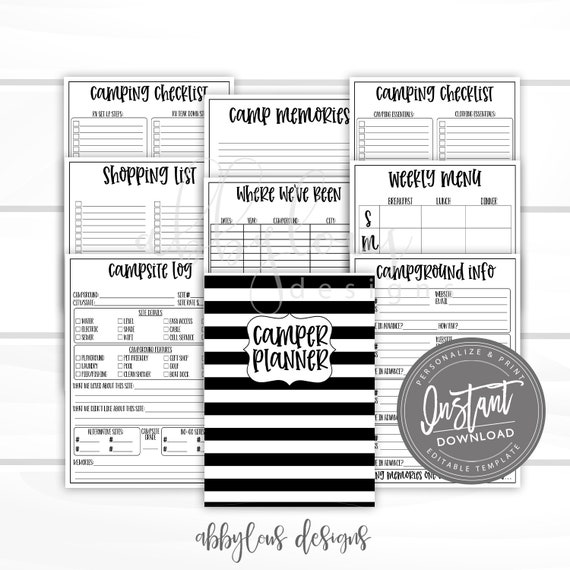 EDITABLE Camper Planner Printable RV Planner Camping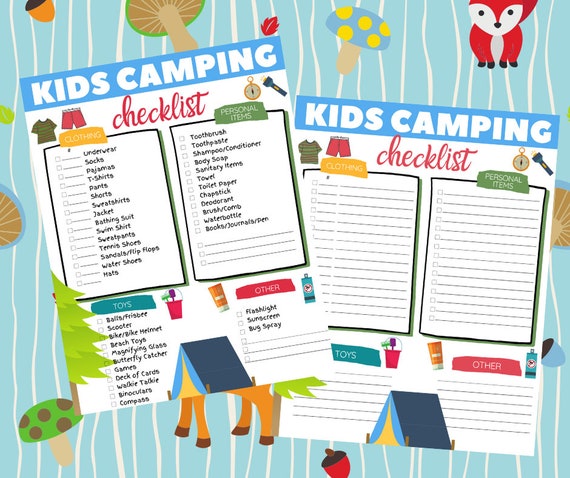 Kid's Camping Checklist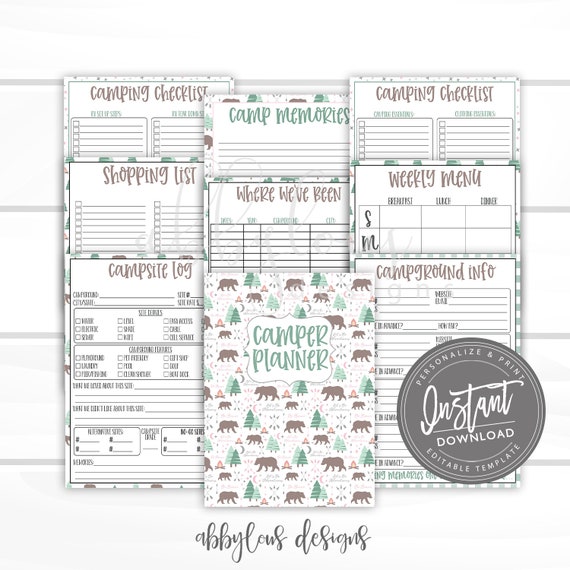 EDITABLE Camper Planner Printable