Summer is here and many families are planning summer vacations, daily outings, and fun activities including camping! Camping is a popular activity to take advantage of in the summer months. I have several memories of camping with my family and every year we got smarter about what to bring with us so that the entire family would have a great time. If you are planning a summer camping trip, consider these camping essentials.
1. Large tent + sleeping gear
Choose a quality tent that will sleep your entire family comfortably. You also want to make sure every member of the family has sleeping gear including sleeping bags, pillows, and/or sheets. You can also bring an egg crate to place at the bottom of the tent if you are looking for more comfort.
2. Portable coffee maker (for mom and dad!)
If you are a coffee drinker, you don't have to miss out on your daily coffee! While you most likely won't have access to a coffee maker, you can use a portable coffee maker to make yourself a quick and convenient cup.
3. Sunscreen
A sunburn can ruin the camping fun in no time. Keep the family safe in the sun by applying sunscreen several times a day while camping.
4. Bug spray
Bugs can be annoying for any family member camping. Keep bug spray on hand to repel insects and to help prevent bug bites.
5. First aid kit
It can be easy to get scratches and other minor scrapes or cuts when camping, especially when hiking. Keep a well stocked first aid kit on hand with band aids, antibiotic ointment, and other first aid supplies.
6. Family Scavenger Hunt Checklist
Bonus! Print this FREE printable Camping Scavenger Hunt for your family and take it with you on your next camping trip!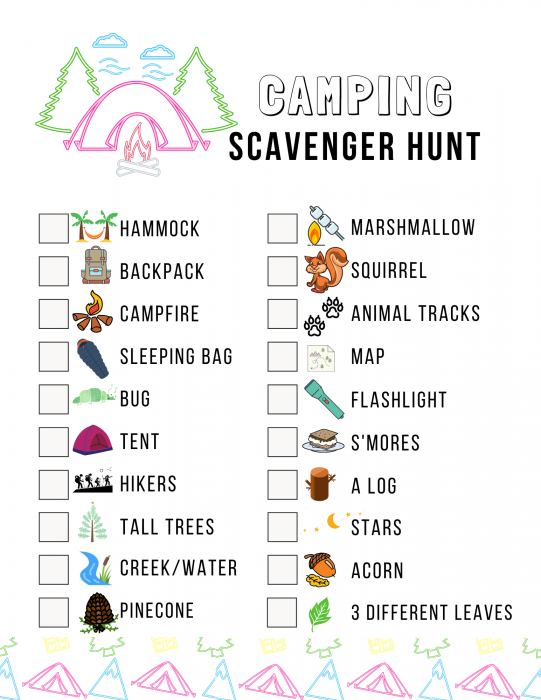 Be prepared with these essentials when you go camping with your family this summer!
What camping essentials would you add to the list?