This Caramel Apple Dip with M&Ms is the perfect recipe to serve your family or guests this fall season!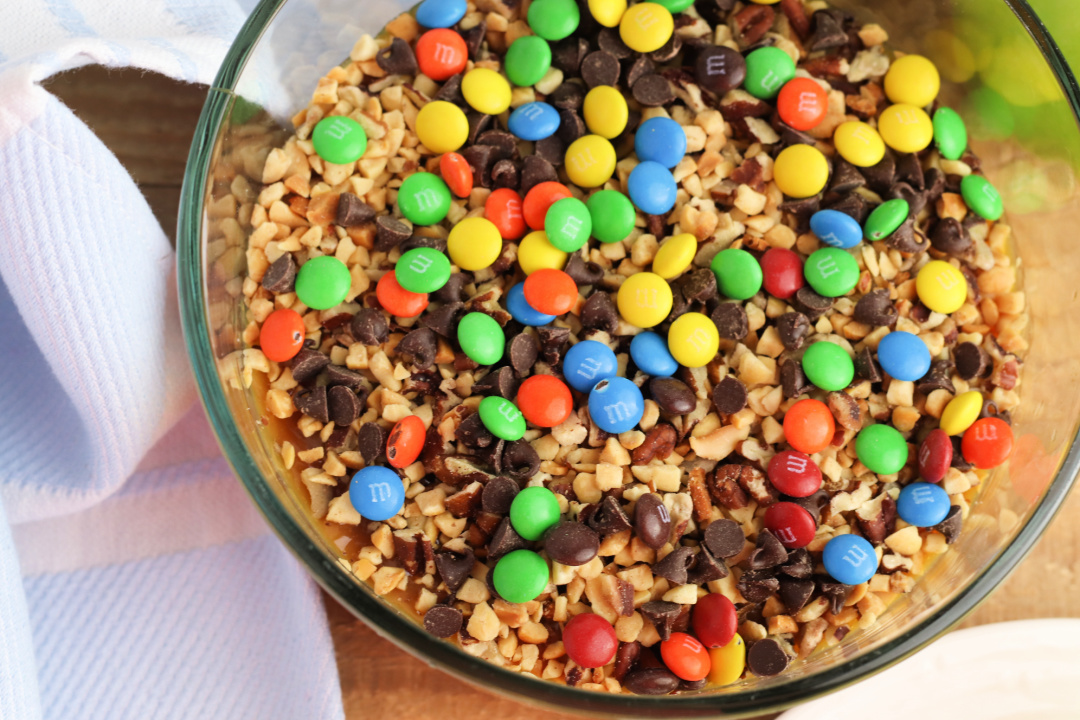 What's better than a caramel apple? A caramel apple dip! Caramel apple dip is a quick and easy way to enjoy fall flavors all year round.
This recipe combines the sweet taste of caramel with the tart flavor of apples for one delicious dip!
Plus, the added M&Ms, chopped peanuts, and chocolate chips add a nice flavor to this popular recipe.
Where can I serve Caramel Apple Dip?
For the ever-busy mom, this Caramel Apple Dip is a versatile delight that seamlessly fits into various settings and occasions.
Its effortless preparation makes it a go-to for sudden school bake sales or unexpected playdate snacks.
Not just limited to the home, it's a standout dish for community potlucks, PTA meetings, or weekend soccer matches where parents gather on the sidelines.
Even at more intimate gatherings like book clubs or mom coffee dates, this dip serves as a conversation starter.
Its sweet, creamy texture paired with the freshness of apple slices offers a refreshing break amidst hectic schedules.
Whether it's a casual backyard BBQ or a hurried weekday treat, this dip guarantees a moment of indulgence for moms always on the move.
Best Ways to Serve Caramel Apple Dip
Serving the Caramel Apple Dip in an accessible and appealing manner can make all the difference for your guests' experience. Here are the best ways to serve it:
Wide, Shallow Dish: Use a wide, shallow bowl or dish for the dip. This makes it easier for guests to scoop out the caramel without digging deep.
Apple Prep: Pre-slice apples and toss them lightly in a mixture of lemon juice and water (1 tablespoon lemon juice to 1 cup of water) to prevent browning. This will ensure the apples look fresh for a longer duration.
Apple Display: Arrange the apple slices around the bowl of dip in a circular fashion, or serve them on a separate platter next to the dip. This allows guests to easily grab a slice and dip without crowding.
Serving Tools: Include a small serving spatula or spoon for guests who prefer to plate their dip rather than dipping directly into the communal bowl.
Allergen Alert: If your dip contains nuts, make sure to place a small sign or label next to the dip to inform guests of the ingredients, especially if you're aware of any potential nut allergies among your guests.
Variety: Offer a mix of different apple varieties, like Granny Smith, Honeycrisp, and Fuji. The varied flavors will complement the dip and cater to different preferences.
Toppings on the Side: Consider serving some of the toppings, like the mini M&Ms, nuts, and chocolate chips, in separate bowls next to the dip. This way, guests can customize their dip experience to their liking.
By focusing on ease and accessibility, you'll ensure that guests can enjoy the Caramel Apple Dip without any hassle, making it a hit at any gathering!
Caramel Apple Dip
Ingredients:
Directions:
Pour the caramel dip in the bottom of a bowl.
Top with chopped nuts, mini chocolate chips, and mini M&Ms.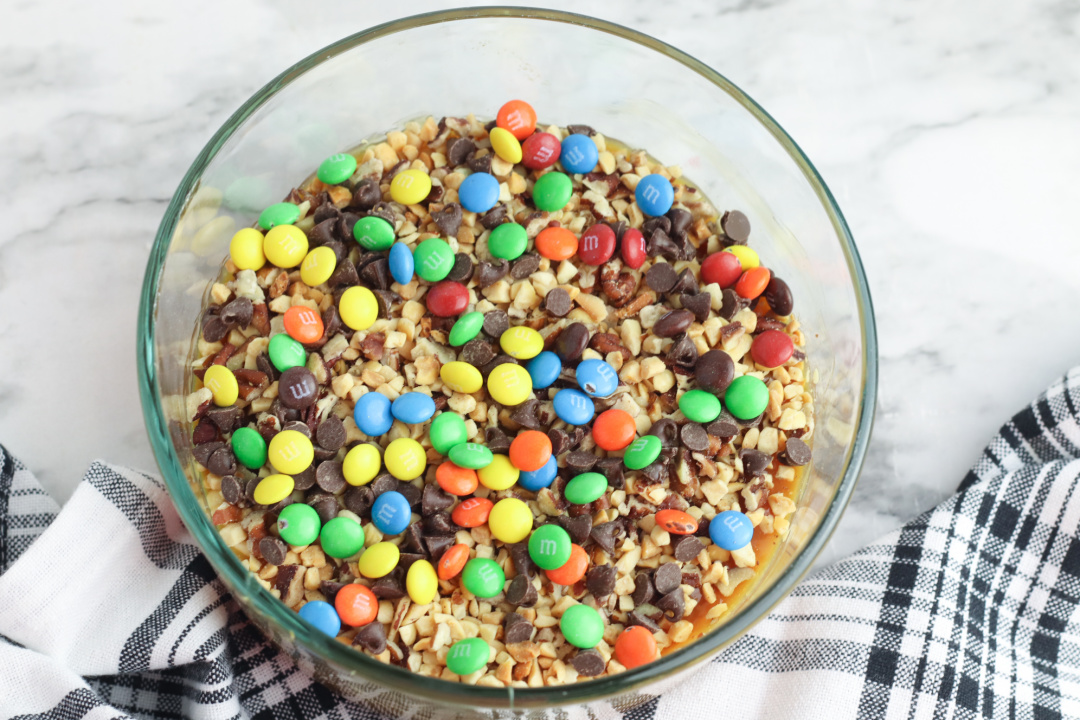 Serve with sliced apples for dipping!
Caramel Apple Dip with M&Ms
Ingredients
1 16-ounce container caramel dip
¼ cup chopped nuts
¼ cup mini chocolate chips
¼ cup mini M&Ms
Apple slices for dipping
Instructions
Pour the caramel dip in the bottom of a bowl.
Top with chopped nuts, mini chocolate chips, and mini M&Ms.
Serve with sliced apples for dipping.
What about nut allergies?
Nut allergies are a prevalent and serious concern that can result in severe reactions in some individuals.
It's crucial to be cautious when preparing and serving foods that contain nuts, especially if you're unaware of the dietary restrictions of your guests or recipients.
Even trace amounts of nuts can trigger allergic reactions in sensitive individuals, ranging from mild symptoms like itching or hives to severe anaphylaxis, which can be life-threatening.
If serving dishes that contain nuts, it's best practice to clearly label them and, when possible, prepare them separately to avoid cross-contamination.
Always prioritize safety and be aware of the ingredients in your recipes.
Frequently Asked Questions (FAQs) for Caramel Apple Dip Recipe:
What type of caramel dip should I use for this recipe?
Any store-bought 16-ounce container of caramel dip will work. However, if you have a preferred homemade caramel sauce, that works too!
Can I substitute the nuts with something else?
If you have nut allergies or prefer another topping, feel free to substitute with items like coconut shreds, granola, or crushed cookies.
How long can I store the Caramel Apple Dip?
The dip can be stored in the refrigerator for up to 5 days. Ensure it's in a tightly sealed container.
Do I need to refrigerate the dip before serving?
No, the dip can be served immediately after preparation. However, refrigerating it can help meld the flavors more and give a firmer consistency if desired.
Which apple varieties are best for dipping?
Crisp apples such as Granny Smith, Honeycrisp, or Fuji are excellent choices. However, feel free to use your favorite variety!
Can I add more toppings to the dip?
Customize the dip to your liking. Consider adding crushed pretzels, white chocolate chips, or even sprinkles for a festive touch.
How should I serve the dip for a party?
Serving the dip in a wide, shallow bowl allows for easy dipping. You can also arrange the apple slices around the bowl for an attractive presentation.
Can I use regular-sized M&Ms instead of mini?
Yes, you can. However, the mini M&Ms are recommended because they are easier to scoop and provide a better texture blend with the other ingredients.
Is there a dairy-free version of this dip?
For a dairy-free version, look for dairy-free caramel dips in the store or explore recipes online for homemade versions. Replace the M&Ms with dairy-free chocolate chips or other preferred toppings.
Can I serve this with other fruits or snacks?
While apples are a classic choice, the dip pairs well with pears, strawberries, bananas, or even pretzels and graham crackers.
My dip turned out too thick. How can I thin it out?
If your caramel dip is too thick, you can gently warm it for a few seconds in the microwave, stirring afterward, to achieve a smoother consistency.
Can I make this recipe ahead of time for a party?
You can prepare the dip a day ahead and store it in the fridge. Remember to give it a quick stir before serving and then add the apple slices freshly cut to prevent browning.
I hope these FAQs help address any queries you might have about the Caramel Apple Dip recipe!