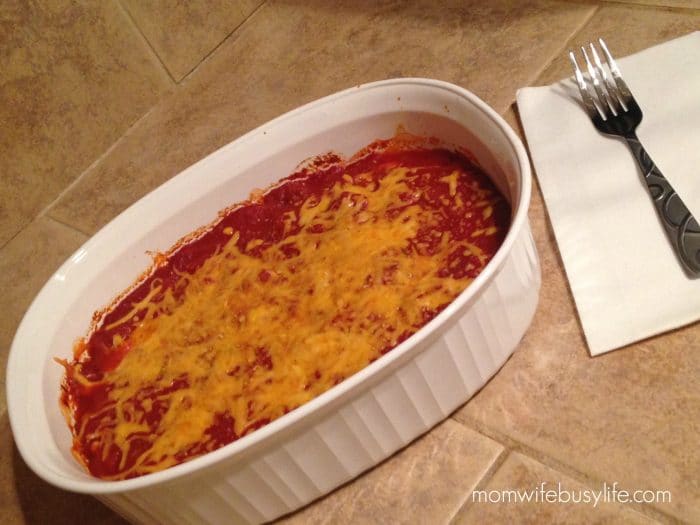 I, like so many others, am trying to eat healthier and limit those things I love so much known as…CARBS! I'm not sure about you, but I can totally devour a thick crust pizza or a warm-buttery yeast roll! I'm drooling as I type just thinking about that deliciousness! But, as we all know, too much of anything unhealthy is never good for us. Thus, my endeavor to finding healthy, appealing and easy, recipes began.
Spaghetti is an easy, go-to weeknight meal for our family, but I wanted to make it healthier so I decided to switch up our regular noodles for some hearty spiraled zucchini. This is a super-simple base recipe and can be adjusted to fit your family's taste buds. I hope this dish inspires you as you persevere to becoming a healthier you!
Cheesy Baked Zoodles Recipe
Ingredients:
2lbs. ground beef, ground turkey, or turkey sausage
4-6 zucchini
1 jar of your favorite spaghetti sauce 
roasted garlic seasoning
2 tbs. olive oil
1 cup shredded mozzarella cheese
Directions:
Using a spiralizer or vegetable slicer, slice zucchini into spaghetti-like spirals.
Add olive oil to a pot of boiling water and then add your "zoodles" and boil until zoodles are soft, but not mushy.
While noodles are cooking, brown your turkey and cook until no longer pink.
Add roasted garlic seasoning to the cooked turkey meat and stir.
After noodles are ready, drain water and pat dry with a paper towel. You want to remove as much moisture as possible so the noodles are not mushy.
In a casserole dish, add your zoodles, turkey meat, spaghetti sauce (I added a little more garlic on top of the sauce) and cheese.
Bake on 350 for 20-25 minutes.
Serve and enjoy!
SPIRALIZER BEGINNER'S GUIDE | 10 vegetables to spiralize
Try these delicious recipes, too!
Do you want to learn how to spiralize other vegetables? Check out this video below: