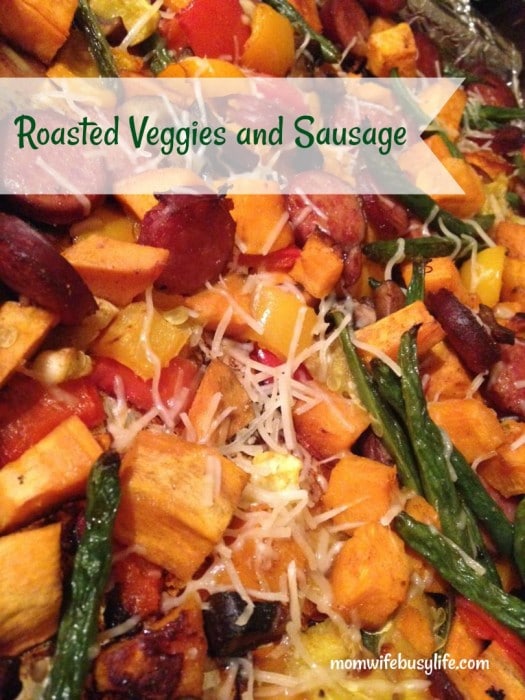 One Pan Roasted Veggies and Sausage
This recipe is written by Mom. Wife. Busy Life. Contributor: Tara
If you're looking to save time on preparing lunches during the week or an incredibly easy weeknight meal, this dish is a winner!! I LOVE prepping batch meals because let's face it, as busy moms, we don't have a lot of time to spend in the kitchen, yet we want healthy meals for our family. I made this on Sunday and ate it as my lunch all week and was not disappointed. My girls even snuck veggies from the pan while it was cooling! This flavorful dish is full of fresh veggies, turkey sausage and amazing flavor!
Ingredients:
You can be so versatile with your veggie choices, but here's what I used…
2 chopped sweet potatoes
3/4 lb. green beans
3 chopped bell peppers
1 c. chopped mushrooms
2 zucchinis cut in half and sliced
9 oz. turkey sausage
Shredded parmesan cheese
Olive oil
I like a lot of flavor in my food, so I use a little more of these seasonings.
1 tsp. paprika
1/2 tsp garlic powder
1 tbs. dried oregano
1 tbs. dried parsley
1/4 tsp. salt
1/4 tsp. pepper
Directions:
1. Preheat oven to 400 degrees
2. Line baking sheet with parchment paper (makes for super easy cleanup!)
3. Prep Veggies: chop the sweet potatoes pretty small so that they will be tender in time, other veggies similar in size, and cut sausage in quarter sized pieces.
4. Place all veggies and sausage on lined baking dish, drizzle olive oil and seasonings on top. Toss to evenly coat all veggies and meat.
5. Bake for 15 minutes, remove pan and flip veggies. Return to oven and bake an additional 15 minutes, or until all veggies are tender and sausage is brown.
6. Sprinkle with parmesan cheese once out of the oven.
7. Enjoy the flavor party!