Do you live in an area where you get winter storms? Consider creating a Winter Power Outage Survival Kit as soon as you can so that you'll be prepared during a possible power outage!
Pictured above: The icy winter storm that hit the south in February 2014. Many were unprepared and faced electrical outages lasting for days. This is the view from my back porch. The ice was a few inches thick and covered trees, roads, poles, mailboxes, etc.
This winter, we faced a very rare ice storm in the south. The last major ice storm in our area was about 10 years ago, so many of the people in my community were unprepared for this event.
Growing up in the south, I've never really had to worry about too many natural disasters. We were too far inland to worry about hurricanes or earthquakes, and we weren't located in the tornado valley.
However, we are familiar with severe thunderstorms that could produce damaging winds and large hail and there's also the possibility of another ice storm in the future. It happened recently and it could happen again.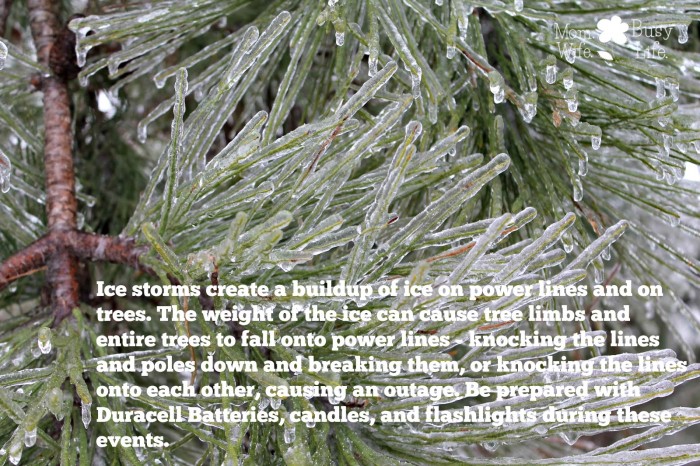 Pictured above: This is a picture of a pine tree in our back yard. The limbs were hanging very low to the ground because of the weight of the ice on the pine needles and branches. One large tree limb did snap in half during this ice storm.
When we heard that we had a possibility of an ice storm, I went into panic mode. I wasn't prepared. I planned for the worst and tried to come up with an emergency kit that would get my family through the storm.
I made a list of all of the items we needed in the event that our electricity would be out for days. Then, I went to the store and stocked up so that I was prepared for the winter storm approaching.
Thankfully, we didn't lose our power during this winter storm, but we do know of several friends that lost their power for DAYS. I was thankful we had our emergency survival kit just in case we needed it!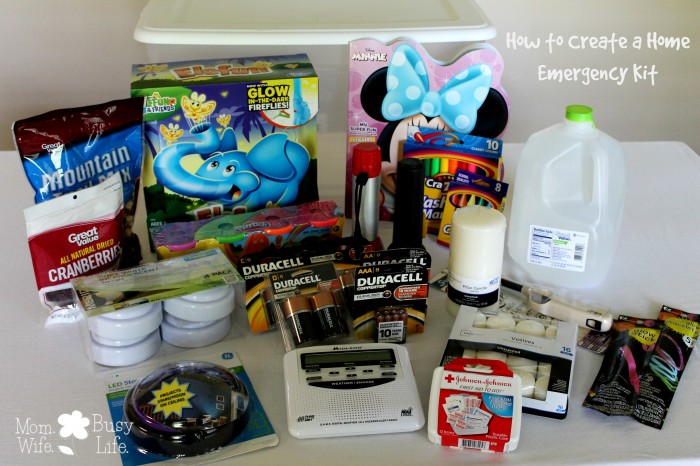 It's time to get prepared! You never know when a storm may hit causing power outages and other damages. It's never too early to prepare and it's a great idea to set aside a space in your home for an emergency survival kit for your family.
Winter Power Outage Survival Kit
Find a large storage container to keep all of your emergency supplies in.
Then, designate a space in your home to keep your emergency supplies so that you'll know where to find everything in the event that you lose power or need those items. 
Include items in your emergency kit that will get you through an electrical outage.
Candles and Lighter or Matches
***Update: I recommend using these LED flameless candles instead of real candles, especially if you have small children! Stock up on batteries for these flameless candles. ***
You'll need candles for a constant light source during power outages, especially at night, just make sure you blow them out before going to bed of course! Also, keep out of reach of children.
I like to have a large candle for the main room and smaller votives for the smaller rooms.
If you don't have any glass candle votive holders around your home, invest in a few of those and include them in your kit. I prefer unscented candles during these events.
Don't forget the candle lighters or matches!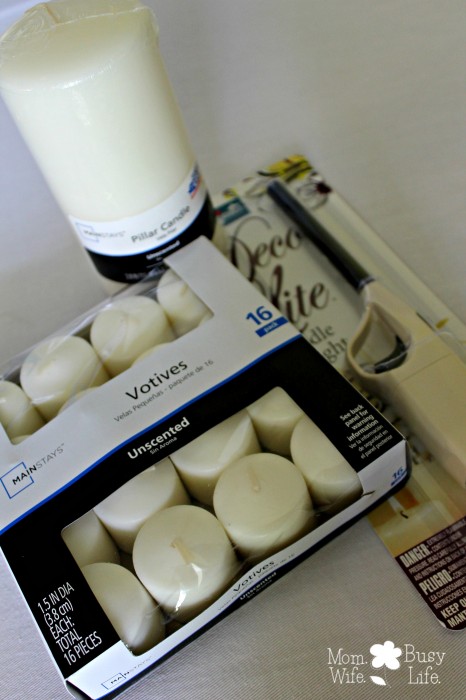 Update: Over the last two years, I have added two 4-packs of LED Camping Lanterns to my emergency kit. I love these lanterns.
We can set them all around the house and each kid can have their own lantern to carry around.
Flashlights
Flashlights are very important during electrical outages. It's best to have one flashlight for each person in the family and it's never a bad idea to have more in case they break during these events.
Flashlights are great for making shadow puppets on the wall with the kids! You'll also need batteries on hand for your flashlights — this takes me to our #3 on the list.
Batteries
Stock up on batteries!
Stash away extra batteries in your emergency kit. I include most sizes: AA, AAA, C, and D batteries in my kit. I use them for our flashlights, weather radio, tap lights, and games for the kids during electrical outages.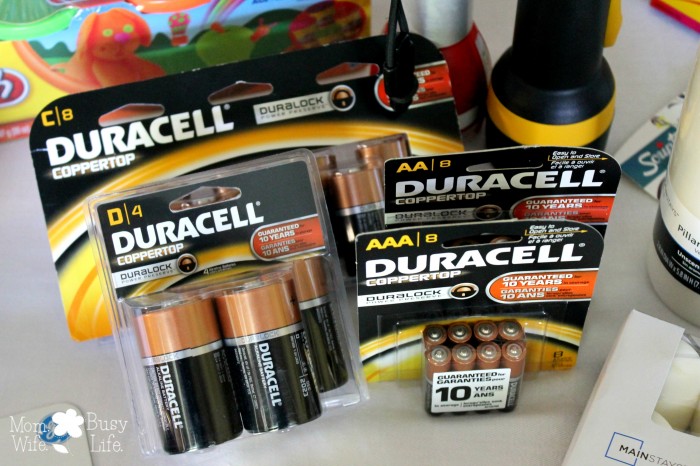 Tap Lights
I love tap lights. It's great to have several of these around during an electrical outage. They are battery operated and are perfect to have during an outage.
Just pop in the batteries into these lights and you are good to go.
I have a few tap lights for bedrooms and bathrooms, as well as one cute star and moon tap light for the girls to use at bedtime that projects stars and the moon onto the ceiling!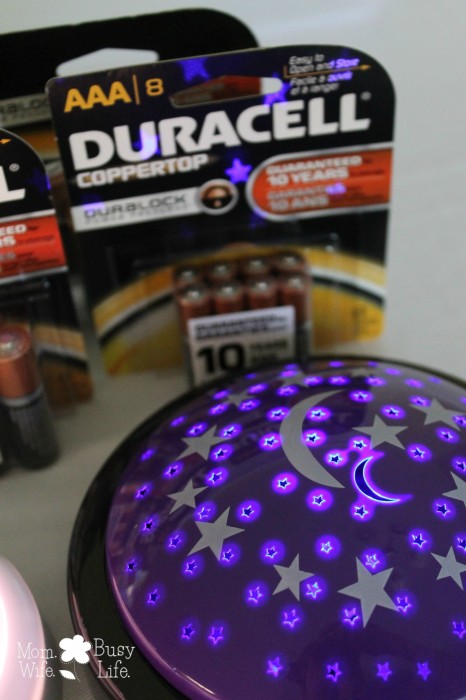 Weather Radio
I finally invested in a quality NOAA weather radio this year. After years of being caught off guard by thunderstorms, I decided it was time to get alerts before a storm hits.
This is by far one of my favorite purchases I've invested in for my family. I have my weather radio plugged in at all times and it's also battery operated.
In the event that the power goes out, I'll just pop in a few batteries and I can still get alerts during the outage.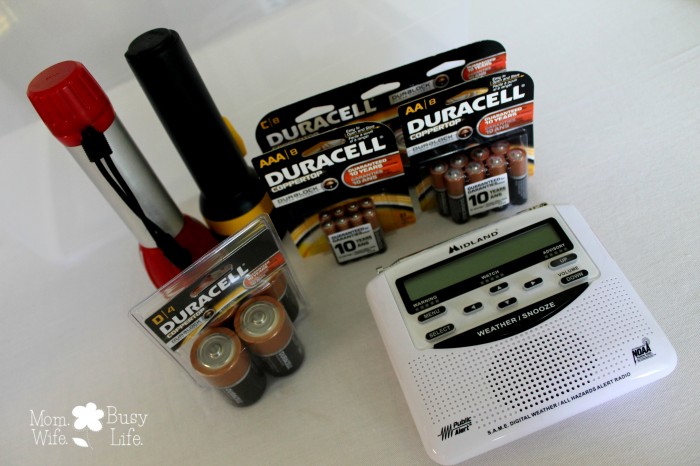 First Aid Kit
You never know what kind of boo-boo's might occur during an electrical outage. Have a well stocked first aid kit on hand just in case.
It's also important to have a bag of your important medications on hand during these events.
You may not be able to leave your house due to ice on the road, downed power lines, or other damage. Make sure your prescriptions are filled before a storm.
Water
I keep a jug of water in my emergency kit as a back up. I recommend more than one jug, but I always keep at least one in my kit just in case a storm hits that I was unaware of and didn't have time to prepare for.
If I know a storm is coming, I usually stock up on several cases of water.
Update: During the 2020 Texas Winter Storm, my dad called me to tell me they lost water. He was having to shovel snow into storage containers and allow time for it to melt for it to be used to flush toilets, etc.
I had a stash of clean milk jugs for milk jug crafts and decided to fill them all up to have on hand in case we had a problem that winter!
Food and Snacks
During an electrical outage, you'll lose power to your refrigerator and freezer. Therefore, food will go bad and get spoiled if it's not cooled properly. Include a few of your favorite food and snacks in your kit that have a long shelf life, such as canned goods, nuts, and other items.
I keep a bag of trail mix in our kit but as I mentioned above, if I know a storm is coming, I usually stock up on food and snacks and keep those on hand during power outages.
Activities For the Kids: 
Keeping the children entertained during a storm or power outage can be a challenge if there isn't a plan. Sometimes children don't understand what's happening during a storm and can be frightened with the scary sounds and flashes of lightning.
Include activities in your emergency kits for the kids as well. Here are a few of my recommended items to include in your kit along with activities for the kids during these events.
Items to Include in Your Emergency Kit for Kids for Entertainment:
Books
Include a few children's books in your emergency kits for the kids to read during a storm or power outage. Kids love using flashlights, so give them a flashlight and allow them to read during a storm or outage.
I keep weather related books in my kit to read to my girls. They are still young and get very scared when they hear thunder or see lightning. I read these books below to my girls to calm them down during a storm.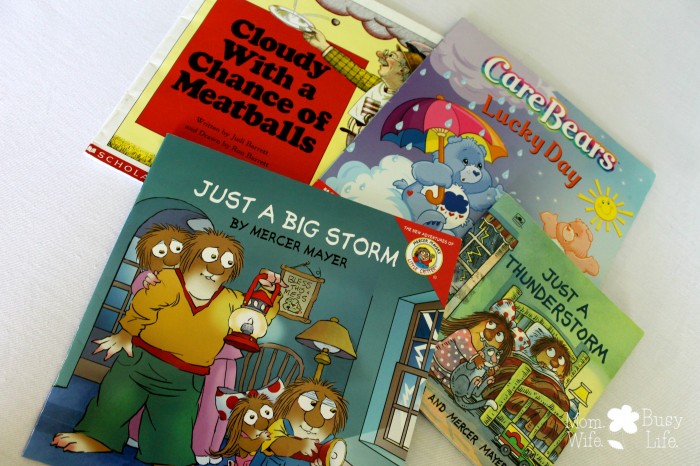 Coloring Books with Crayons and Markers
Coloring can be very calming for children. In the event that you find yourself waiting out a storm or even during power outages, coloring books with crayons and markers are perfect to have around to keep the kids entertained!
Games and Puzzles
Add a few games for the kids to play including card games, memory, or even battery operated games they can play during a storm. Be sure to charge electronic games before a storm as well.
I added a game called "Elefun" to our emergency kit. I chose this game because it includes Glow in-the-Dark Fireflies – perfect for an electrical outage! This game requires batteries that are included in my emergency kit.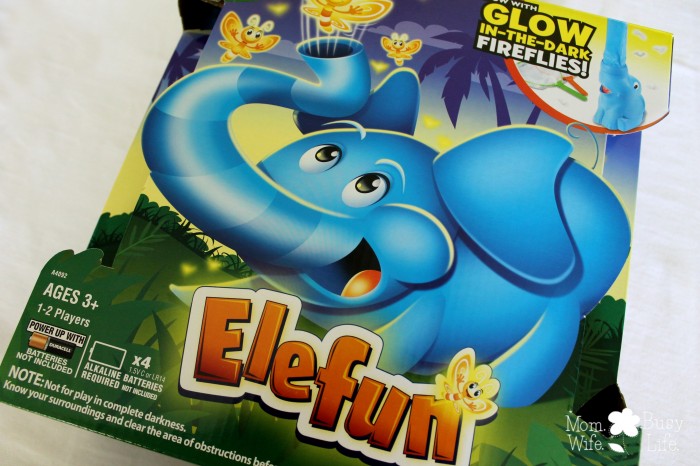 Stickers and Paper
Stickers are always fun to keep around. Provide stickers and paper for your children and allow them to create picture scenes on their paper using the stickers.
Fun Dough
Kids love using their hands. Keep their hands occupied during a storm with Play-Doh! Allow them to create fun animals or other characters during the event.
Glow Sticks and Glow Bracelets 
Glow sticks are always fun to use during an electrical outage! Glow sticks usually last for a few hours and can provide entertainment for the kids.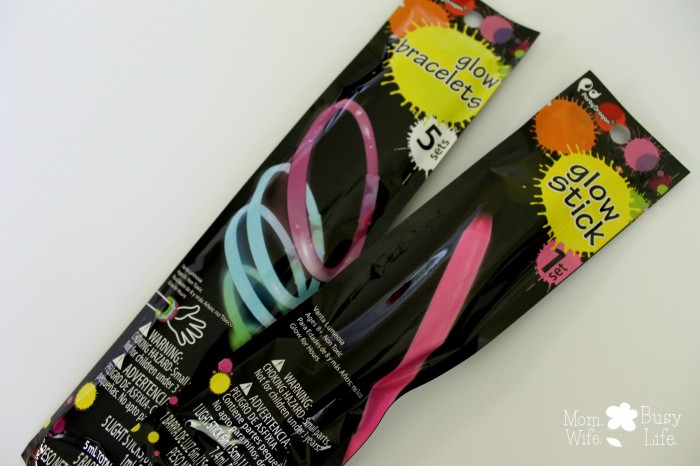 Glow in-the-Dark Stars
Hang Glow in-the-dark stars on the wall during a power outage and watch them glow for hours! These may be great to include in the kid's bedroom at night to ease their fear of a storm.
Hang Indoor String Lights
Hang up indoor string lights to produce some lighting during power outages. These can be hung on the wall, or laid across a mantle, etc.
Build an Indoor Fort
Allow the kids to get creative and build a fort or tent in the family room. Grab the flashlights and tell stories or read books in the fort.
Make Shadow Puppets on the Wall
Use flashlights to shine onto the wall and make shadow puppets with your hands as a family. Put on a puppet show with your children and have fun!
Remember to Have Fun
Try to make the most out of your time if you are stuck inside during a power outage or storm. Make memories that will last a lifetime.
You can never be too prepared when a natural disaster, ice storm, or severe thunderstorm occurs. Create your home emergency kits soon and find a safe place in your home to store it so you'll have it on hand during any one of these events. Stay safe!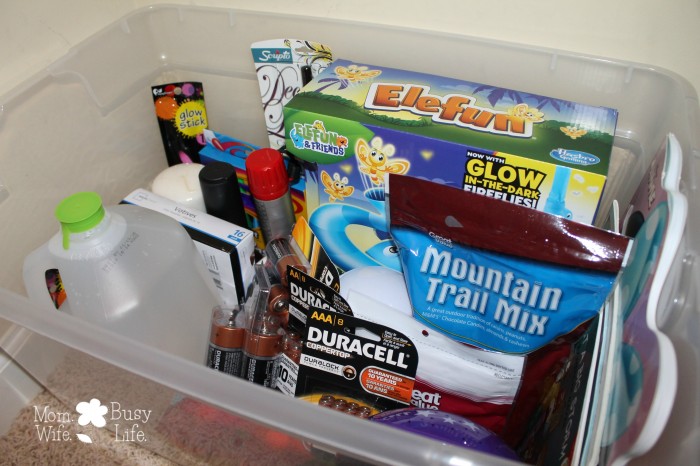 What else would you include in your home emergency survival kit?