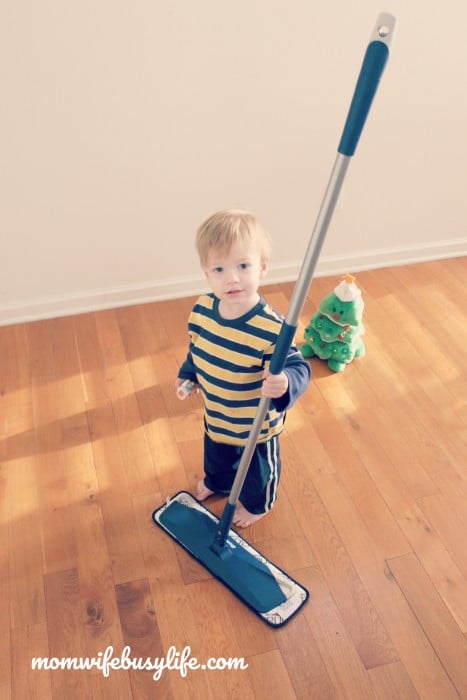 This holiday season has been filled with fun activities and visits with family and friends. My sister and my nephew just left after visiting for a week for the first time here in the Pacific Northwest. In a couple of weeks, my in-laws will be visiting and staying through Christmas! With family arriving in mid-December, I need to find the time to make sure I deep clean my home and get it in tip top shape!
As a busy mom, I don't always have the time to clean my house the way I would like. I spend a lot of time running a business at home with a very busy toddler. I also have two school-aged children at home. I can spend hours cleaning and organizing my home only to turn around and find that things have been "undone." Sometimes I feel like throwing my hands up in the air when it comes to trying to keep my home tidy! I've always loved the saying, "Trying to clean a home with kids is like trying to brush your teeth while eating Oreos!" It can be difficult!
Thankfully, I have a plan in place this holiday season for prepping my home for the holidays. I've scheduled a week of deep cleaning so that my home will be ready before my guests arrive. In the past, I tried to get everything done about a day or two before. That doesn't work anymore with my busy schedule and that's why I've planned a week of cleaning ahead of time.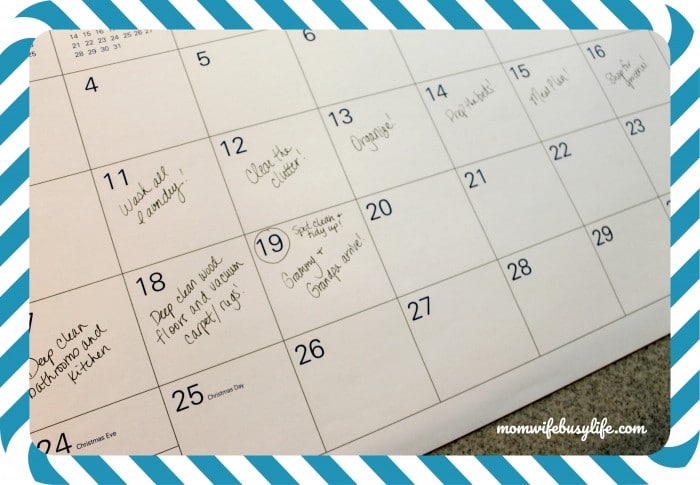 My guests will arrive December 19. Here's my plan for cleaning before they arrive.
My Holiday Cleaning Schedule:
Monday, December 11 – Wash all laundry. I'm completing one load of laundry per day and putting laundry away as soon as it's folded or hung up. This includes making sure all guest bath towels, wash cloths, and hand towels are clean and put away in the guest bathroom.
Tuesday, December 12 – Clear the clutter. This includes clutter on counter tops and in the guest rooms, as well as other areas around my home, including the living room. I'll be putting away most of the excess toys and keeping out only a select few.
Wednesday, December 13 – Organize. I will set aside time to make sure my pantry, refrigerator, and freezer are organized and tidy.
Thursday, December 14 – Prep the beds. I am going to wash all of the bed sheets and start getting beds ready for guests.
Friday, December 15 – Meal plan. My husband and I will make the menu and create our list of what we will need for our guests.
Saturday, December 16 – Shop for Groceries. I will shop for all food and drinks to have a well stocked pantry, refrigerator, and freezer.
Sunday, December 17 – Deep clean the bathrooms and kitchen. This includes wiping down all countertops and stove in the kitchen, as well as cleaning toilets, scrubbing bathtubs, and stocking with toilet paper in the bathrooms. I'll also complete my sweeping and mopping in the kitchens and bathrooms.
Monday, December 18 – Deep clean the wood floors and vacuum all bedrooms and rugs. This holiday season, I'm using my new Bona Premium Microfiber Mop with Bona PowerPlus®Hardwood Floor Deep Cleaner for my wood floors. With kids and pets, I'll be taking my time to make sure I do a great job cleaning the floors so that they shine!
Bona PowerPlus brings 3X the cleaning action:
Surfactant loosens tough, heavy build-up
Oxygenated formula penetrates for a deep clean
Bubbling action enhances and lifts away debris
Why I love using the Bona Premium Microfiber Mop with Bona PowerPlus®Hardwood Floor Deep Cleaner:
The mop is lightweight and easy to carry around.
I don't have to grab a bucket of water and take it around everywhere I go. I can just spray the floor with the deep cleaner and mop! It takes less time than my traditional way of carrying a bucket of water and a heavy mop around. If you are in a hurry or in a pinch, you can zoom around with this and clean your floors in a hurry.
My floors really DO look cleaner! Many times I mop with other cleaners and I don't really see a difference. With the Bona PowerPlus cleaner, I can tell a difference and my floors just feel and look cleaner. Below, you can see how shiny my floors are after using the Bona cleaner!
The mop and spray are fun to use in my opinion. I had so much fun with it! I actually LOVED mopping! Did you hear that? I loved mopping.
I like the light, fresh scent. I am allergic to many floor cleaners due to the amount of fragrance used in the products. With Bona, I notice that I'm not irritated by harsh smells.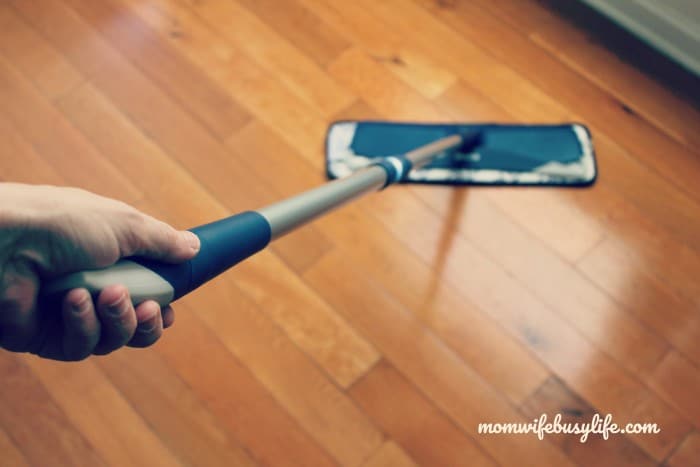 I don't have to worry about my little boy playing on dirty floors! They are super clean after using Bona cleaner.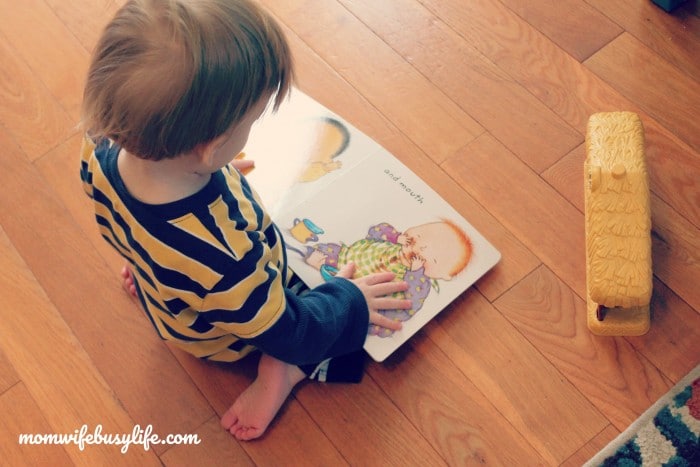 Tuesday, December 19 – Spot clean and tidy up before guests arrive! I plan to go around the my home and make sure all toys are picked up and that everything has a home. This includes taking out all trash and making sure all dishes have been washed and put away.
By having a plan in place this holiday season, cleaning my home will be easier and less stressful. I'll be giving myself plenty of time to prep my home for the holidays!
How do you prep your home for the holidays?