Disclosure: I received this product for free from Moms Meet to use and post my honest opinions. Compensation for this post was provided and this page may contain affiliate links.
Every holiday season, we sit down as a family on Christmas Eve and watch the family friendly movie, The Polar Express. There's a popular scene in the movie when children are riding along in the Polar Express when all of a sudden, characters break out into song and dance and deliver hot chocolate to the children. It's one of our favorite parts of the movie, and to celebrate this holiday season, we are making our own hot chocolate and whipped cream for our Polar Express movie night this year with the help of our new Vitamix Aer Disc Container.
The Vitamix Aer Disc Container pairs with our Vitamix Explorian Series E310 Blender to create easy recipes, perfect for busy moms!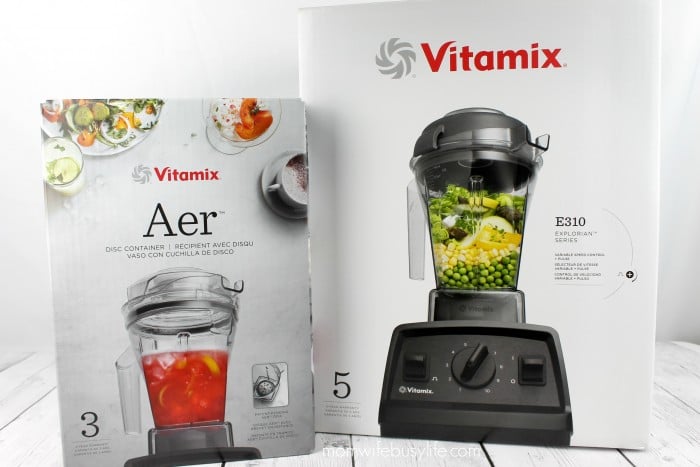 If you are like me and love to make your recipes from scratch, this is the way to go! You know exactly what's going in each recipe for your family. Thankfully, for our hot chocolate recipe provided to me by Vitamix, we only need two simple ingredients: skim milk and chocolate chips. If you are interested in making whipped cream to go along with your recipe, the recipe for that is included at the bottom of this post.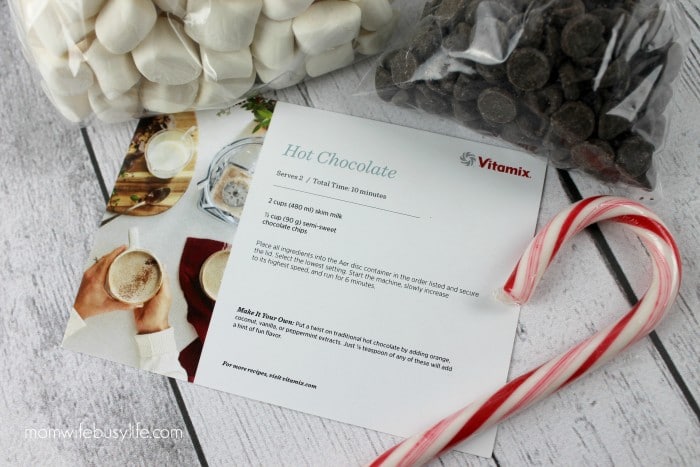 Homemade Hot Chocolate Recipe (using the Vitamix Aer™ container)
Ingredients:
2 cups skim milk
½ cup semi-sweet chocolate chips
Directions:
1. Place all ingredients into the Vitamix container in the order listed and secure the lid.
2. Select the lowest setting. Start the machine, slowly increase to its highest speed, and run for 6 minutes.
Notes:
Since the Aer™ container heats ingredients through friction like our blade containers, it will melt the chocolate as it heats the milk, then blend the two together. Optional add-ins: ⅛ teaspoon orange extract, ⅛ teaspoon coconut extract, ⅛ teaspoon vanilla extract, or ⅛ teaspoon peppermint extract.
You can find the Aer™ Disc Container at Amazon!
My thoughts on using the Aer™ container to make hot chocolate:
I was impressed with my new way of making hot chocolate with the Aer™ container. In the past, I've always purchased a box of ready-made hot chocolate because I really just didn't think to make my own. I never knew you could blend up chocolate chips and milk together to create a frothy treat for the entire family to enjoy!
First, when I opened up my Vitamix machine and plugged it in, I was startled because the button was pushed to the 'on' position! LOL. Make sure it's in off position before plugging in. The Aer™ container fits easily onto the Vitamix machine and was super easy to set up.
When I read the hot chocolate recipe directions for the first time, I thought 6 minutes to make was a bit long, but I found out why! It did take some time for the chocolate chips to mix completely with the milk. I didn't realize it would heat up as it was mixing but sure enough, it did which was really cool to me. There was no need to microwave or heat up the hot chocolate when it was complete!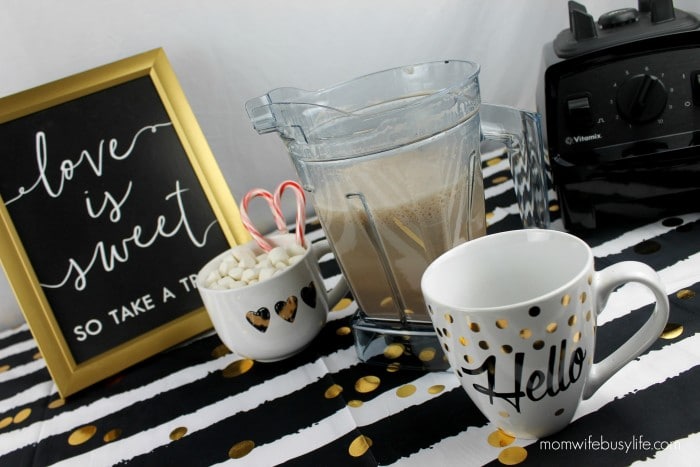 The machine was a bit louder than expected as you increased the speed, but it didn't bother me at all because my family was awake and doing things around the house when we made our hot chocolate. They are used to me using loud machines like my vacuum while cleaning house or my hand mixer while baking! I probably wouldn't run the machine if my toddler was napping, so make sure you plan accordingly unless your baby can sleep through anything.
When my hot chocolate recipe was complete, I immediately poured it into my mug and was amazed by the frothiness of the hot chocolate, something I enjoy. Most ordinary hot chocolates aren't frothy like this recipe is! I think that's one of the main benefits of using the Aer™ container. Instead of paying a lot of frothy drinks elsewhere, I can make them at home and save money this next year!
Finally, the taste of the hot chocolate is what I was going for. It was the perfect blend of milk chocolate with the right amount of sweetness that I need! When I gave my family the taste test, they all seemed to be pleased.
If you want to add whipped cream to your hot chocolate, you can make the whipped cream using your Aer™ Disc Container as well. It was super easy and delicious.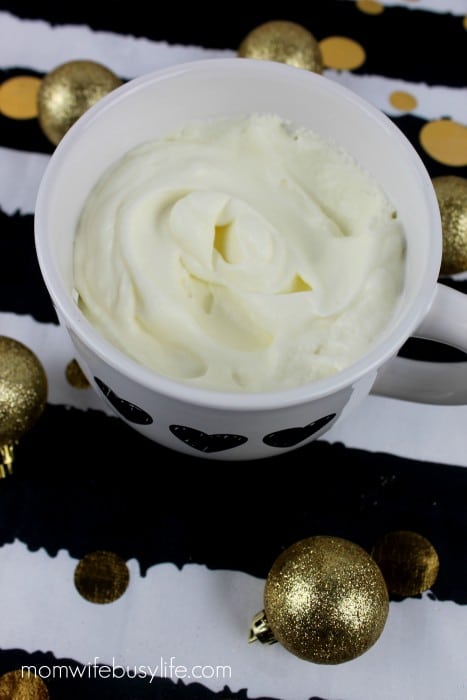 Whipped Cream Recipe (using the Vitamix Aer™ container)
Ingredients:
2 cups (480 ml) heavy cream
3 Tablespoons granulated sugar (I used Truvia instead of regular sugar.)
1 teaspoon vanilla extract
Directions:
1. Place all ingredients into the Vitamix container and secure lid.
2. Select Variable 1.
3. Turn machine on and slowly increase speed to Variable 10, then to High.
4. Blend for 12 seconds for soft peaks. Do not over mix. Serve within two hours.
Notes:
Variations: Substitute other flavorings for vanilla, or use 1 tablespoon flavored coffee creamer, such as hazelnut or Irish cream.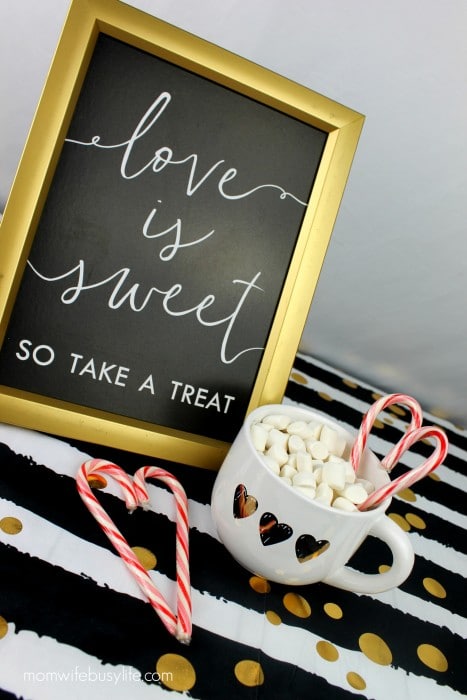 Hot Chocolate Bar
Make this a fun event for all by setting up a hot chocolate bar and add additional toppings like chocolate chips, crushed peppermint, marshmallows, chocolate syrup for drizzling on top, and more.
Now I know that we will be ready to enjoy sipping on more hot chocolate made with our Vitamix Aer™ container this Christmas Eve. We will be wearing our holiday jammies and warm socks while watching our favorite holiday movie together, The Polar Express.
Watch The Polar Express tonight!