Disclosure: This shop has been compensated by Collective Bias, Inc. and its advertiser. All opinions are mine alone. #IAMSCat #CollectiveBias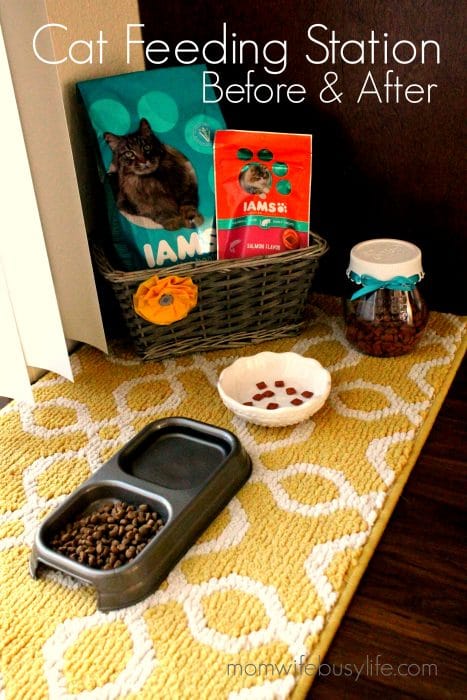 When my family and my calico cat moved into the house we are currently living in last May, I noticed something. Just about everything we had for home decor was brown. In our last home, the carpet and floors were a light color, so having brown furniture and decor wasn't too bad. Now that we live in a home that has brown laminate flooring and brown cabinets, I needed to update my home decor and freshen up my space a bit. Out went the brown rustic stars that hung on the wall, out went the brown photo frames, and in came some fresh new color. The colors I chose for our home decor update were turquoise, yellow, gray, and white.
After re-finishing three pieces of furniture, (1 piece yellow and 2 pieces turquoise) I placed them around my home and they made a world of a difference. These pieces of furniture led me to purchase matching rugs, pillows, blankets, and more. After sprucing up our downstairs area with more color, patterns, and prints, I was satisfied with the new look. This also inspired me to change the colors here at Mom. Wife. Busy Life. as you see my design includes these colors!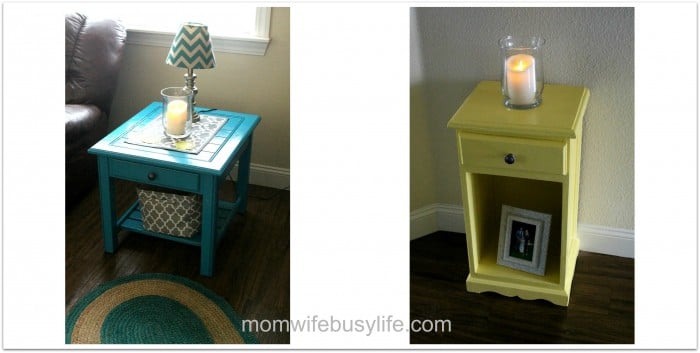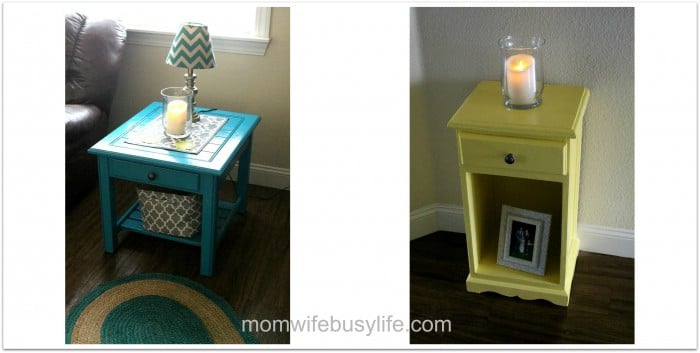 One area in the house that I decided to focus on here recently was the cat feeding station. The current cat feeding station wasn't too appealing to the eyes and I wanted to add some home decor to Candie's food and water area. We were using a large black bowl as her food dish and a red plastic dish for her water. I wanted to create a space that matched the rest of our home decor and make this a nice cat feeding station for Candie. Search #CandieCat on Instagram to find more photos of our sweet girl!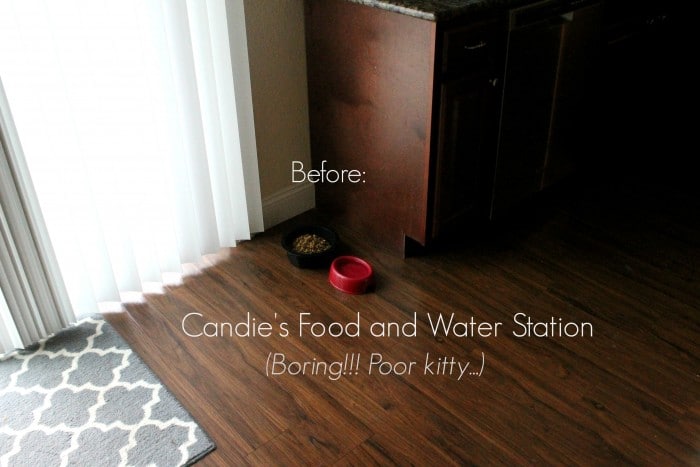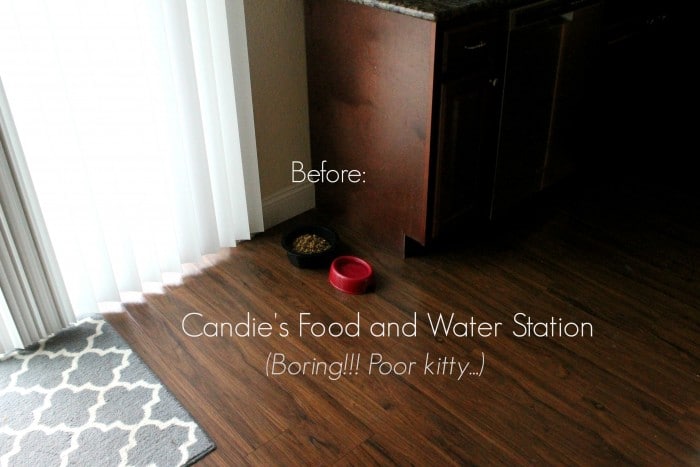 Knowing that our cat is a bit overweight, I had to choose a pet dish that would allow me to control the portions of her food. I needed something smaller, so I found a gray food and water dish for her daily feedings. I also found a cute white dish for her treats! The yellow rug will brighten up her area and the storage basket we chose will add some personality to the space and make it a bit more fun!
How to Create a Cute Cat Feeding Station
1. Add a small colorful rug.
2. Choose pretty cat dishes that match your surrounding home decor.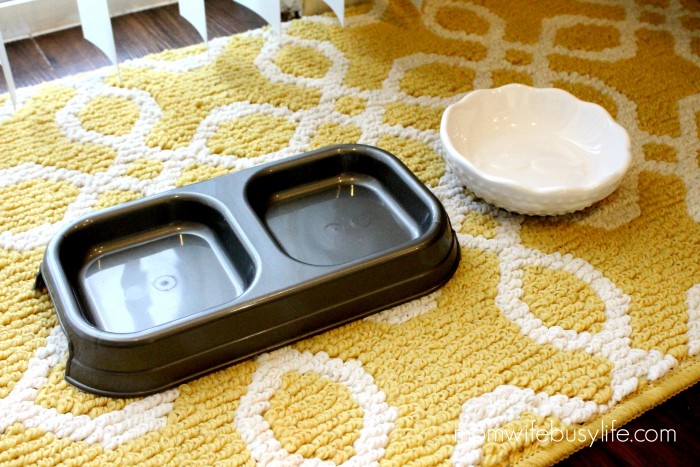 3. Add a basket to hold cat food and cat treats.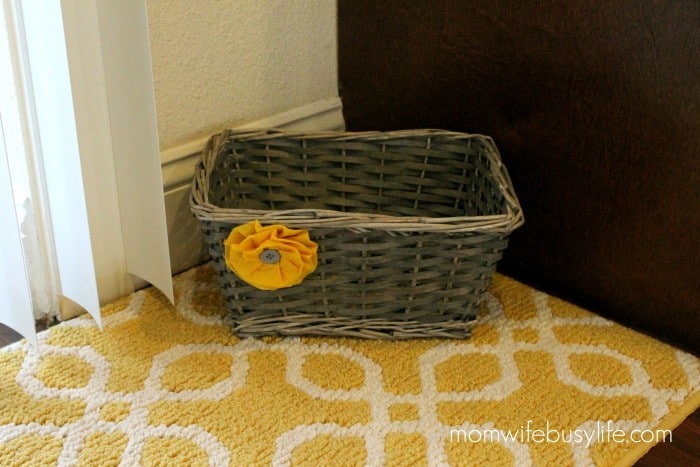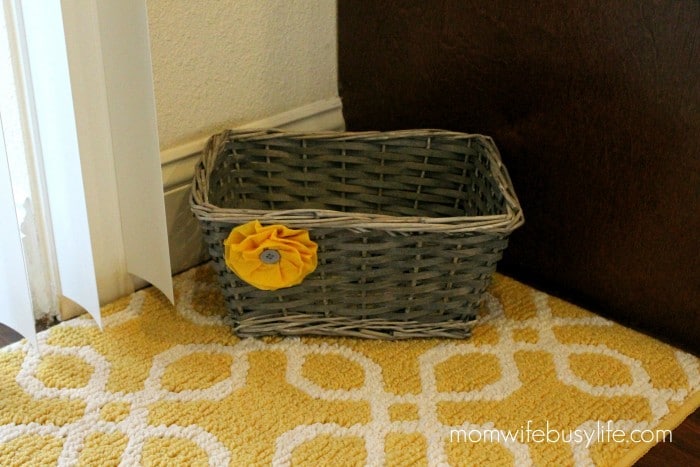 4. A treat holder comes in handy, too!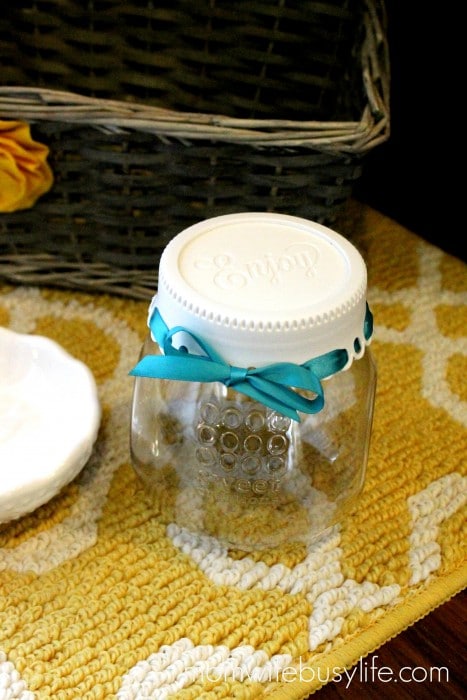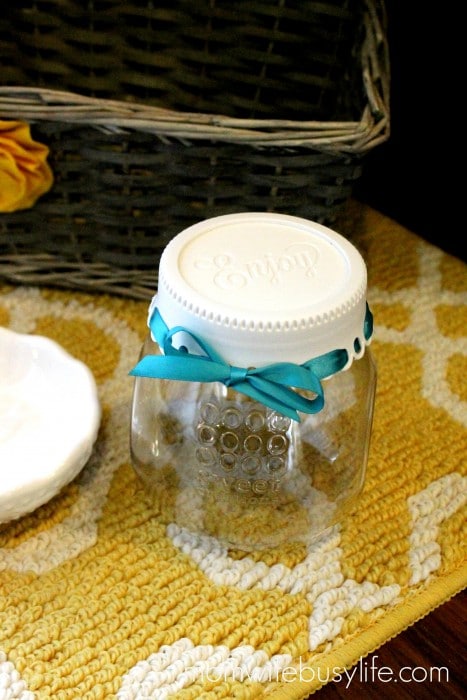 We choose IAMS™ cat food and treats for Candie's dietary needs. Candie has long hair, so the IAMS™ Hairball Care food and treats are perfect for Candie. IAMS™ also offers treats for other specific dietary needs including Digestive Health and Oral Care.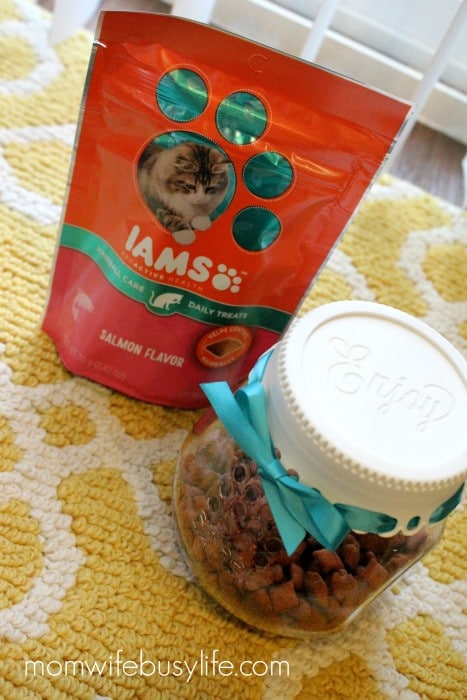 Candie gets 10 IAMS™ treats per day!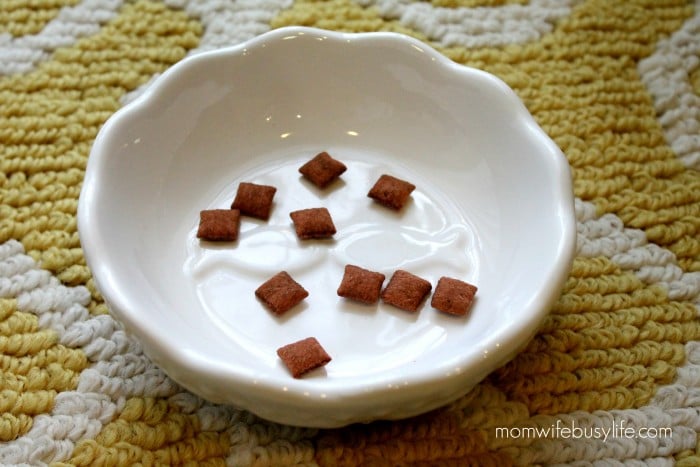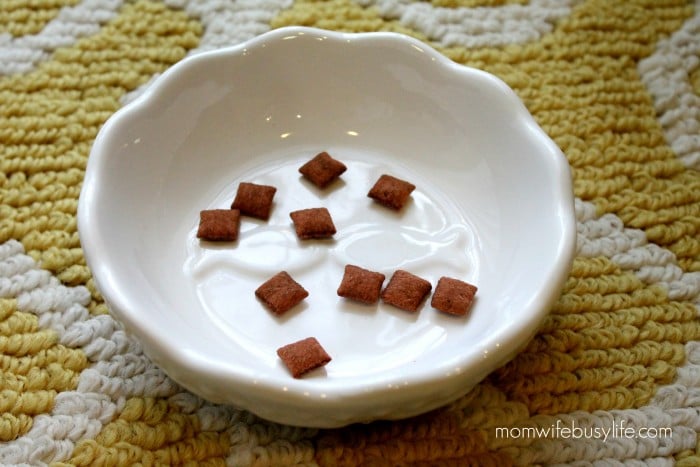 5. Candie's cat feeding station is complete!
Let's call Candie over here to see what she thinks!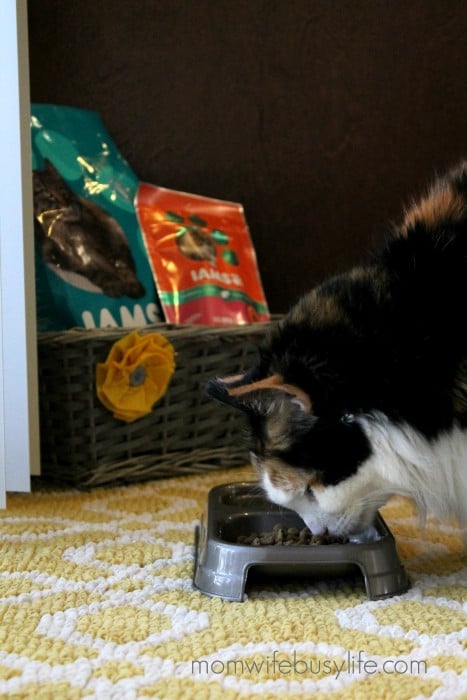 So far, so good! I think she likes it!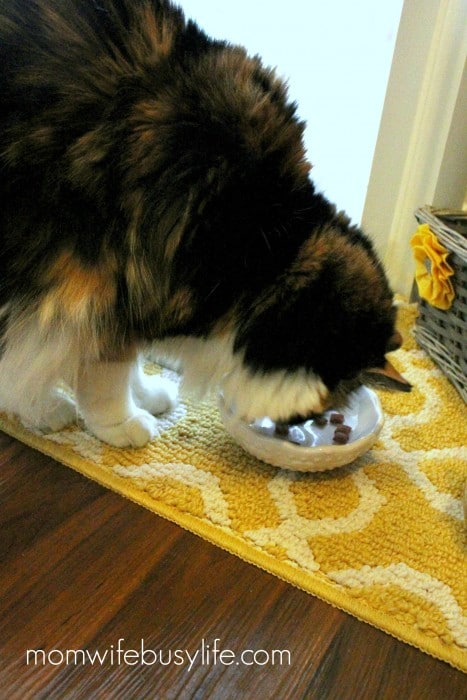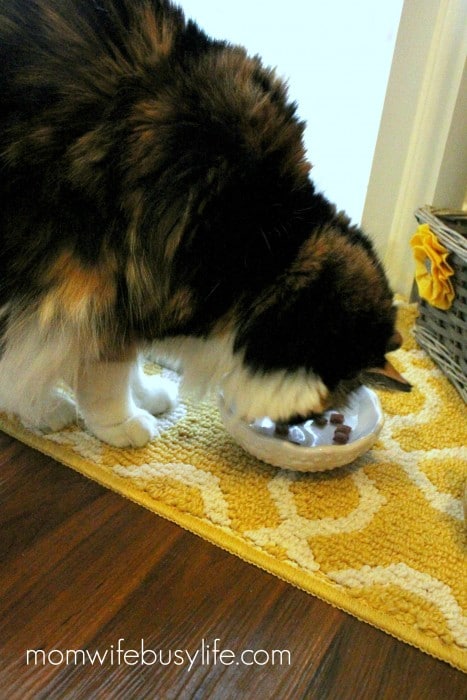 My husband and I both love having a new special treat bowl for Candie.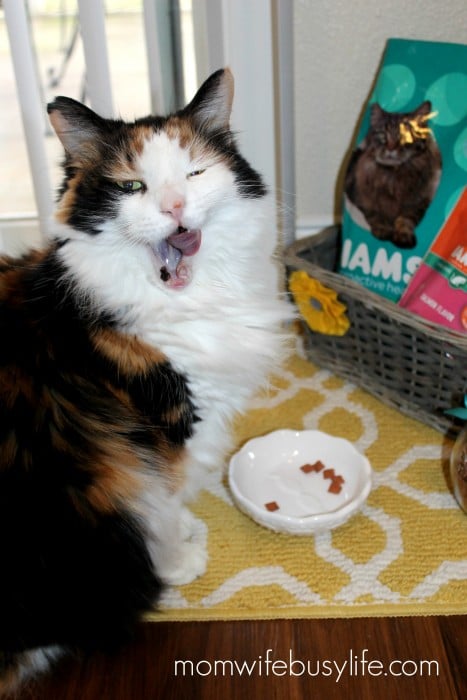 Licking her lips — the IAMS™ treats are delicious!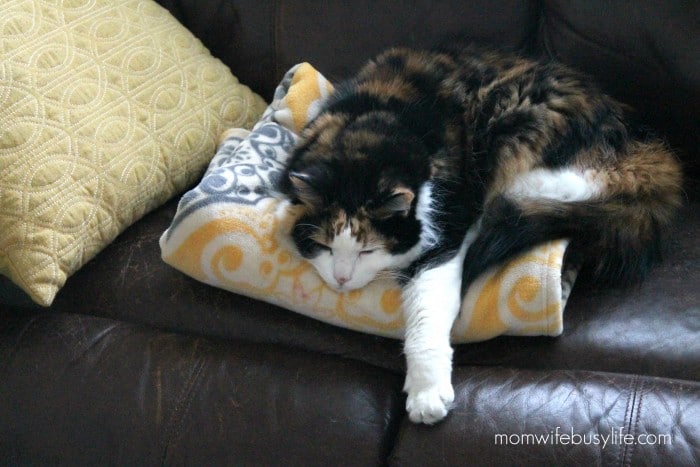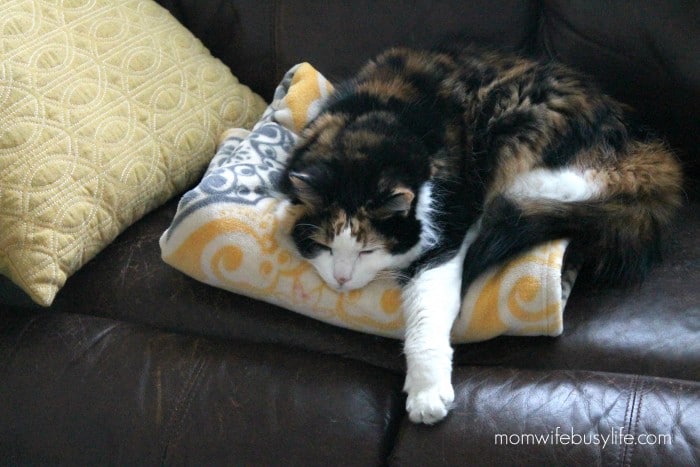 Candie is one satisfied kitty, thanks to her new cat feeding station. Since creating this new cat feeding station, I've seen Candie at her new space often. I think she likes the special change and we are all one happy family.

Do you have a special feeding station for your pet? What would you add?