Need a simple weeknight meal solution for your family? I make this quick and easy chili recipe on a regular basis! We serve it with hot, buttery cornbread!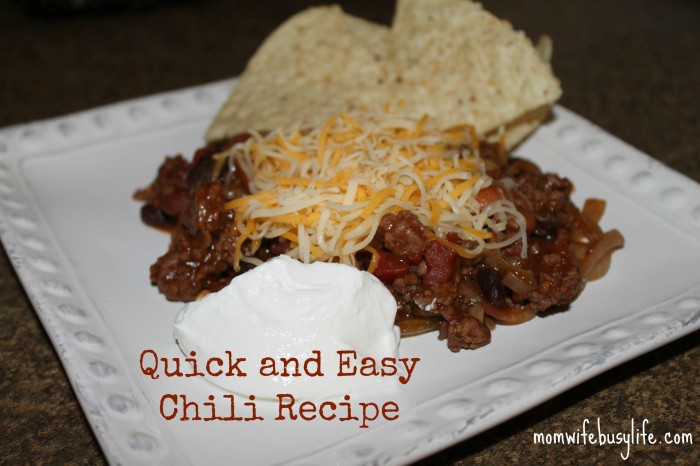 Weekdays and nights are very busy for us!
That's why I always rely on quick and easy recipes to make for the family each week!
Chili is a great meal time solution for the family because it is quick and easy to make, it is packed with nutrients, and it is versatile.
You can make chili in a Crock-Pot® or Instant Pot® for an easy weeknight meal, or on the stovetop for a more traditional chili experience.
100+ Easy Recipes for Busy Moms
It's also a great way to use up leftovers, so if you have some veggies or meat that need to be used up, throw them into chili!
Chili is also packed with nutrients like fiber, protein, and vitamins A and C. so not only is chili delicious, but it's also good for you!
What Type of Beans are Best for Chili
There are a variety of beans that can be used in chili, and each type brings its own unique flavor and texture to the dish. Here are some of the best beans to use in chili:
Black beans
Black beans are a classic choice for chili and they provide a rich, hearty flavor.
Kidney beans
Kidney beans are another popular option for chili. They're slightly sweeter than black beans and have a creamier texture.
Pinto beans
Pinto beans are a good all-purpose bean that works well in chili. They have a mild flavor and firm texture.
White beans
White beans are a good option if you're looking for something different from the usual chili fare. They have a milder flavor and a softer texture.
Chili beans
Chili beans are actually a type of pinto bean that has been cooked with chili peppers, so they pack a little extra heat.
Which type of bean you use in your chili is up to you, so experiment with different types to find the perfect combination for your taste.
What Pairs Well With Chili
There are a few things that pair well with chili, depending on your preference.
Some people like to eat chili with crackers or cornbread, while others enjoy it with rice or pasta.
You can also top your chili with cheese, sour cream, or green onions.
Whatever you choose to pair with your chili, make sure you enjoy it!
Best Chili Toppings
There are a lot of different toppings that you can put on chili, and it really depends on your personal preference. Some people like to keep it simple with just cheese and onions, while others like to load up their chili with all sorts of toppings.
Here are some of the best toppings for chili:
Cheese
This is a classic topping for chili, and it's always a hit. You can use any type of cheese that you like, but cheddar is always a good choice.
Onions
Another classic topping, onions add a nice flavor to chili. You can use any type of onion that you like, but red onions are a good option.
Sour cream
This is a great topping for chili because it adds a bit of creaminess and tanginess.
Jalapeños
If you like your chili with a bit of a kick, jalapeños are the perfect topping. Just be careful not to add too many, as they can make the chili very spicy.
Crackers
Crackers are a great way to add some crunch to chili. They also help to soak up some of the excess liquid.
Corn
This is a great topping for chili if you want something sweet and crunchy. It's also a good way to bulk up the chili if you want to make it more filling.
Avocado
This healthy fat helps tone down the spice in chili and adds a delicious creaminess.
Cilantro
This herb adds a bright flavor to chili and is a great way to garnish the dish.
Here's a chili recipe that you will find us creating on a weekly basis! It's easy, delicious and perfect any time of the year, especially during this fall and winter season!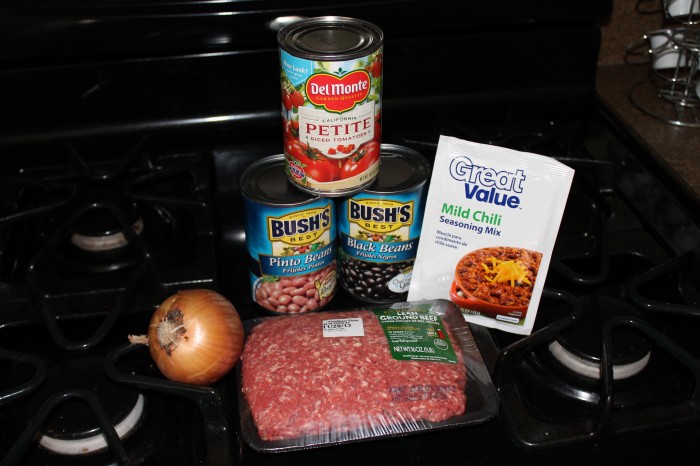 Quick and Easy Chili Recipe
Ingredients:
Directions:
Brown the ground beef in a large skillet.
Add the onion, mild chili seasoning packet, diced tomatoes, pinto beans, and black beans. Combine and mix well.
Cook on medium to high heat for about 5-10 minutes or until the mixture starts to boil.
Turn the heat to low and cook for 5 minutes.
Simmer and serve!
Serve the chili with your favorite toppings listed above or with cornbread or tortilla chips!
Try these cornbread recipes with your chili:
More great recipes: