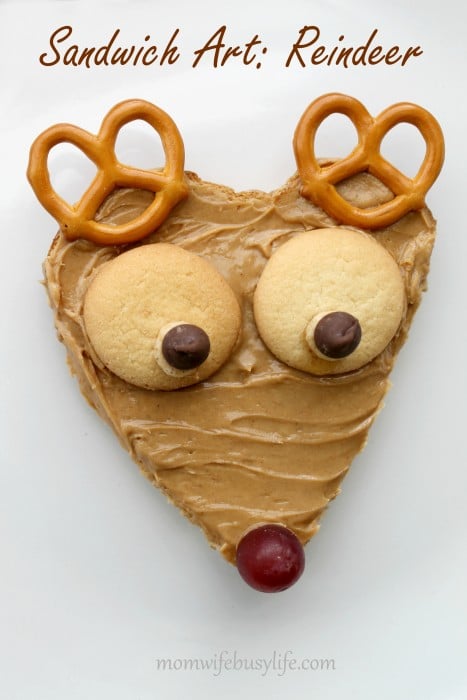 The back-to-school season is in full swing and this is the time to get creative with back-to-school lunch, dinner, and snack ideas. Fall is around the corner and before we know it, Christmas will be here! With the holidays approaching and the back-to-school season here, I thought it would be fun to create sandwich art. When I went into the kitchen, I had no idea what I'd create. I just looked for simple ingredients that I already had and started placing items on the bread until I was happy with my creation! After a few different trial and error runs with a few ideas, I finally created a reindeer with my bread and ingredients!
To create a reindeer sandwich, you'll need the following ingredients:
1 Slice of Bread
Peanut Butter
2 Vanilla Wafer Cookies
2 toasted O's
Honey
2 Chocolate Chips
2 Pretzels
1 Grape
Directions: 
1. Spread an even layer of peanut butter on the slice of bread.
2. Place the vanilla wafers towards the top part of the bread to make part of the eyes.
3. Pour a drop of honey on the lower part of the vanilla wafers and add a toasted O on top of the honey so that it stays in place.
4. Pour another drop of honey onto each toasted O and place a chocolate chip on top.
5. Add two pretzels at the top of the bread for the antlers.
6. Place a grape at the bottom of the bread for the nose.
7. Using a pizza cutter, trim the sides of the bread to shape the reindeer's face!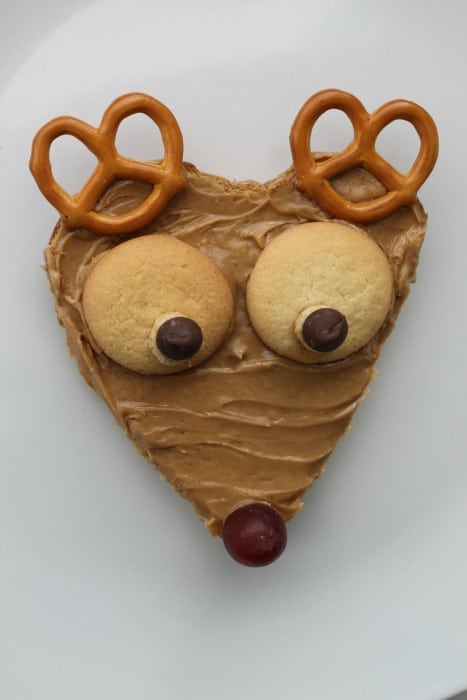 What sandwich art would you make with your kids?