Organization is important for a successful school year! Read how to get organized this school year!
Back-to-school season is very exciting, but it can be quite hectic and messy too. There are books to keep track of, lunches to make and 100 different dates and activities to keep track of. This year, make life easier on yourself with these six easy ways to get organized this school year.
How to Get Organized This School Year
1. Organize Your Time: Create a Routine
Do your kids dilly dally when it is time to get ready for school in the morning or fight you when it is time to do their homework? Make routine tasks easier on everyone by establishing routines. For example, you could make a picture list that shows your young children all the steps they need to do to get ready in the morning. You could also make an after-school routine of snacks and then homework before dinner to help keep your older kids on track with their homework.
2. Organize Your School Supplies: A Place for Everything
School books and supplies have a way of wandering off. Prevent this by designating a certain spot to do homework as well as certain spots they put their shoes, lunch boxes and library books. When your kids get into the habit of always leaving their items in their spots, things are far less likely to get lost. Here are a few great entryway organizers that would be a great way to organize belongings. A shoe organizer is a MUST in my house!
Related: Create a Homework Station – Kids' Desks for Back-to-School
3. Organize The Papers: Don't Be Afraid to Recycle
Kids bring home an insane number of papers each week. Don't feel like you have to keep them all. Have your child select the papers he or she is most proud of to display those on the fridge and then recycle the rest. If you truly can't bear to part with projects, take pictures of them to use for a scrapbook page before recycling them.
4. Organize the Forms: Use a Wall-mounted File Sorter
In addition to all of your kids' school papers, you will undoubtedly have several forms, permission slips and important newsletters to keep track of. Organize them with a wall-mounted file sorter and colored folders for each child. Put all essential papers straight into the sorter, and do your best to get important papers on their way quickly. This way, you are never hunting for a permission slip or important paper at the last minute.
5. Organize Your Schedule: Use the Right Calendar
Between work, school, sports, extracurriculars, church and family activities, your family has a lot on its plate. Keep track of all important dates by writing everything down on a large desk calendar. You can use a large paper or white board calendar in your kitchen or an online synchable calendar on your computer or phone. Write everything down, and you are far less likely to forget a date or double book yourself.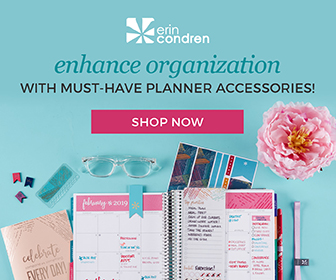 Consider a
planner to help you get your schedule organized
!
Related: Back-to-School Shopping Made Easy With Bundles
6. Organize Your Lunch Supplies: Create a Lunch Supply Bin
Packing school lunches can be quite tiresome when you have to figure out what to make each morning. Instead of constantly searching through your cupboards to see what you can throw together, create a school lunch bin. This is a great place to put individually portioned fruits, veggies and crackers. Then, every morning you can just pull out what you need. In fact, if you get really organized, the kids may be able to make their lunches themselves, saving you lots of time and hassle!
Shop Back to School:
School items can get lost easily! Don't forget to label all of your school items! Get FREE shipping on super cute labels.
Have a Disney fan in the family? Here's a list of Disney Lunch Boxes for Back to School to choose from for school lunches this year.
Include Cute Lunch Box Notes for Back to School in your child's lunch box! There are a variety of notes to choose from to help brighten your child's day.
Skip the fountains this year and send your child to school with a reusable water bottle to use during the day. Here's our choice for Best Reusable Water Bottles for Back to School.
Does your child love unicorns? Head back to school in style with these Back to School Unicorn Backpacks.
It's Back to School Shopping Made Easy with Bundles! Choose from a variety of school supply bundles for your child or children.
Shop more back to school lunchboxes now!
Do you have any back to school organization tips?