Get out the slow cooker and make this delicious Slow Cooker Taco Soup Recipe for the family or your guests this week!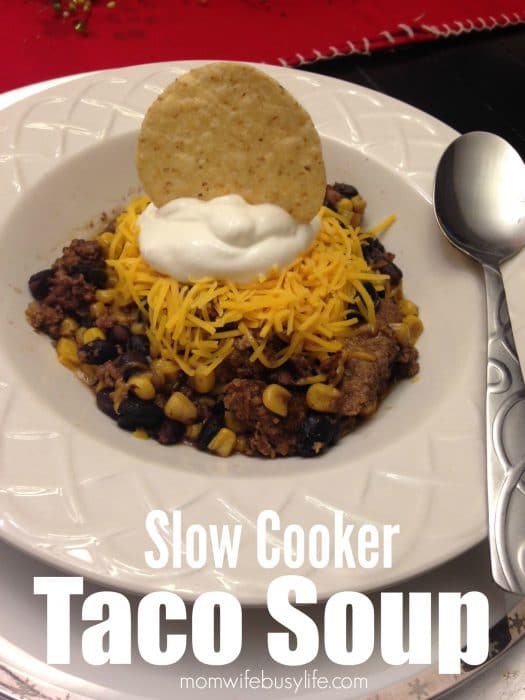 Winter is here and today we had our very first snow for the year!
When winter rolls around, I pull out my slow cooker and keep it handy for easy dinner recipes. Tacos are a big hit in our house, so making taco soup only makes sense during the cold winter months.
This is a hearty, super easy, delicious meal for all to enjoy. We love to top ours with cheese, sour cream, and tortilla chips. Talk about the tastiest dinner ever!
If you haven't used your slow cooker this year, what are you waiting for? Try this Slow Cooker Taco Soup Recipe soon!
This is an easy recipe and it's perfect for busy moms wanting to have dinner ready and served when the family gets home.
If you don't have a slow cooker yet, check out this selection of slow cookers and find one that's right for your family. Don't forget the slow cooker liners for super simple clean up!
Slow Cooker Taco Soup
Ingredients:
Optional: shredded cheddar cheese, sour cream, tortilla chips
Directions:
Cook and drain ground beef.
In the slow cooker, add all the beans, corn and beef.
Sprinkle taco seasoning on top and mix.
Let cook on HIGH for 2 hours or LOW for 4 hours.
Sprinkle with shredded cheese, a dollop of sour cream, and crunched tortilla chips.