This list of easy Apple Desserts for fall will leave your mouth watering! Browse the list and add your favorites to your recipe collection.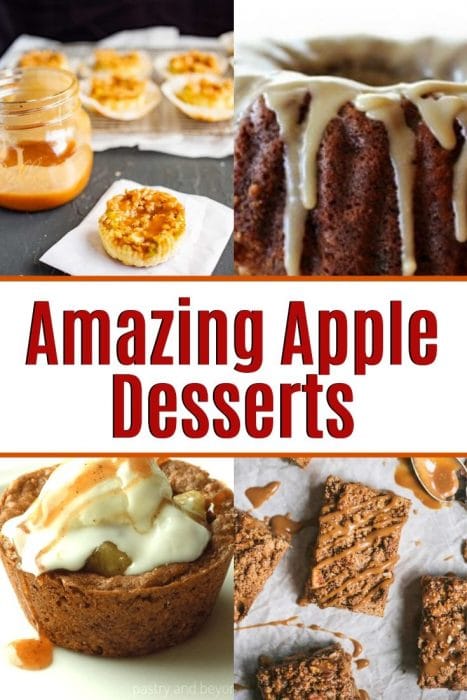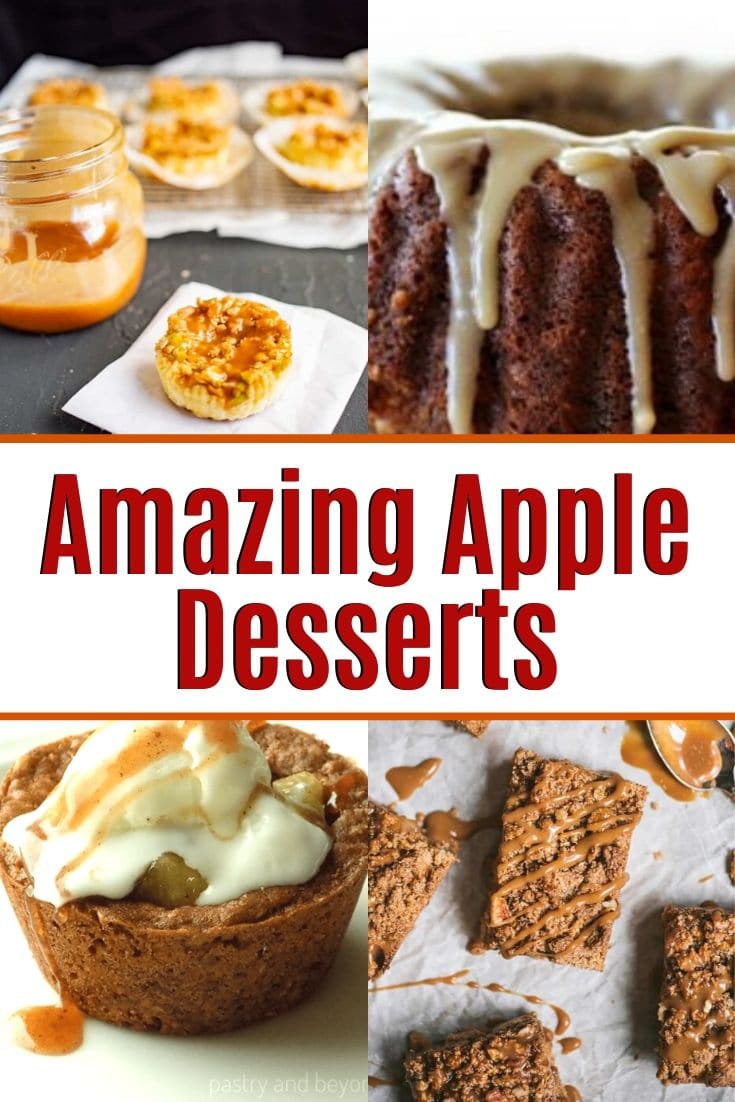 They always say that an apple a day keeps the doctor away right? So, what better excuse than to dabble into some delicious apple desserts than to keep that pesky doctor at bay!
Apples always remind us of fall and the crisp air that sneaks up on us and what better way to celebrate than by enjoying a delicious apple dessert like a crumb cake or those tasty caramel apples that we can't seem to get enough of.
Whether you are looking for pastries, a cobbler, or even a unique apple dessert, this list of tasty desserts has something for everyone!
Apple Desserts
Made with fresh Granny Smith apples, this apple recipe offers plenty of flavor all packed into a delicious pie!
If you love apples and cinnamon rolls, combine these two favorites to create these tasty Apple Cinnamon Roll Cups this fall.
This Caramel Apple Dip with M&Ms is the perfect recipe to serve your family or guests this fall season!
If you love mini apple pies without the hassle of creating the dough, this recipe is for you! These crescents are stuffed with apple filling. Served warm, these cinnamon treats are delicious and great to serve during the fall season.
Full of spices, delicious apples, and served over a generous scoop of ice cream, this apple cobbler is a must-try dessert!
Layered with gooey goodness, this monkey bread is packed with apples, pecans, and a sweet sugar mixture that brings it all together for a delicious and easy dessert!
This delicious caramel apple Bundt cake is a tasty dessert that can be enjoyed after any meal. It is a sweet dessert that is topped with a creamy caramel glaze.
Full of delicious apple flavors, these apple blondies are soft with a hint of cinnamon. Luckily, these blond brownies are easy to make and sure to delight!
Topped with a thick layer of gooey apples, brown sugar streusel and then drizzled with a homemade caramel sauce, this dessert pizza is simply outstanding!
This moist textured apple crumb cake is sure to become a favorite! It's a paleo friendly treat that is topped with a crispy crumb topping for extra goodness.
Delicious and easy to make, these cookie cups are made up of caramelized apples inside of a cinnamon cookie cup.
All the flavors of baked apples, these scalloped apples are made in casserole form. Drizzled with a sweet buttery sauce and served with ice cream, this dessert is the perfect apple dessert.
Gluten free and vegan, these apple pie bars are a decadent treat that you can enjoy all in itself or served with a scoop of ice cream.
A classic dessert that's easy to make, this apple treat is layered with caramel, apples, cool whip, pudding, and Snickers for a dessert worth making.
These mini caramel apple cheesecakes make the perfect individualized fall dessert! Simple to make and super delicious, these mini cheesecakes are sure to delight.
An elegant way to serve dessert, this apple pastries are shaped like roses and are cute as can be!
More Apple Themed Ideas:
While you are here, check out our delicious Hot Apple Cinnamon Tea recipe, perfect for the upcoming fall season. You'll want to get cozy on the couch with a cup of this tea during the cooler months!
If you are looking for apple craft ideas to make with the kids, try our Apple Paper Plate Craft, perfect to make for the back to school season.
Create this adorable Edible Apple Turkey Craft this Thanksgiving and display for your guests to see. Then, allow the kids to eat this tasty treat for dessert!
What apple desserts above are you wanting to try first? Let us know by leaving a comment!