Desserts using fresh blueberries are super tasty, especially during the summer months! Get creative this summer and create a variety of Blueberry Desserts!
Here are several great recipe ideas below.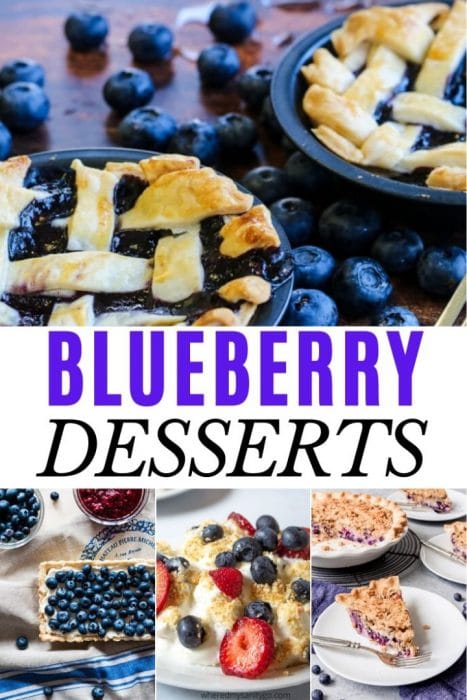 Summer is here which means the blueberries are in full swing! If you have an abundant number of blueberries and you're not sure what to do with them, making tasty blueberry desserts is the perfect way to go.
Blueberries are versatile and will work in just about any fruit dessert or can be used for a flavorful blueberry snack by themselves.
Desserts with fresh blueberries are also often super simple to make and don't take a lot of time.
If you are looking for some tasty blueberry desserts for the summer, or to enjoy all year long, this list is for you!
Blueberry Desserts
This pie recipe includes blueberries, strawberries, and raspberries!
These easy to make pudding cups are perfect for the family and great to serve during 4th of July!
Another great idea for 4th of July, these Jello cups are fun and festive and include blueberries and strawberries.
If you want to try a parfait with blueberries, this tasty dessert includes granola, yogurt, and fresh berries.
Fresh blueberries, custard, and a sweet buttery streusel crumble, which is layered on top along with chopped pecans, makes for a delicious summer blueberry dessert.
We typically think of banana bread or blueberry bread as a snack or breakfast idea, but why not top it with a sweet glaze to make it a dessert!
This fudge recipe uses fresh blueberries and melted white chocolate to create a quick dessert that you can grab and enjoy.
This is the perfect blueberry pie if you are looking to make a dessert for two! A crisp flaky pie crust and fresh blueberries are used to create this delicious blueberry pie.
The perfect summer dessert that's made with whipped cream, fresh fruit, wafers, and marshmallows! This dessert to easy to make and will be a favorite.
A light and fluffy dessert that mixes a blueberry and cheesecake taste together to create a heavenly delight.
Cheesecake that tastes like a blueberry muffin! This delicious dessert uses both fresh blueberries and a blueberry cheesecake to make a tasty dessert.
Easy to make, this lemon and blueberry cake is bursting with the fresh, sweet, and tart flavors of lemon and blueberry.
This tart is nothing short of delicious! The blueberry mascarpone tart includes a raspberry compote for extra flavor.
A layered dessert recipe, this blueberry delight will be a hit with everyone who enjoys a summer blueberry dessert.
An extremely easy dump cake that combines the flavors of blueberries, strawberries, and coconut for a delicious dessert.
A simple fruit crisp that's made for two, this blueberry crisp is made in a cast iron skillet for extra flavor when you are looking for something sweet to eat.