Disclosure: This is a sponsored post written by me on behalf of Stephen's Hot Cocoa. All opinions are my own.
My girls are getting older and they are at the age where they can remember things well from previous years, especially holiday memories. Because of this, we started a few holiday traditions as a family that we participate in year after year. These yearly family traditions are just one thing I hope my girls remember as they get older and start their own families. I think back to a few of our own family holiday traditions as I was growing up as a little girl and I believe it's important to create great memories for my kids, too.
Here are 10 Family Holiday Traditions that we participate in and are great ideas if you'd like to participate in, too!
1. Visit a tree farm to select a holiday tree.
We used to own an artificial tree. It was one of those pre-lit trees. Half of the tree lights went out one year and over time the tree didn't stand up very straight. We made the decision to donate the tree and start visiting local tree farms each year to pick out our tree. The girls get to decorate the tree after we bring it home.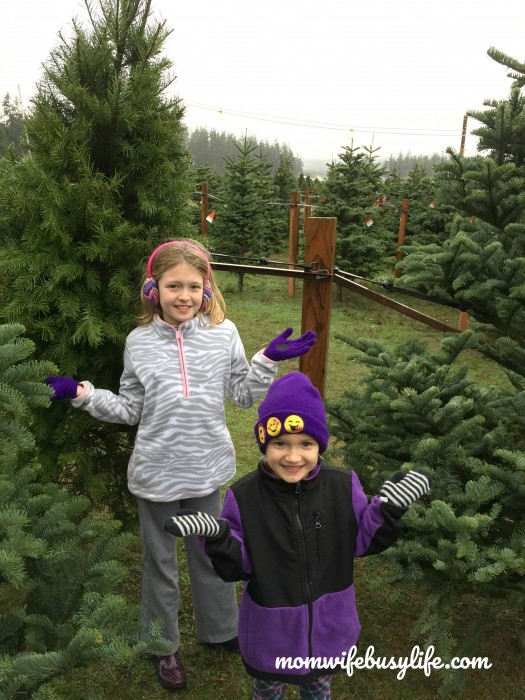 2. Create an ornament each year to put on the tree.
When my girls were little, we would let them choose an ornament for the tree at the store, usually one of their favorite characters. Now that they are older, I allow them to create or paint their own ornament for the year. This year, we went to our local ceramic painting studio and we each painted an ornament for the tree.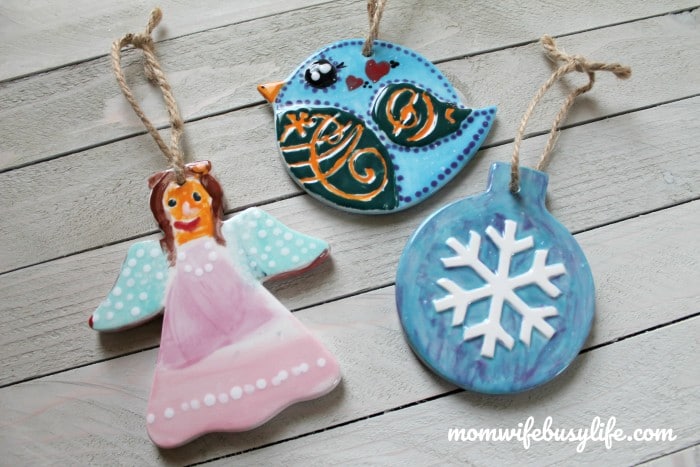 3. Enjoy hot cocoa and cookies during family movie nights. 
We love to watch holiday movies together during the holiday season. We pick out our favorite movies during the month of December on Friday nights and have a family movie night. Before we snuggle up together on the couch and get cozy with our blankets, we make rich and creamy hot cocoa and share a plate of holiday cookies.
Stephen's Hot Cocoa is our choice for hot cocoa during the holiday season. We all get the chance to enjoy our favorite cocoa flavors. My husband loves the chocolate mint truffle cocoa, my girls love the dark chocolate cocoa, and I love the candycane cocoa. I love that there are flavors for everyone, including salted caramel and s'mores!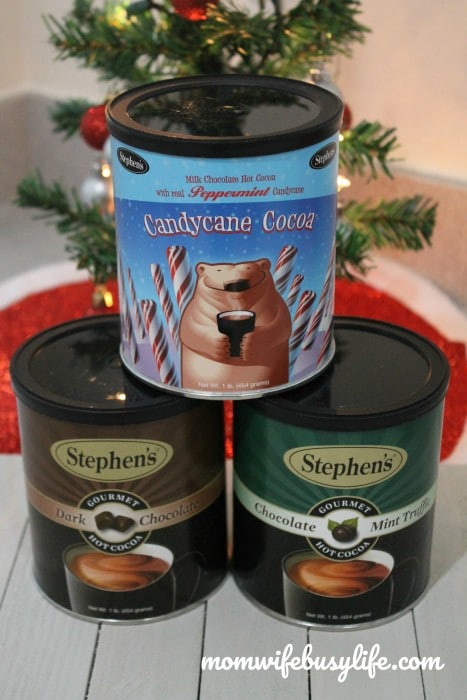 We keep the 1 lb. containers on hand and they last through the month! We also like to share cocoa with our family and friends during the holiday season. Stephen's Hot Cocoa is perfect for holiday parties and gatherings and they make great gifts, too!
To see all of their delicious and unique cocoa flavors go here.
4. Open a gift each day.
We live far away from family and family members send gifts to my kids every holiday season. Instead of waiting to open all gifts at once, I wrap the gifts throughout the month as they arrive. My girls are able to open one of their gifts from family members each day. They look forward to opening up a gift each day!
5. Enjoy a cookie decorating day.
Get out the holiday cookie cutters and allow the kids to have a cookie baking and decorating day! Choose a variety of sprinkles that they can use for their cookies and have different colors of colored icing available. You can also set out a few different toppings like small marshmallows, chocolate chips, gumdrops, etc. that they can get creative with.
6. Countdown the holiday season with a countdown calendar.

Every year, I purchase a holiday countdown calendar. These calendars usually have 25 small doors that can be opened each day with a piece of milk chocolate inside. My girls LOVE these countdown calendars. With these calendars, they don't have to ask me how many days are left until Christmas. They can use the calendar to determine how many days are left!
7. Drive around to look at holiday lights.
It's so much fun to pack the car up and head around town to look at Christmas lights. I remember doing this as a kid with my family. We even make a little scavenger hunt out of it. For example, they can find things like an inflatable snowman, reindeer decoration, snowflakes, blue lights, etc. You can get creative on the things they have to find! Don't forget to turn on the holiday music in the car when driving around.
8. Take the kids shopping for their siblings.
Our newest tradition involves me taking each child shopping alone to pick out gifts for their siblings. This year, I took my oldest daughter to our local dollar store to pick out and wrap three gifts each for her sister and brother. Then, I came home and took my youngest daughter to select gifts. After I was able to get a few ideas of what they liked in the store when they were selecting gifts, I was able to go back with my 18 month old and pick gifts out from him that I wrapped up from him. I loved watching my girls walk around the store and carefully select a gift that they knew their brother or sister would like.
9. Decorate a gingerbread house.
My girls get to decorate their own gingerbread house each year. We love to watch them get creative with their designs and see what they come up with.
10. Hide an elf.
We do have an Elf on the Shelf that hides in a new place every night during the month of December. When our girls wake up every morning, they love running downstairs to find the elf! Check out these Kid Friendly Elf on the Shelf Ideas.
There are many great traditions that you can start for your own family. Do you participate in any of the traditions listed above? What are some of your own holiday family traditions that you share each year?