There's a lot of planning involved when bringing home a baby! Read this list of must haves for baby to help you get organized!
There's a lot to think about when you're preparing for a baby.
But one of the best things you can do is to start getting organized and making some plans for items you need when baby arrives.
Benefits of Preparing Before Your Baby Arrives
It may seem like a lot of work, but it's worth it. Here are some benefits of preparing before your baby arrives:
Less Stress
Once your baby is here, you'll have enough to worry about without having to scramble to get everything together. If you've got a plan and know what you need, you'll be able to relax and enjoy those first few weeks with your little one.
Save Money
It's easy to go overboard when buying things for a new baby. But if you take the time to figure out what you really need, you can save yourself a lot of money.
You May Be Able to Handle More
If you're well-prepared, you'll be able to handle anything that comes up, whether it's a sleepless night or a sick baby. Being prepared will give you peace of mind and help you to enjoy this special time.
So take some time to get organized and prepared before your baby arrives. It will make a world of difference.
Must Haves for Baby
There are some must haves for baby that you might not think of right away, but that you'll be glad you have once you need them.
Diaper Bag
A good diaper bag is one of the most important things to have for baby.
It doesn't have to be anything fancy, but it should be big enough to fit all of the essentials like diapers, wipes, a change of clothes, and snacks. A bag with a lot of pockets can also be helpful for organizing everything.
Don't forget to pack the snacks in the diaper bag! Healthy snacks like fruits and vegetables are perfect for when baby gets hungry.
Diapers and Wipes
Of course, you'll need plenty of diapers and wipes, as well as a few changes of clothes. It's always good to have more than you think you'll need, just in case of accidents.
Crib or Bassinet
Another must-have for baby is a comfy place to sleep. A crib or bassinet is perfect for newborns, but once baby starts moving around more, you might want to consider getting a toddler bed. A mattress on the floor can also work well for some kids.
Best Baby Girl Crib Bedding Sets
Best Baby Boy Crib Bedding Sets
Car Seat
There are a few key reasons why baby needs a car seat. First and foremost, it is the law in many states. But beyond that, it is a matter of safety.
Baby car seats help to protect infants and toddlers in the event of an accident by keeping them properly restrained. They also help to keep baby comfortable and secure while traveling.
If you are planning on taking baby out on the road, be sure to choose the right car seat and use it correctly every time. Your little one will be safer for it.
If you have an infant, I highly recommend investing in a travel system where the car seat comes with the stroller. Read below for more information!
Travel System
A travel system is a baby stroller that comes with an infant car seat. The car seat can be attached to the stroller, making it a convenient option for parents who want to keep their baby safe and comfortable while on the go.
Travel systems are available in a variety of styles and designs, so you can choose the one that best suits your needs.
Baby Carrier
There are many reasons why moms need a baby carrier.
First and foremost, it helps to keep baby close. This is important for both mom and baby's bonding as well as for baby's physical and emotional development.
Additionally, a baby carrier can help mom to stay more mobile and get things done around the house or while out and about, which can be a lifesaver on those days when cared for a little one by yourself!
Plus, let's be honest – carrying around a cute baby in a carrier is just plain fun.
Nursery Glider
Moms need a nursery glider for many reasons.
First, it provides a comfortable place to sit while feeding their baby. Second, it can help soothe a fussy baby.
Third, it can be used as a rocking chair to help mom and baby fall asleep. Finally, it is a great place to bond with your baby.
With these must-haves for baby, you'll be prepared for anything. Enjoy this special time with your little one!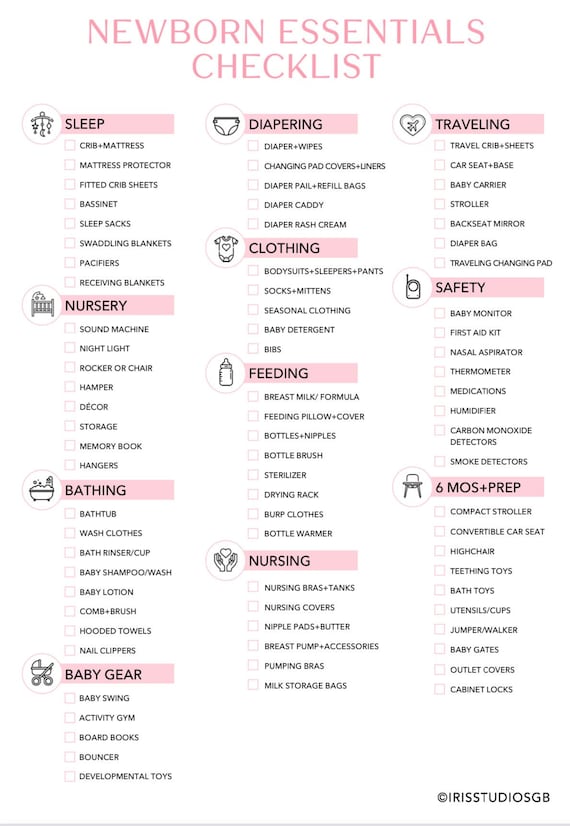 Baby Essentials Checklist Printable