Bring the ocean indoors (or outdoors) this summer with 15+ Ocean Themed Sensory Bins for Kids!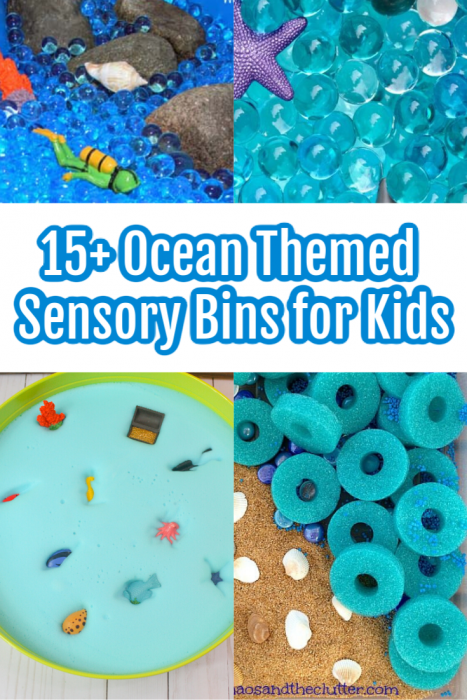 Sensory bins are gaining popularity in the world of activities for kids, and for a good reason, too! They are what I call the 4 E's – engaging, educational, entertaining, and exciting! My kids love sensory play and I try my best to keep them entertained with fun activities including sensory bins.
What is a sensory bin?
According to Pre-KPages.com, a sensory bin is typically a plastic tub or a large container of some sort filled with materials and objects carefully selected to stimulate the senses. A sensory bin can be filled with a large variety of different materials such as shredded paper, water beads, water, sand, and more.
Benefits of sensory play:
There are many benefits to sensory play. Parenting for Brain says, "Sensory play is important to brain development because sensory stimulation is essential for brains to develop and strengthen sensory related synapses and functions. Exposing children to various sensory experiences is necessary for a young brain to develop the proper sensory processing capabilities. "
You can make a sensory bin for just about any theme out there and make it fun for kids! In this post, we focus only on ocean themed sensory play. You'll find a variety of great ideas to help you get started on creating your own ocean themed sensory play bins.
Supplies You'll Need for an Ocean Themed Sensory Bin
With summer approaching, I wanted to compile a list of the best ocean themed sensory bins for kids below. Many kids don't live near an ocean, so creating these ocean sensory bins are a great way to bring the beach closer to them! Get as creative you want with supplies. There are plenty of themed ocean supplies that you can add to an ocean themed sensory bin!
Before I list examples of ocean themed sensory bins, I thought I'd help you get started by giving examples of supplies that you can use to start your sensory bins.
Keep these bins around to provide entertainment for the kids all summer long.
And here they are…
15+ Ocean Themed Sensory Bins for Kids
Under the Sea Sensory Bin by Excite and Explore

Shaving Cream and Shells Sensory Play by Confidence Meets Parenting

Beach Day Sensory Bin by Enchanted Home School Room

Easy Beach Bin by Stir the Wonder

Ocean Life Sensory Bin by Mama Papa Bubba

Seaside Sensory Bin by The Chaos and the Clutter

Ocean Animals Sensory Bin by 3 Dinosaurs

Turtle Sensory Bin by 1+1+1+1

Beach Themed Small World Play by Fantastic Fun and Learning

Ocean Sensory Table by Stir the Wonder

Day at the Beach Bin by Mama Papa Bubba

Shark Sensory Bin by 3 Dinosaurs

Indoor Ocean Sensory Bin by Mama of Many Blessings

Water Bead Ocean Bin by Make Life Lovely

Foamy Ocean Sensory Bin by Views From a Step Stool
I hope you found great ideas for your own ocean themed sensory bins for kids. Get started and create these for sensory play today!
Looking for more ocean resources? Here are a few ocean themed books:
Check out these great ocean themed videos for kids:
Ocean Animals for Kids – Whales, Sea Otter, Orca, Sea Lion + more
Exploring the Coral Reef: Learn about Oceans for Kids – FreeSchool
Learn Sea Animal Names – Ocean Animal Videos – Sea Animal Puzzle for Kids
Blippi Visits The Aquarium | Educational Fish and Animals for Kids and Toddlers
Read about how you can plan a beach themed movie day!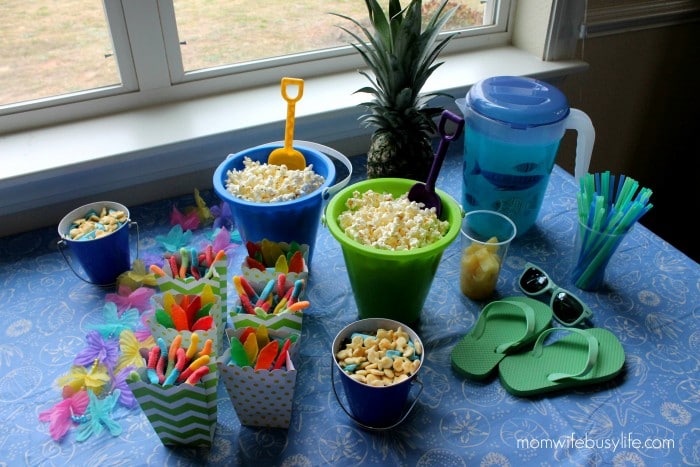 Check out more summer themed activities.