Create this Paper Plate Pumpkin Wreath with the kids this fall season to display in your home or classroom!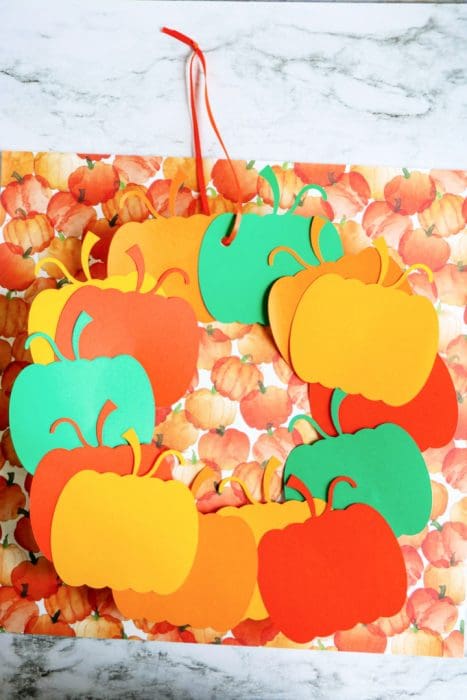 Fall is a season filled with colorful foliage, pumpkin patches, and cozy vibes.
It's the perfect time to engage in fun and creative activities with your kids.
One exciting craft project that will spark their creativity and add a touch of autumnal charm to your home is the Paper Plate Pumpkin Wreath!
Pumpkin Melted Bead Suncatcher
With just a few supplies and simple directions, you and your little ones can create a festive and adorable decoration that celebrates the spirit of the season.
Get ready for some crafty fun as we guide you through the steps and explore various ways to display your masterpiece!
How to Display Your Paper Plate Pumpkin Wreath
Front Door Delight
Hang your Paper Plate Pumpkin Wreath on your front door to welcome guests with a touch of festive charm.
Use a wreath hanger or attach a colorful ribbon to the top of the wreath and tie it securely to your door knocker.
Every time you and your family come home, the cheerful pumpkins will greet you, setting the autumn mood.
Wall Decor Wonder
Find a prominent spot on your wall to display your pumpkin wreath as wall decor.
Use adhesive hooks or picture hangers to secure the wreath to the wall.
It can be a great addition to your living room, hallway, or even the kids' playroom.
Your little ones will be proud to showcase their artistic creation to family and friends.
Mantel Magic
If you have a fireplace mantel, adorn it with your Paper Plate Pumpkin Wreath as a centerpiece.
Place the wreath in the center and arrange other fall-themed decorations around it.
Add some miniature pumpkins, artificial fall leaves, and even some cozy LED candles to create a warm and inviting atmosphere.
Window Wonderland
Let your Paper Plate Pumpkin Wreath catch the attention of passersby by hanging it in a window.
Attach a suction cup hook to the windowpane and secure the wreath to it using the ribbon or a piece of string.
The sunlight filtering through the pumpkins will create a beautiful display of colors.
Tabletop Treat
Transform your dining or coffee table into a fall-themed oasis by using your Paper Plate Pumpkin Wreath as a centerpiece.
Place it in the middle of the table and arrange additional fall elements, such as acorns, pinecones, or faux fall foliage, around the wreath.
It's a wonderful way to infuse your meals or coffee time with the cozy ambiance of the season.
Classroom Creativity
If you're a teacher or your kids attend school, consider bringing the Paper Plate Pumpkin Wreath to the classroom.
Hang it on a bulletin board or display it in the classroom for all to admire.
It will inspire creativity and celebrate the season, creating a warm and festive learning environment.
Get started on your Paper Plate Pumpkin Wreath!
Crafting with your kids not only strengthens the bond between you but also sparks their imagination and fosters their creativity.
The Paper Plate Pumpkin Wreath is a perfect craft project for fall, allowing your little ones to explore colors, shapes, and the joy of making something special.
Once completed, choose the display option that suits your style and home best.
Whether on the front door, wall, mantel, window, table, or classroom, your Paper Plate Pumpkin Wreath will bring the spirit of fall to life and fill your surroundings with a touch of handmade charm.
Paper Plate Pumpkin Wreath
Supplies:
Directions:
Print the pumpkin template on cardstock and cut it apart. The free template above will serve as a guide for creating your pumpkin shapes.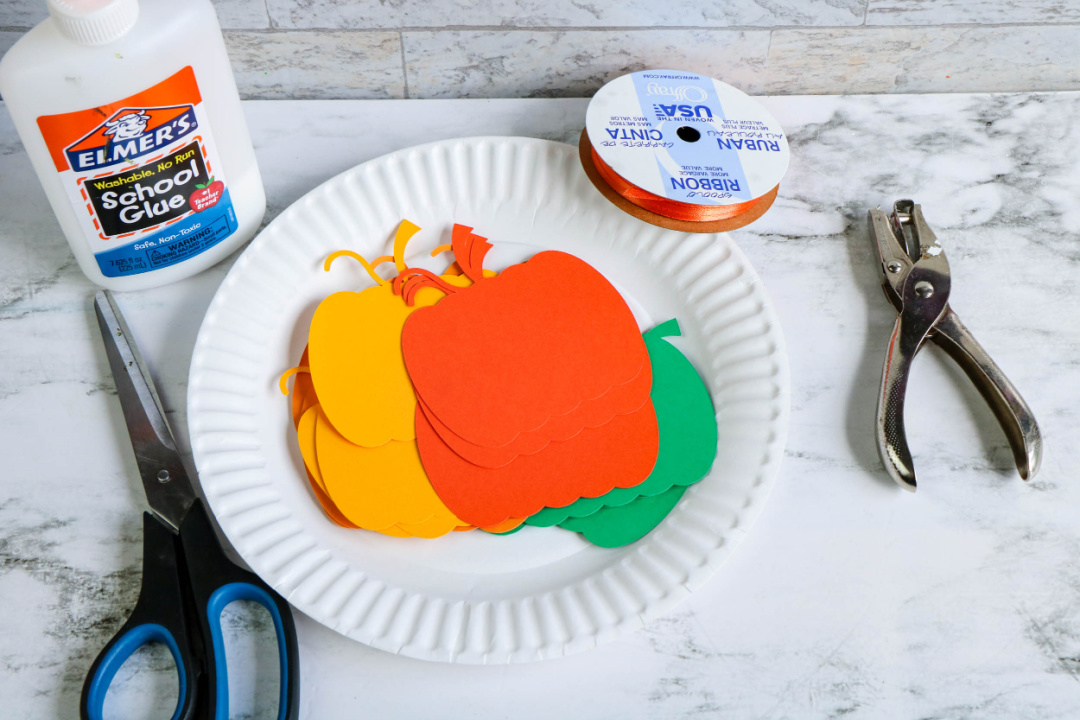 Trace the pumpkin shapes onto colored construction paper using a pencil or marker.
Choose various shades of orange to give your wreath dimension and visual appeal. Let your kids' imagination run wild with different color combinations!
Cut out the pumpkin shapes along the traced lines. This step allows your little ones to practice their scissor skills and contribute to the craft.
Take the white dinner-size paper plate and remove the center circle, leaving only the outer ring. This will create the wreath shape for your pumpkin masterpiece.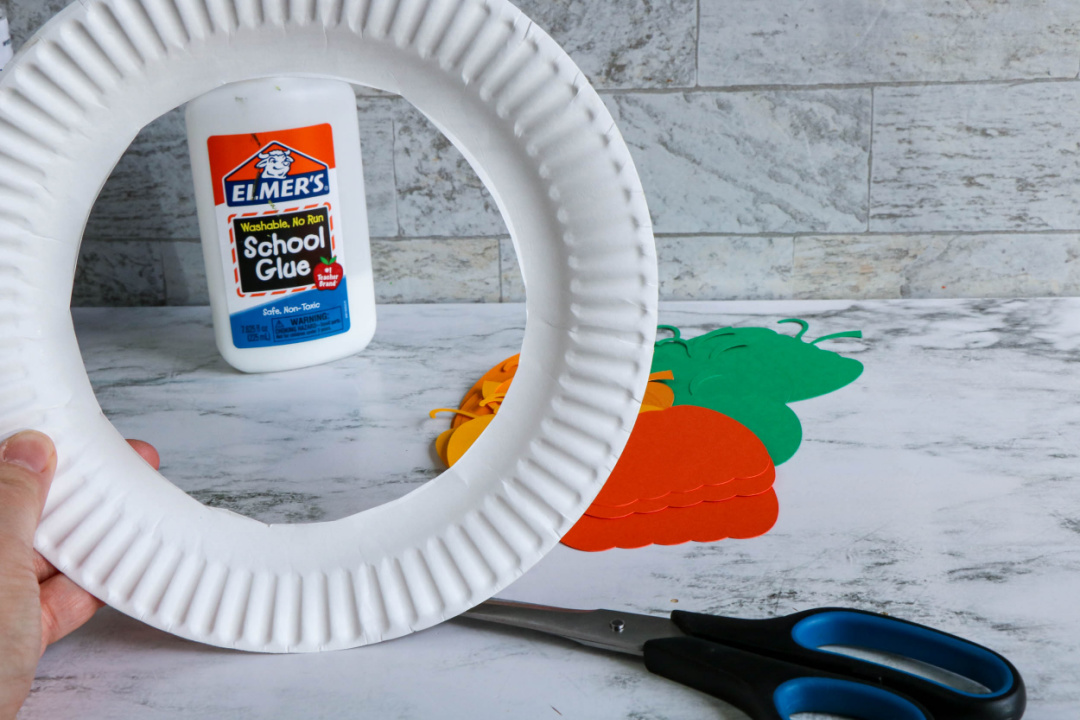 Attach the pumpkin shapes to the paper plate wreath using glue dots or glue.
Encourage your kids to arrange the pumpkins creatively, overlapping them and alternating colors to add depth and visual interest.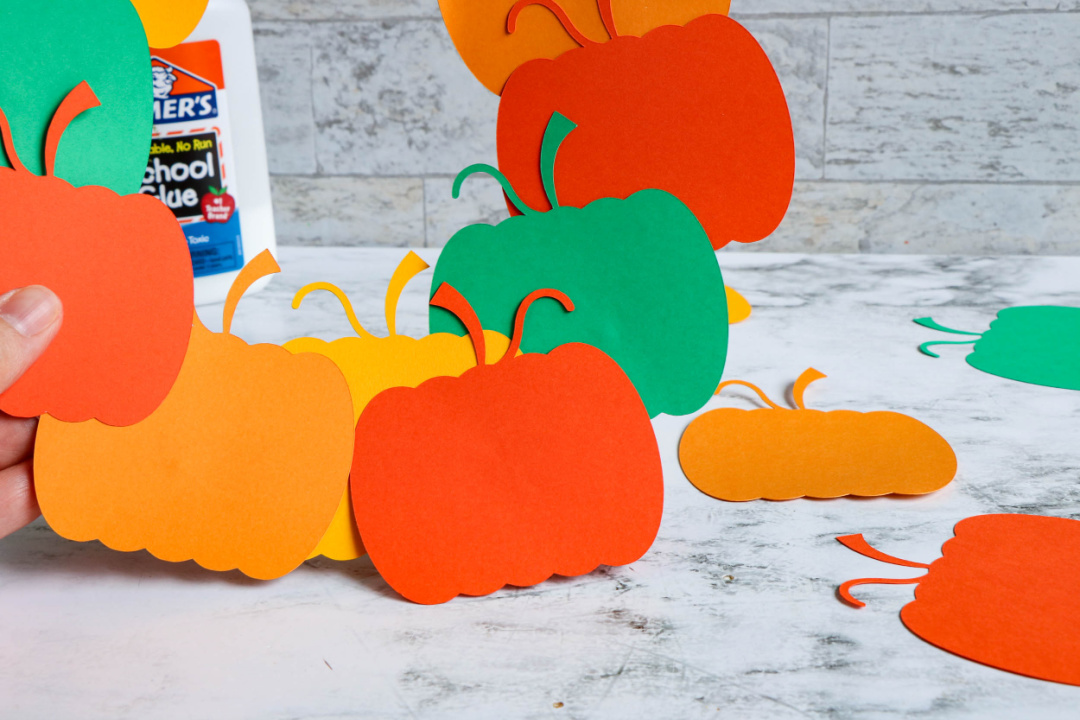 Use the hole punch to punch a hole in the paper plate.
Tie the ribbon to the paper plate. hand and display!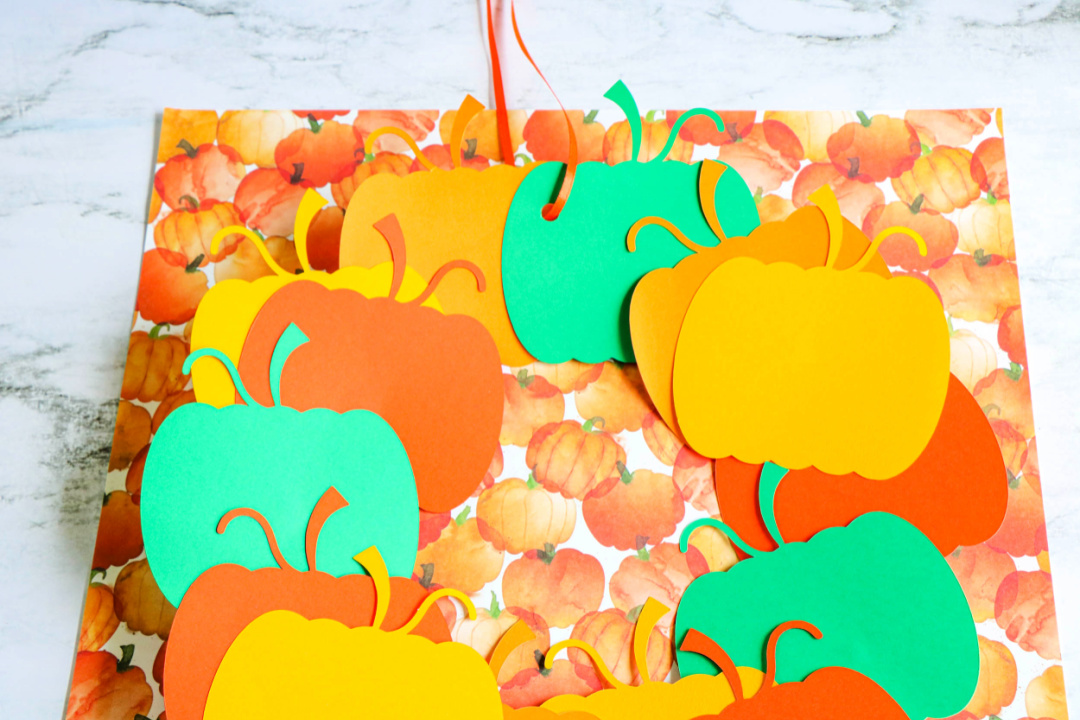 Paper Plate Pumpkin Wreath
Materials
Cardstock or construction paper in various shades of orange
Glue dots or glue
White dinner-size paper plate
Scissors
Pumpkin template printed on cardstock
Instructions
Print the pumpkin template on cardstock and cut apart.
Trace pumpkin shapes onto colored construction paper. Cut the pumpkins.
From the paper plate, remove the center circle to create the wreath shape.
Attach the pumpkins to the paper plate wreath using glue dots.