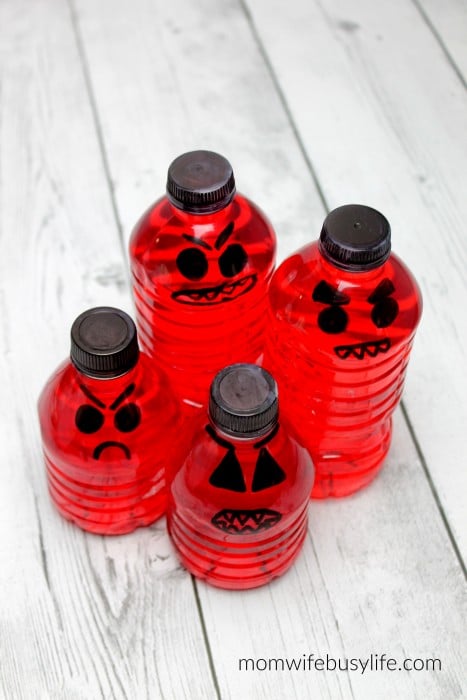 My girls love creating things out of recyclables. I enjoy seeing what they create with 'trash.' For Halloween this year, they decided to make Vampire Blood in a Bottle. These cute little vampire bottles are an easy Halloween craft that costs very little.
Vampire Blood in a Bottle for Halloween
Supplies:
empty plastic water bottles (peel label off)
black permanent marker
water
red food coloring
Directions:
1. Simply fill the empty plastic water bottles with water.
2. Add a few drops of food coloring.
3. Close bottles tightly and shake.
4. Using a black permanent marker, color the cap black. Draw a scary vampire face on the front of the bottle!
Now you have a cute and cool Halloween decoration to add to your home!
More Halloween Related Posts:
Milk Jug Ghosts
Spooky Spider
Vampire Doughnuts
Pumpkin Shaped Pizza Pockets
Halloween Party Favor Ideas
Princess Halloween Costumes for Girls
Halloween Slime Recipe Without Borax