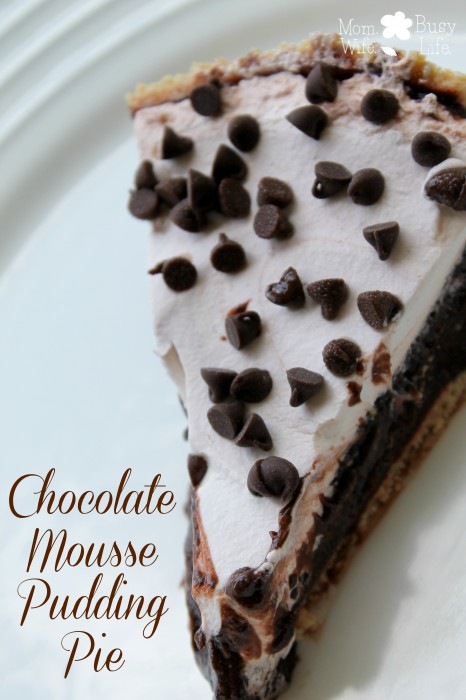 Chocolate Pudding Pie
I was in my kitchen yesterday afternoon when I got the urge to make something sweet to eat. Usually here at Mom. Wife. Busy Life., I know exactly what recipes I want to make to post for you. However,  I came up with this Chocolate Pudding Pie recipe out of the blue and I'm so thankful I did because it's delicious! In fact, half of the pie is already gone. My husband and my girls all enjoyed some pie for dessert last night, and I *may* have eaten a piece for breakfast and a piece for lunch today (shhh… don't tell anyone!) In all honestly, there's a little over a 1/4 of the pie left, but I'll save that for the family. I burned 400 calories at the gym this morning but pretty sure I ended up eating most of those calories when I had my slice of deliciousness this afternoon!
Chocolate Pudding Pie 
Ingredients:
Graham Cracker Pie Crust
1 Box of Instant Chocolate Pudding
1 Package of Dream Whip Whipped Topping Mix
1/2 TSP of Vanilla
1 Tub of Whipped Cream
Mini Chocolate Chips
Fat Free Milk
Directions:
Pudding Directions: 
In a large bowl, add pudding mix to 2 cups of milk and beat with a wire wisk or electic mixer on low for about 2 minutes. Set aside.
Dream Whip Directions:
In a medium bowl, mix 1 package of Dream Whip with 1/2 cup of cold milk and add 1/2 teaspoon of vanilla. Beat on high speed for about 4 minutes or until the Dream Whip thickens.
Pie Directions: 
Pour the Dream Whip mixture into the pudding mixture and stir well until blended evenly.
Pour the mixture into the graham cracker pie crust and evenly spread the mixture.
Refrigerate until the mixture sets and is firm.
Once the chocolate mixture is firm, spread whipped cream over the top of the pie with a pie spatula.
Sprinkle mini chocolate chips on the top of the pie.
Store pie in refrigerator and keep cool until ready to serve.
Serve and enjoy!
No Bake Mini Chocolate Pudding Pie