Get creative with coffee! Check out this great list of delicious Coffee Flavored Desserts to enjoy.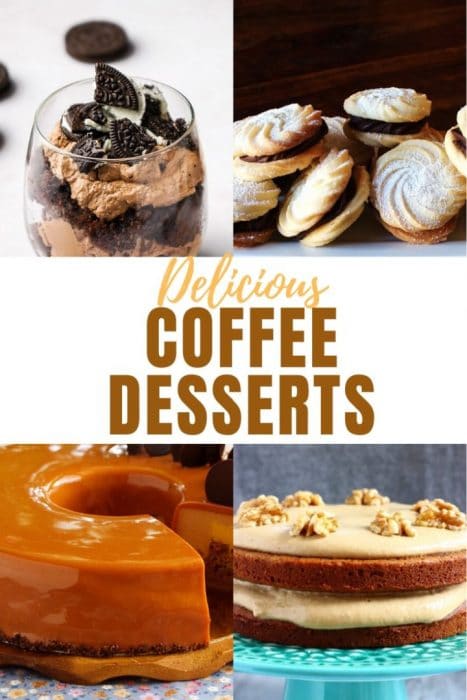 If you are looking to get your coffee fix, and want to mix it up to more than your average cup of joe, why not try a decadent coffee flavored dessert to change it up!
These desserts are infused with coffee flavor for the perfect combination of coffee and sweetness.
How to Make Your Own Iced Coffee
Best Gift Ideas for the Coffee Lover
Keurig K-Duo Coffee Maker Review
Dessert is often paired with coffee so combining the two only makes sense.
With most coffee desserts you get the creamy deliciousness of a dessert and the taste of your favorite coffee fused together to create the ultimate enjoyment.
Here are a few coffee flavored desserts that are easy to make and won't disappoint!
Coffee Flavored Desserts
Combining the rich flavors of a French custard and espresso coffee, this espresso crème bruelee is a dessert that is like no other.
This macadamia, coffee, and caramel flavored dessert has just the right amount of salty, sweet, and coffee flavor.
Light, airy, and full of coffee flavor, these cookies are a delicious copycat recipe from the local popular coffee chain.
This creamy, delicious, cheesecake flavored tiramisu combines the flavors of both cheesecake and tiramisu for a tasty treat.
Chocolate Brownie Recipe with Coffee Cream Filling
With this dessert, rich chocolate brownies are topped with a creamy coffee flavored buttercream icing and ganache to create a delicious and rich coffee.
Store bought cake is used to make this truffle recipe quick and easy! Oreo cookies are folded into a delicious mocha whipped cream and layered in chocolate cake to create these truffles.
This delicious coffee walnut cake is vegan, glute-free, and free of refined sugar but that doesn't stop it from being a delicious dessert for all to enjoy.
Full of coffee flavor, these fluffy cupcakes are spiked with a delicious Irish cream whiskey buttercream icing for the ultimate cupcake dessert.
Instant Pot Caramel Coffee Cake
Perfect for dessert or breakfast, this amazing coffee cake is made in the instant pot and has a rich caramel flavor to it.
Another creamy dessert with a strong coffee flavor, this easy coffee panna cotta doesn't include any gelatin and is super delicious.
Great for the holidays, this coffee flavored fudge only takes four ingredients to make and is so easy, you will be making this all year long.
What is better than chocolate and coffee? The two combined of course! These cookies are delicious and easy to make.
A dark mocha ganache cream is layered between two delicious butter cookies to create a unique and tasty dessert sandwich cookie.
A dessert for everyone, this sundae cone cake is made with iced coffee for the perfect coffee flavored ice cream dessert.