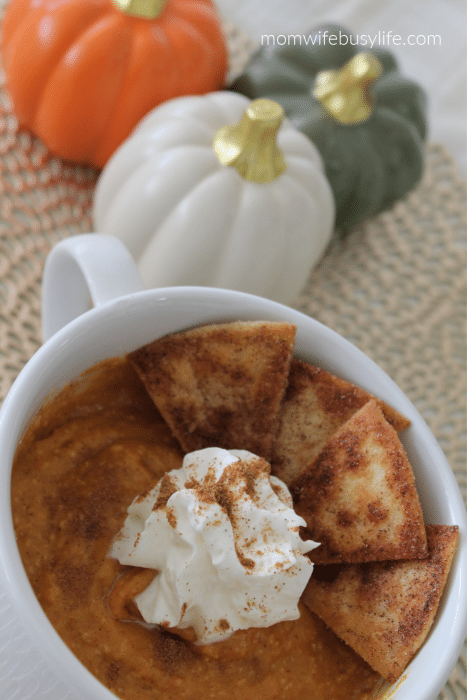 Everything pumpkin, from pumpkins to carve to canned pumpkin is flying off of the shelf this time of year. This is the time of year when pumpkin bread and everything pumpkin flavored will be enjoyed by many.
One of my favorite pumpkin filled treats is this cool and creamy pumpkin spice dip! It has a smooth and creamy texture that goes great with graham crackers, ginger snaps or homemade cinnamon and sugar tortilla chips. My girls have been begging me to make more of this fall yumminess. During a day off from school this last week, they helped me whip up a batch of this yummy dip!
This dip is perfect for holiday gatherings or for a dessert after Thanksgiving dinner. It's like eating pumpkin pie without all of the baking and crust preparation. I'm sure this recipe will satisfy your pumpkin spice cravings this year!
Pumpkin Pie Spice Dip
Pumpkin Dip Ingredients:
4 oz. softened cream cheese
1 cup canned pumpkin
1 (5 oz.) box instant vanilla pudding mix
1 cup cool whip
1/4 tsp. ground cinnamon
1 tsp. pumpkin spice
1 tsp. brown sugar (optional garnish)
Directions:
Whip cream cheese, cool whip, and pudding mix with hand mixer until smooth.
Stir in pumpkin, cinnamon, and pumpkin spice.
Chill in refrigerator until serving time.
Tip: For a warm dip, microwave for about a minute before serving. Serve pumpkin pie spice dip with these cinnamon sugar chips below!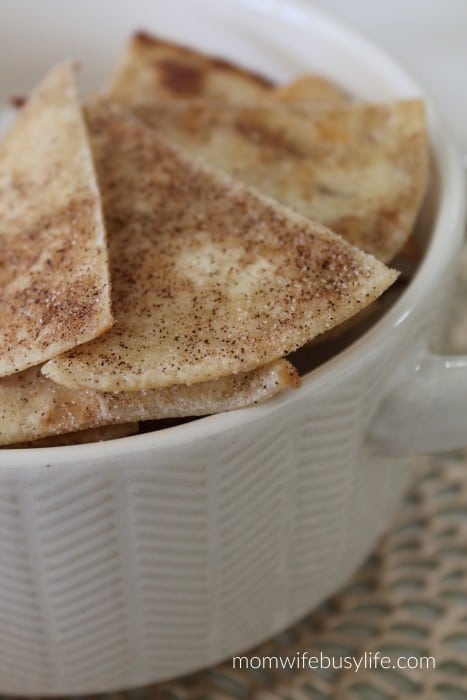 Cinnamon Sugar Chips Ingredients:
12 flour tortillas
3 tbs. melted butter
2 tbs. cinnamon sugar mix
Directions:
Preheat oven to 400 degrees.
Using a pizza cutter (or knife), cut flour tortillas into triangle.
Spread triangles on a cookie sheet lined with parchment paper.
Drizzle melted butter and cinnamon sugar mix over triangles and lightly toss.
Spread evenly on pan and bake for 10 mins. or until golden brown.
Service the chips with the pumpkin pie spice dip!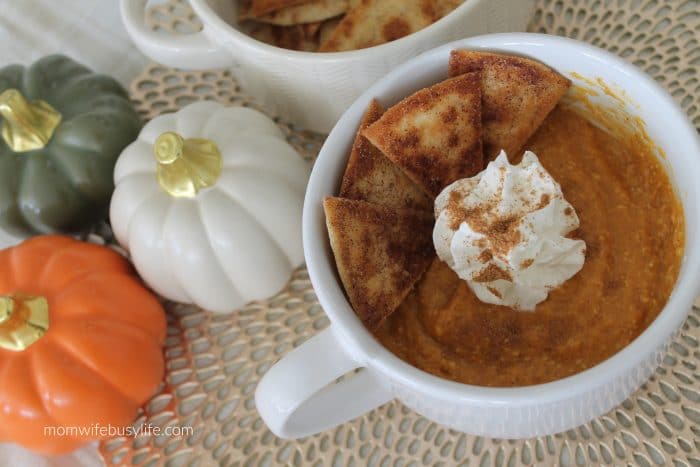 While you are here, don't forget to check out more of my pumpkin inspired recipes:
>> Click here to sign up for my email list and get access to my FREE printable library!