This colorful Veggie Pizza Bars recipe is a healthier "pizza" option for the family. It's filled with fresh vegetables and plenty of flavor!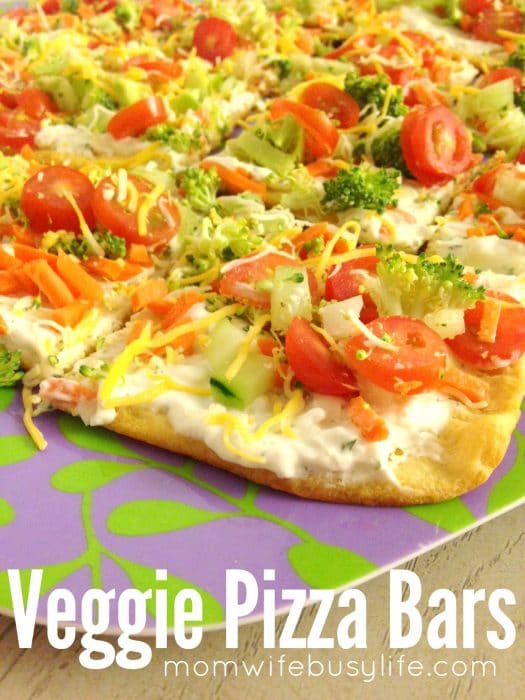 I absolutely love food with color and veggie pizza bars are full of it! These beautiful Veggie Pizza Bars are perfect for showers, parties, and just every day snacks in my home. I remember the first time I made them for a tailgate party. I was looking for a new recipe and remembered how delicious these were and boy, what a hit they were!
Now that the new year is here, I know that many are trying to add healthier foods into their diets. Adding fresh vegetables to any recipe is a great idea if you are looking to increase your veggie intake! Veggie Pizza Bars are a great option for the entire family to enjoy. Try this Veggie Pizza Bars recipe soon!
Veggie Pizza Bars Recipe
Ingredients:
1 (8 oz.) package cream cheese, softened
1 package ranch dressing mix
1/2 c. mayonnaise
2 packages crescent rolls
Shredded cheddar cheese
Bacon Pieces
Veggie Options: finely cut broccoli, cucumber, cauliflowers, tomato, carrots
I love using my OXO Good Grips Chopper
to cut broccoli, cauliflower, and carrots!
Directions:
Roll out crescent dough onto a 9X13 greased pizza pan.
Bake on 350 degrees for 10-12 minutes or until golden brown. Let cool completely.
Mix together cream cheese, mayonnaise, and ranch dressing. Spread a layer of mixture on top of crescent crust.
Finely chop all veggies. I like to cut the seeds out of the cucumber and tomatoes, so that the crust doesn't get soggy.
Top crust with desired veggies. Add shredded cheese and bacon pieces.
Cut into bars, place on platter or air tight container and refrigerate until ready to eat!
More great recipes:
Get access to all of my recipes here.