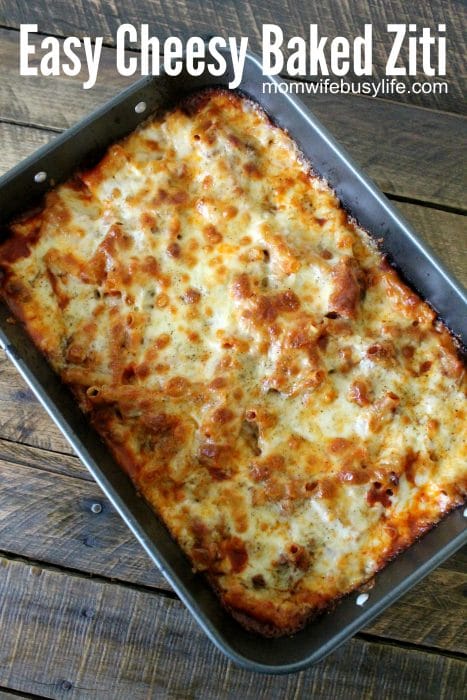 Baked Ziti has become a favorite of ours over the last few years! In fact, when I have visitors over or if I have to make meals for families in need, this is my go-to-recipe. The Easy Cheesy Baked Ziti recipe is so easy and perfect for busy moms out there if you need a dinner idea that the whole family will enjoy! If you follow this recipe, you'll be sure to have plenty to eat and most likely, a little leftover for the next night! Do you like to freeze meals? Divide this recipe in half and freeze half for another day.
Related: List of 50+ Dinner Ideas for Busy Moms
Here's what you'll need: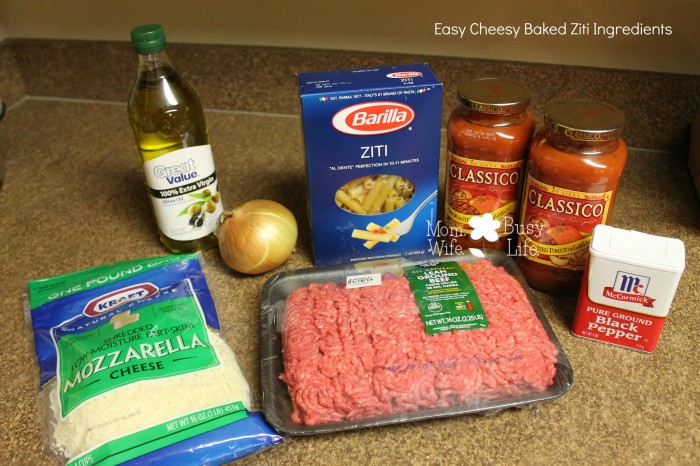 Ingredients: 
1 box of Ziti noodles
2 jars of spaghetti sauce
2.25 lbs. ground beef
1 onion
1 lb. mozzarella cheese
1 tbsp. olive oil
1 tsp. black pepper
Directions:
Preheat oven to 400 degrees.
Brown ground beef in a large deep skillet. I use my favorite jumbo skillet when I make this recipe!
Add two jars of spaghetti sauce to the beef and stir well.
Simmer on low heat.
Cut onion into thin slices. In a small skillet, saute with olive oil until onions are caramelized.
Pour onions into the beef mixture and stir until mixed.
In a large pot, boil two quarts of water.
Add Ziti noodles and boil for 10-11 minutes, stirring well so the noodles don't stick together.
Drain.
Add desired amount of Ziti noodles to beef mixture and mix together well.
Scoop mixture into a 13 X 9 baking pan.
Sprinkle mozzarella cheese on top until covered.
Sprinkle with pepper for added flavor.
Bake for 20-30 minutes, or until cheese is slightly browned.
More great recipes:
Get access to ALL recipes here!