This tasty Sausage and Cream Cheese Pinwheels recipe is an easy breakfast solution perfect for your family or guests!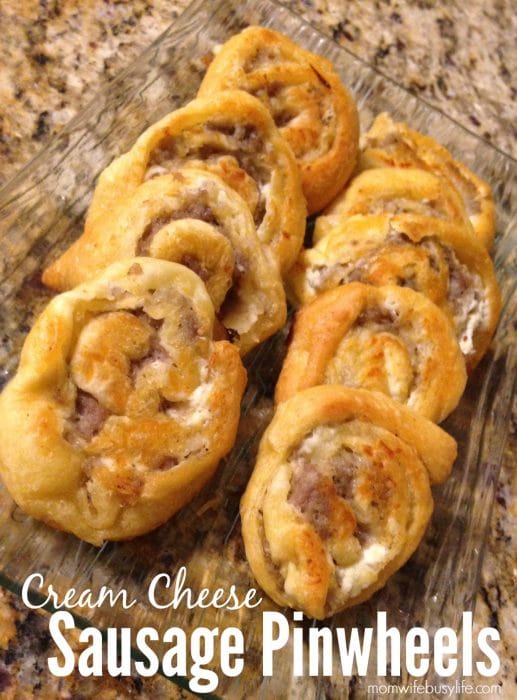 It's finally fall, which means it's football season! During the fall, I love snacks and tailgating. There's nothing like being surrounded by great friends, yummy food, and the anticipation of game time!
I love recipes that call for very few ingredients, are easy to make, and my family loves. These cream cheese sausage pinwheels meet all of my criteria and can be served as a snack or as breakfast. Being versatile makes them all the much better!
These Sausage and Cream Cheese Pinwheels are the perfect breakfast solution. They are easy to make, tasty, and family friendly! Save this recipe to your collection and let me know what you think about this recipe.
Sausage and Cream Cheese Pinwheels
Ingredients:
1 tube of crescent sheet dough (the rolls work as well, just pinch the seams together)
4 oz. softened or whipped cream cheese
8 oz. tube of breakfast sausage
1/2 c. shredded cheddar cheese
Directions:
Spray a baking pan with cooking spray.
Unroll dough, pressing seams together if not using the sheets.
Evenly spread cream cheese over dough.
Spread sausage on over cream cheese (be sure to get to the edges).
Sprinkle with cheese.
Begin at edge and gently roll dough into a log shape.
Slice 1/2 in. wheels and place on baking pan.
Bake on 350 degrees 12-15 minutes or until golden brown on both sides.
Remove from pan and serve immediately.
Check out more easy recipes for busy moms!
More breakfast recipes: